Two crore doses every month
Govt plans to revamp vaccine campaign as supply now getting smooth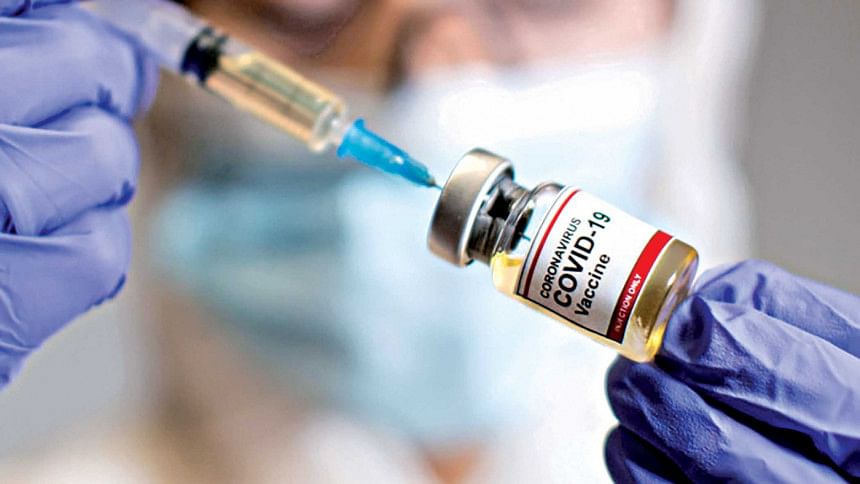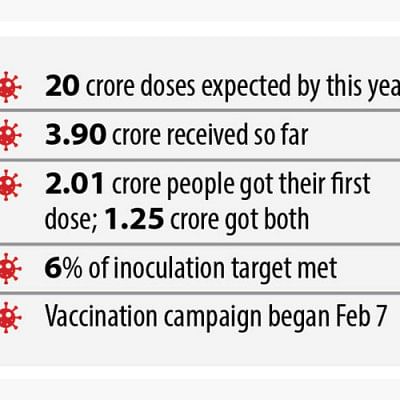 The government plans to administer two crore shots of Covid-19 vaccine each month to ramp up the ongoing vaccination drive as it hopes to get around 20 crore doses by the end of this year.
The plan might appear ambitious given the scale of vaccination over the last eight months -- with some three crore doses administered since the campaign started on February 7 -- but health officials believe it is very much achievable.
"Initially we are targeting to administer two crore doses of Sinopharm vaccines each month if we get those as per the commitment," Health Minister Zahid Maleque told The Daily Star yesterday.
The vaccination campaign got some momentum after the government purchased 1.5 crore doses of Sinopharm vaccine from China in June.
Besides, the country has also got around one crore doses of different brands from Covax, a global initiative aimed at equitable access to Covid-19 vaccines, in the last three months.
"The supply chain is a bit smooth now. We are planning to administer two crore doses per month from October," said Prof Abul Bashar Mohammad Khurshid Alam, director general of the DGHS.
Health officials say Bangladesh is supposed to get another purchased six crore doses of Sinopharm vaccine between September and November -- two crore shots a month.
Apart from this, there will be 10.50 crore doses of Sinopharm and Sinovac vaccines from Covax. Hopefully, those will start arriving next month, they added.
"We have already agreed to purchase 10.50 crore doses [of Sinopharm and Sinovac] from Covax at a reasonable price which will arrive in the fourth quarter of this year," said the health minister.
Moreover, the country will get five crore free vaccine doses from Covax by the end of this year, he added.
The government has the capacity to administer four crore doses per month but could not do that due to the vaccine shortage.
"We are preparing the vaccination campaign plan, targeting two crore doses a month," said Dr Shamsul Haque, member secretary of the Covid-19 Vaccine Management Taskforce Committee of DGHS.
Meanwhile, Hualong Yan, deputy chief of mission at the Chinese Embassy in Dhaka, said yesterday that 54 lakh Sinopharm vaccine doses of commercial purchase will be arriving Dhaka early morning today.
"As a strategic partner of Bangladesh, China will always remain the most reliable supplier whatever and whenever our Bangladeshi friend needs," he wrote in a Facebook post.
The country has so far received around 3.90 crore doses of different brands from various sources, according to the DGHS.
Around 2.01 crore people have got their first dose while around 1.25 crore people got both doses. Only around six percent of the target -- inoculating 80 percent of the total population aged 18 and above -- has been met.
Health officials say they are working to reduce the disparity in vaccination between urban and rural areas.
"We will focus more on vaccinating the rural people as a huge number of them are yet to be inoculated," said a DGHS official engaged in the vaccination campaign, wishing not to be named.
He added the loopholes they found in last month's special vaccination drive have already been addressed. "We hope this time it will be smooth."
The country has suffered frequent hiccups in its regular mass inoculation campaigns mainly due to a dearth of doses caused by a yawning gap between commitments and compliance in vaccine supply.
The regular vaccine campaign remained postponed for around a month due to a sudden suspension of vaccine supply from Serum Institute of India.
Bangladesh bought three crore doses of Oxford-AstraZeneca vaccine from Serum but so far received only 70 lakh doses with the last consignment arriving in March.
Besides, the government also did not get the promised amount of vaccines from Covax.
Because of the shortage of shots, it also could not continue the special vaccination campaigns at union level that started on August 7.
The government launched vaccination on February 7 for people aged 65 and above, and then gradually lowered the age bar to 25. The bar was further brought down to 18 years to include university students in the coverage.
Currently, over two crore people, including the vulnerable ones, await their first jab weeks after registration.
Once the vaccination of two crore people starts from next month, the sufferings will come to an end, health officials hope.
Bangladesh has been witnessing a gradual decline in the number of Covid deaths and infections over the last two weeks after a new coronavirus variant, detected in May, ravaged the country in June and July.
The number of deaths shot up to over 200 a day at that time with the number of casualties continued at over 100 for several weeks.
However, deaths from the deadly virus came down to 38 in the last 24 hours till 8:00am yesterday, lowest in the last three months.
The total death count stands at 26,832, said a press release issued by the Directorate General of Health Services (DGHS).