Govt now aims to jab 70pc population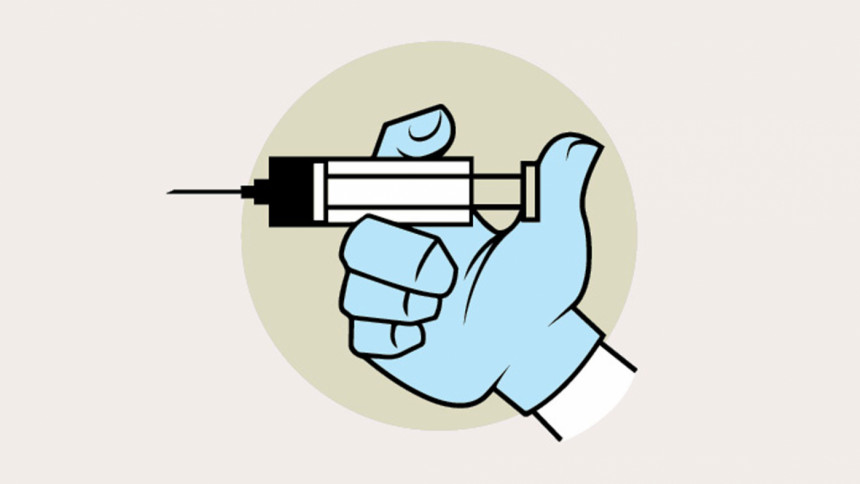 Bangladesh now plans to inoculate 70 percent of its population with the Covid-19 vaccine -- down from the initial plan of 80 percent -- in line with the World Health Organisation's target.
In October, the WHO set a target for countries to vaccinate 70 percent population of their populations by mid-2022, and according to projections made by Our World in Data, about 100 countries are not on track to meet that goal.
As of January 18, 48.38 percent of the new target has been met, according to data from the Directorate General of Health Services (DGHS).
The initial target of inoculating 80 percent of the population is not achievable, Shamsul Haque, member secretary of the Covid-19 Vaccine Management Taskforce, told The Daily Star yesterday.
Besides, the WHO's standard to achieve herd immunity is to inoculate 70 percent of the population.
"So we have revised down our target," Haque added.
So far, the government has been using Covid-19 vaccines developed by AstraZeneca, Sinopharm, Moderna, Pfizer, Sinovac, and Johnson and Johnson.
The authority has not clarified the reason behind the revision of the target, said Abu Zamil Faisel, member of the Epidemiology and Public Health Advisory Committee at the DGHS.
"Most probably, it is because of the slow pace of the vaccination, and also about the uncertainty over the vaccine supply chain," he added.
The government has about nine crore doses in its stock, according to Health Minister Zahid Maleque.
To attain the revised target, 12 crore doses of the vaccine are needed. Besides, another 2.3 crore shots need to be allocated to inoculate the 1.15 crore schoolchildren aged 12-17.
DGHS Director-General ABM Khurshid Alam, however, says the original target was just a parallax error.
"About 1.25-1.5 crore of our population live outside the country -- we had counted them initially."
The non-resident Bangladeshis have now been excluded.
Moreover, children from 12-17 age groups are now getting vaccines. The original plan was to inoculate those aged 18 and above.
"Considering this, 80-85 percent of the total population will receive vaccines," Alam told The Daily Star yesterday.
Bangladesh's population is about 16.80 crore population, according to the latest population census.
The vaccination campaign began on a pilot basis on January 27 last year and on a full-fledged basis from February 7.
However, amid a fast depleting vaccine stock, Bangladesh suspended administering the first dose of the vaccine on April 26. And nine days later, it suspended registrations for vaccination.
Later on June 19, the government resumed administering the first dose on a limited scale with 11 lakh doses of the Sinopharm vaccine sent as a gift by the Chinese government.