Virus Transmission: If not checked, health system may collapse
Warns health minister as country sees 226 daily deaths, 12,236 cases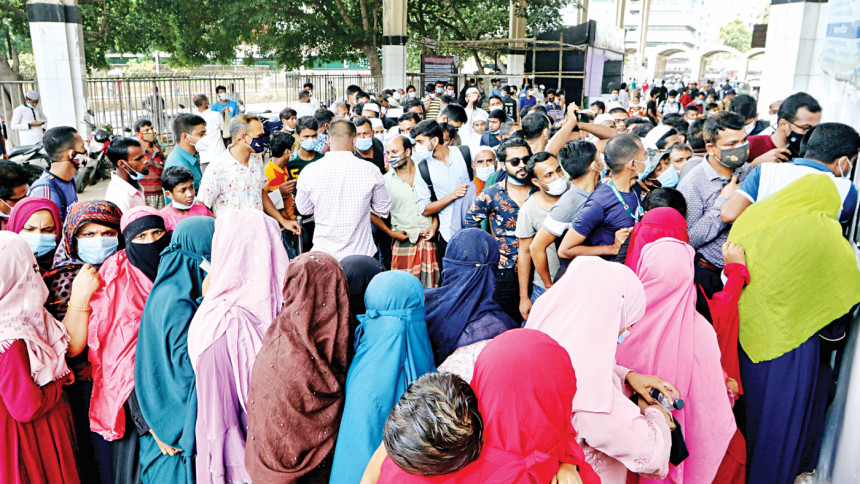 The health directorate reported the second highest daily deaths of 226 from Covid-19 yesterday, which was the first day of withdrawing the "strict lockdown" for a week.
On Sunday, the highest ever 230 deaths were recorded.
Amid the rising trend in deaths and infections, Health Minister Zahid Maleque yesterday said the health system might collapse if Covid-19 transmission was not controlled.
"We must curb the transmission. Otherwise, the health system will break down," he said while addressing an event at the College of Physicians and Surgeons in the capital.
As the "strict lockdown" has been withdrawn temporarily ahead of Eid, the minister urged everyone to strictly adhere to the health safety rules.
With the latest count, the total number of deaths reached 17,278, which is around 1.6 percent of all cases detected so far, according to a press release from the Directorate General of Health Services.
In 24 hours till 8:00am, 12,236 people tested positive, taking the figure of confirmed cases to 10,71,774.
Yesterday, the positivity rate declined to 27.23 percent from the previous day's 29.14 percent.
Of the 226 deceased, 140 were men and 86 women. Twenty of them died at homes and the rest in hospitals.
Like almost every day in the past few weeks, Dhaka division saw the highest 74 deaths followed by 52 in Khulna.
Among other divisions, 42 deaths were reported in Chattogram, 24 in Rajshahi, 13 in Rangpur, 10 in Mymensingh, six in Barishal and five in Sylhet.
Speaking at the programme yesterday, Zahid Maleque also said everyone above 18 years will gradually be vaccinated in Bangladesh.
"Arrangements are being made to gradually bring all citizens above 18 years under the Covid-19 vaccination programme to revive the country's education system."
The health minister said the government has 45 lakh doses of vaccines in stock. "We'll receive 29 lakh doses of AstraZeneca vaccine very soon. Besides, Pfizer vaccine doses will reach the country within next month."
"Our health sector has the capacity to store three crore shots of vaccines. So, there will be no problem in storing and distributing vaccines," Zahid said.
He added that a process was underway to recruit 2,000 doctors and 4,000 nurses to deal with the Covid situation. The government will also appoint technologists across the country on a contractual basis, the minister said.
Talking about criticism against the health sector, he said those who were spreading propaganda against the sector to confuse people should be criticised.
"There's no food crisis in the country, industries are running and health services are available. Then why are there so many conspiracies against the health sector? These are nothing but conspiracies to undermine the achievements of Prime Minister Sheikh Hasina."
Dhaka Medical College Hospital Director Brig Gen Nazmul Haque presided over the event.