'Terror financier' held in Habiganj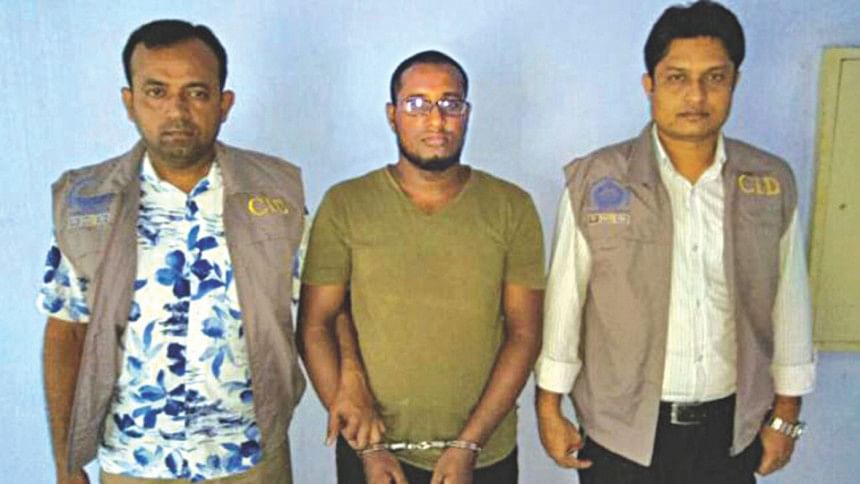 The Criminal Investigation Department yesterday claimed to have arrested a "terror financier" at Habiganj.
Mostaq Ahmed Khan, 27, once a Bangladeshi expatriate in Turkey, used to collect money from different organisations and individuals in Turkey and spend it for terror and militancy financing in Bangladesh, Molla Nazrul Islam, CID special superintendent, told reporters at his office in the capital.   
"Several crore of taka was deposited in Mostaq's account with a private bank, and he later distributed it to different illegally run non-government organisations and some individuals," he said.
"He received Tk 1.89 crore from abroad only in the last six months of 2014," he said.
Nazrul said CID officials, who are investigating a case filed against him under the Anti-Terrorism Act, arrested him from in front of Kalapara restaurant in Habiganj town yesterday afternoon.
He stands accused in at least six cases under the Special Powers Act, Anti-Terrorism Act and Explosives Act. He was on bail, the CID official said. 
According to the CID, Mostaq, from Habiganj's Baniachang upazila, entered Turkey illegally around 10 years ago and returned home after spending nearly five years there. He maintained communication with different organisations and individuals during his stay in Turkey.
Asked what evidence the CID had found about his terror financing, Nazrul said they primarily suspected that he financed terrorist activities as he spent money through NGOs which do not have government's approval.
Mostaq runs an NGO named Al Kawsar in Habiganj and also engages with another NGO working for Rohingyas, he said. 
Replying to a query, the CID official said most of the money Mostaq, once an activist of Jamaat-e-Islami, received from abroad in 2014.
The CID will investigate whether he had funded terror activities during the political turmoil of 2013 and 2014, said CID officials. 
A case has been lodged against him with Habiganj Sadar Police Station under the Money Laundering Prevention Act.