Stolen infant returned to mother
Smiles all around as police rescue the four-day-old boy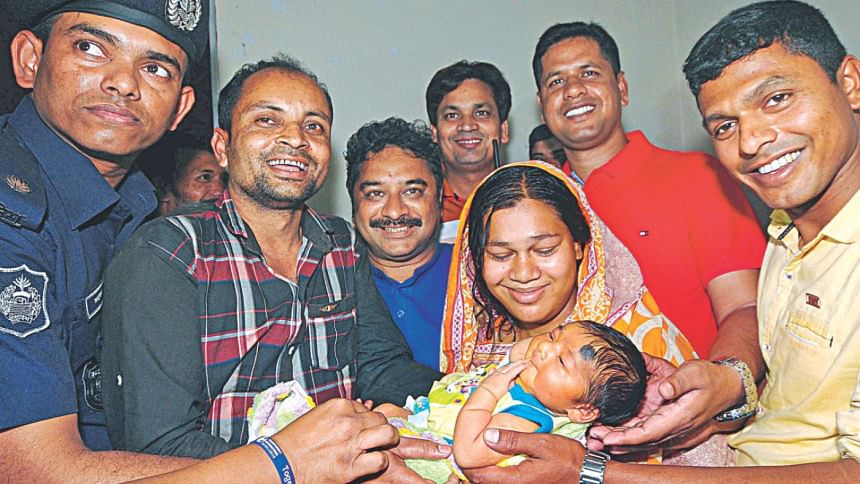 It was a happy moment for all at Bogra Government Mohammad Ali Hospital. Even the patients rejoiced yesterday as Hosne Ara was given back her newborn stolen on Saturday.
The 23-year-old woman, who kept fainting in despair since she lost the baby boy, couldn't hold her tears of joy as she received the baby at the hospital conference room from police officers in the afternoon. 
Police rescued the four-day-old baby from one Ful Miah's house at Majhbari area of Bogra. Sensing police presence everyone in the house had fled, leaving the baby on a bed, said Bogra police.
Police suspect that the baby was stolen by a resident of Baropur in Bogra town, Ratna, 35. She sold the baby to a childless couple Ful Miah and Laboni, said Sonaton Chakroborty, addition police superintendent of Bogra.
Police were conducting raids to arrest the trio, he added.
A TIP-OFF DID IT
After stealing the baby from the hospital, Ratna sold the baby to Laboni, who took the baby to her parent's home in Kazipur upazila of Sirajganj district.
She then bought some baby products from Dhekuria Bazar. A man, who knew that Laboni was childless and that a baby got stolen from a Bogra hospital, saw her buy the products at the shop.
The man, whom police did not name, then called a staff of Bogra hospital and described what he saw.
The hospital authorities then informed the police, who interrogated the shop keeper and found out that Laboni had taken the baby back to her husband's house at Majhbari.
A police team led by Sub-Inspector Khokan Kundu of Dhunat Police Station then raided Ful Miah's house and found the baby yesterday.
The baby's grandmother, Rehena Begum, earlier said a woman in hijab started a conversation with the child's mother Hosne Ara Friday night at the gynaecology ward of the hospital. She told Hosne Ara that she was with another patient in the ward.
When Rehana went upstairs to take the baby into the sun light around 10:00am on Saturday, the woman in the veil went up with her and they chatted there for a little while.
Rehana wanted more clothes for the baby and needed to go downstairs for those. The woman offered to hold the baby during that time.
When Rehana returned with the clothes about five minutes later, there was no woman there.