Neymar versus Marta? Not yet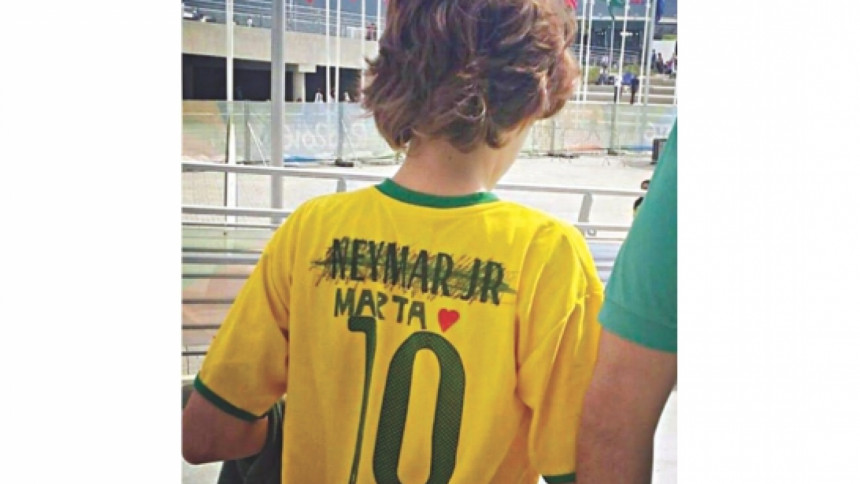 It's needless to say that women's football cannot compete with the men's game, both in terms of public support and infrastructure, anywhere in the world. While the top male footballers of the world earn millions of dollars from their clubs plus a handsome amount in endorsements, the top women footballers barely make a scrap. And this contrast in fame and fortune is probably nowhere as pronounced as it is here in Brazil.
To put this into perspective, jerseys of Neymar Jr, the Barcelona frontman and current Brazil captain, sells for hundreds of dollars and are available at most sports merchandise shops around the world. On the other hand, the jersey of Brazil women's team captain Marta, who is a five-time world player of the year and top-scorer in women's world cup history, is quite a rare commodity even here in Brazil.
Thankfully, however, the situation seems to be changing a bit, at least on the surface, with the advent of the Rio Olympics. Peeved at the continuous failure of the men's team, people seem to have turned their attention to the women and getting behind them in every possible way. The women's matches featuring the hosts, who have now bowed out of the tournament, attracted close to full-house crowds.
The men's team's matches, on the other hand, have seen less crowd presence as the team made a stuttering start to their campaign, drawing two games on the trot against weak opponents. Their performances even prompted chants like 'Ole, Ole: Marta, Marta' as Neymar and Co made their way out of the ground with their heads stooped.
The sentiment was best illustrated by a photograph carried out in mainstream media which shows a young boy wearing a Brazil No. 10 jersey of Neymar, only with Neymar's name scratched out by magic marker and Marta written underneath. And that picture has since been the reason for countless memes doing rounds on social media.
Whether it was a show of frustration at the men's team's slump in form in recent years or from a real admiration for Marta is open to debate because this sudden passion for Marta, or the women's game in general, hardly matches the ground reality.
Jorge Rodriguez, a photo journalist working for a local news agency and with a career spanning more than two decades and across various sports, makes a stinging point while discussing this topic. "This is not real. The close to 70,000 people you saw today at the Brazil v Sweden game today [Tuesday] were not the traditional fans of football, and certainly not those of women's football," he said. "They were just here to support Brazil and see them win."
"There is hardly any popularity of women's football here. You know why? This is a heavily male-dominated society and women playing sport is not taken very easily by men," Jorge says.
Jorge's point hits home when one considers the fact that not only women's football, but any sporting activity for women in this country was totally banned until 1979. And whatever progress women's sports have made since has not been matched by a progress in remuneration or professionalism.
There are quite a number of clubs for women, but there is no national league for them. There are state championships, but those are amateurish in nature and involve very little pay package. So the best of the women's players, like Marta for one, go to USA or Sweden or China to ply their trade.
Even from the football administrators' side, the women's game has been marginalised over the years, so much so that the women's team did not get to play a single game at the Maracana, the spiritual home of world football, since the end of the 2007 Pan American Games final up to this Tuesday.
So whoever is thinking that Marta is scratching out Neymar from Brazil football's scrapbook, hold your horses. She still has a long way to go to match Neymar, not in skill perhaps, but certainly in recognition.