Remembrance for Latifur Rahman: A key patron of free media
His legacy as a visionary, great entrepreneur will live on, speakers tell a memorial service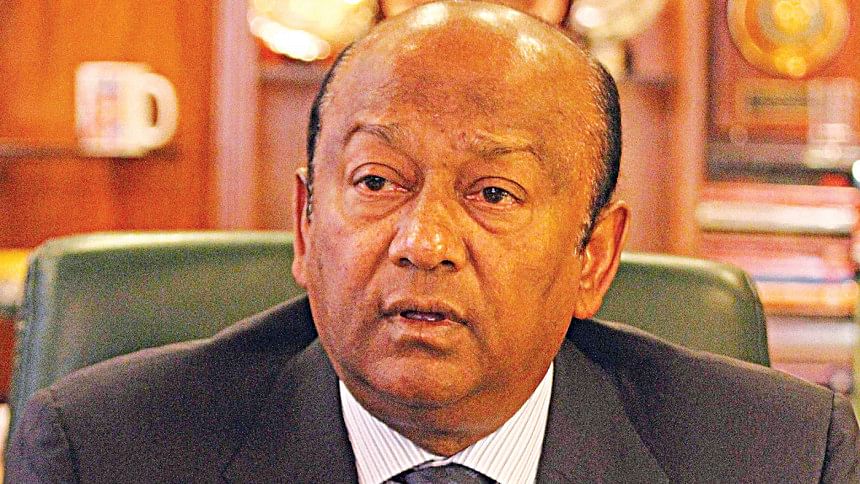 Latifur Rahman's legacy as a visionary, a great entrepreneur, a patriot, and a key patron of democracy and free media will live on, speakers said yesterday at a virtual memorial service for the true icon of ethical business.
"Latifur Rahman is a name synonymous with ethical business, ethical values, business excellence and the spirit of Bangladesh. But to me, he will always be Abbu [father]," Latifur's daughter Simeen Hossain, managing director and chief executive officer of Eskayef Pharmaceuticals Ltd, said on the somber occasion.
"As a child, I knew my father as the man who kept us all together. As the man, he would make all our troubles disappear.
"As I grew older, Abbu began to transform from being my hero to my mentor, my confident and my strength," said Simeen.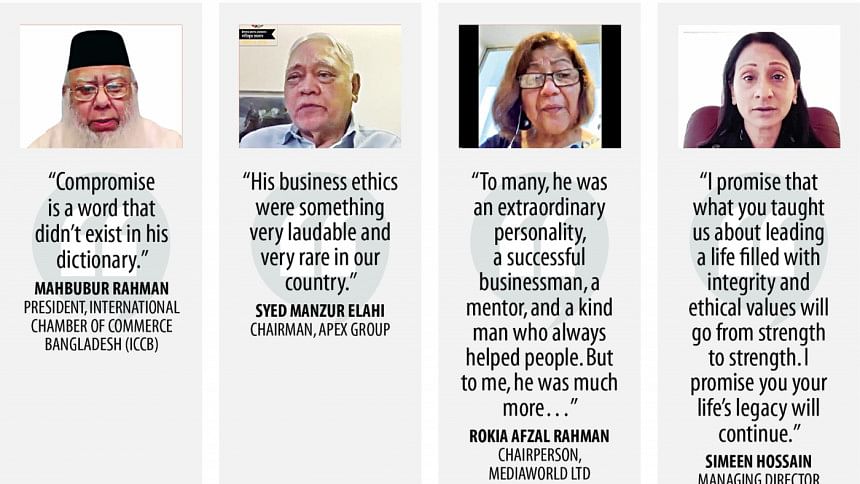 "I began to truly see who Mr Latifur Rahman has always been, to his loved ones, to his friends and to 17,000 members of the Transcom family. His unwavering stance, ethical business practices and integrity were the values he lived by every day."
The programme was streamed live on the websites and Facebook pages of The Daily Star and Bangla daily Prothom Alo. Latifur's grandson Zaraif Ayaat Hossain hosted it.
Simeen said her father was an unwavering protector in any kind of crisis, especially when they lost Shazneen Tasnim Rahman, the youngest daughter of Latifur, and Faraaz Ayaaz Hossain, his grandson.
She further said July 1 continues to be the hardest day for her family every year since 2016.
"The day serves as a reminder when I lost my Faraaz. The day came closer this year… I never imagined that I will lose Abbu on that very day."
She said it seemed that it was the wish of the almighty that the two (Faraaz and Latifur) would become one as Latifur left this world peacefully in his sleep on July 1.
"Now, July 1 will remain a day to remember not one but for two from our family… I can just picture him in my head, smiling, finally united with his Shazneen and Faraaz."
She promised that her father's legacy will live on.
"I promise that what you taught us about leading a life filled with integrity and ethical values will go from strength to strength. I promise you that your life's legacy will continue."
Mahbubur Rahman, president of the International Chamber of Commerce Bangladesh (ICCB), broke down in tears at the start of his speech.
He said Latifur never compromised his ethical position and was adamant about maintaining it in running business.
Mahbubur said the Oslo Business for Peace Award 2012 was a recognition for Latifur's business ethics and social responsibilities. In the business world, the award is almost similar to the Nobel Prize.
"Compromise is a word that didn't exist in his dictionary. … He never compromised on ethical and policy issues."
For this uncompromising stance, Latifur had to face harassment on a number of occasions.
He said the young generation can follow his footstep and take lessons from his contribution and works.
Apex Group Chairman Syed Manzur Elahi said, "His business ethics was something very laudable and very rare in our country.
"He was a good human being. He never lost his temper…. he was very rational and always encouraged constructive argument," he added.
Rokia Afzal Rahman, chairperson of Mediaworld Ltd, the owning company of The Daily Star, said Latifur was "one of our strengths".
"I never thought he would leave us so early," she added.
Mahfuz Anam, editor of The Daily Star, said his dream of having an independent newspaper would not have come true if Latifur was not around.
"I dreamt of establishing an independent newspaper in Bangladesh. And he was the man who made my dream come true. He was the greatest strength that I had, the greatest friend, brother, the supporter, the investor," he said, adding, "It is with deepest sorrow and most heartfelt grief that I participate in this discussion."
He said Latifur's most telling contribution to the country was two independent newspapers -- The Daily Star and Prothom Alo.
"His world has been the world of business -- of setting up industries, setting up commercial institutions. His first foray into a world which was not his was the media. Yes, he always insisted that we should think of it as a business and he insisted that if you really want to have an independent newspaper, you must be independent businesswise.
"If you come to me or come to the board, asking for money in every other year or every other month, then obviously we will not be happy about it.
"But if you can turn the investment into a self-sufficient profit-making body, you will really get the type of independence that you want, and we all want that…," The Daily Star editor said while reflecting on his many exchanges with the visionary businessman.
Mahfuz further said Latifur's decision to venture into the media industry was a tough one, but he took the challenges knowing that it would hurt his other businesses.
"I would like to emphasise here that through his involvement with The Daily Star, eight year before he started Prothom Alo, he was actually coming into a different world -- a world of opinions, a world of respect for somebody else's opinion, a world of allowing dissent, a world of freedom of expression.
"It was not like his original world. But the way he came into this, he fell in love with this whole world of freedom of expression, of saying things to power that need to be said. In my view, it was due to his deepest regards for democracy.
"He never participated in politics, never was interested in it. But deep inside his heart, he knew that democracy is the way for Bangladesh. It is only with democracy -- however flawed and messy -- that Bangladesh will move forward.
"And he had a personal experience of it. He saw the collapse of democracy, saw the coming of military dictatorship, coming of autocracy. And inside his heart, he believed in democracy becoming strong. So, from that belief in democracy, coming into the media was perhaps the next step," he said.
"As a journalist," Mahfuz continued, "My love for freedom of the press is natural, but as a businessman Latifur Rahman's love for freedom of the press was an instinctually acquired position -- a position he held so firmly."
Prothom Alo Editor Matiur Rahman, Metropolitan Chamber of Commerce and Industry (MCCI) President Nihad Kabir, former regional CEO of PepsiCo Sanjeev Chadha, and Latifur's long-time friend Hasan Ashkari, also spoke at the programme.
Matiur Rahman said he knew Latifur for 22 years. When Prothom Alo was brought out, Latifur gave four pieces of advice -- the newspaper should be the number one newspaper in the country, the newspaper should run with its own income, the government rules and regulations like taxes and vat should be honoured, and the newspaper should be independent and not biased.
He added that Prothom Alo became self-dependent in a few years and he enjoyed independence as its editor.
"We are so independent as editors that I cannot imagine any editor in the country who gets such independence… We got that independence from him and he always gave us support and advice. He never interfered in any news, business related decisions, and hiring and firing of employees," said Motiur.
Latifur had to face different attacks and obstacles because of Prothom Alo. He had to visit the anti-corruption commission office, although he was the highest tax payer of the country, Motiur added.
Latifur always possessed immense love for his country and the Liberation War.
Former PepsiCo CEO (Asia, Middle East and Africa) Sanjeev Chadha said Latifur's death was an irreparable loss.
"[Latifur Rahman] Shamim bhai is one of the finest men I have the pleasure of knowing in the entire world. He was a  man of rock-solid core values. A man of steadfast integrity and a man with unwavering high standards," he said.
Latifur was an admirable family man and an outstanding leader who has built so many diverse businesses, he said.
"His wisdom shaped and benefited many communities, industries, institutions and certainly the country."
Latifur always had a positive mindset and saw the glass-half-full.
"He has guided us, spoken to us, inspired us and strengthened us."
Latifur's niece Nihad Kabir said Latifur was a seven-time MCCI president. He always supported her and taught her a lot.
She said her uncle has always been a firm believer in the young generation's ability to change the fortune of the country.
"We will mourn his death. But we will celebrate his life and dedicate ourselves to his legacy…" Nihad said.
Latifur's long-time friend Hasan Ashkari said, "I lament the passing of a friend, who celebrated my success and survival… He was proud of the friendship with me and sought nothing from me."
In the concluding speech, Zaraif Ayaat Hossain said his grandfather had an incredible personality.
"We, the Nanbhai's family, will never stop carrying his legacies… of being in ethical business.
"Nanbhai's legacy will continue through generations inshAllah and that is our commitment to him," he concluded.
Founding chairman and CEO of Transcom Group Latifur breathed his last on July 1 at his ancestral home in Cumilla. He was 75.
He was buried at Banani Graveyard.
Latifur was the founding director of Mediaworld, the company owning The Daily Star, and chairman of Mediastar, the company owning Prothom Alo -- two leading newspapers of the country.
He was the driving spirit behind the establishment of The Daily Star.
Latifur was an honouree of Oslo Business for Peace Award 2012 for his business ethics and social responsibilities. It is considered the most celebrated recognition in the worls of business.