Remembering Latifur Rahman: A patriot, a symbol of ethical business
His legacy is that of a torchbearer of free media, discussants tell memorial session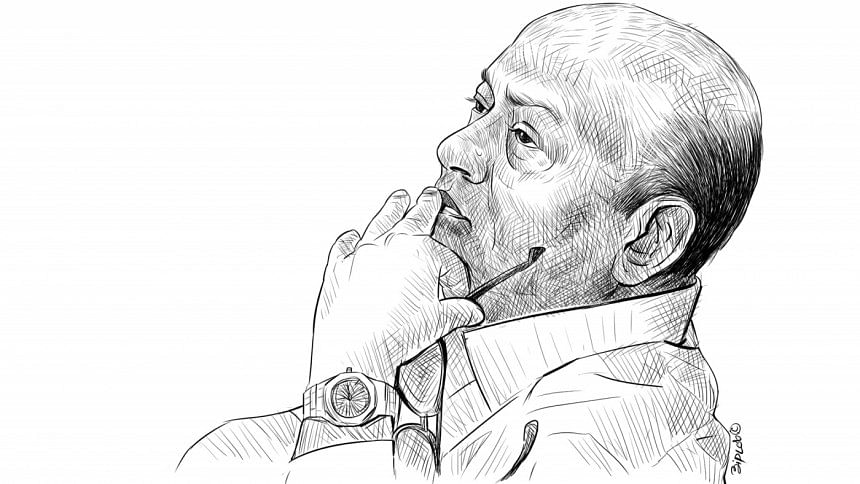 It took three decades of sacrifice, unimpeachable integrity and firm determination for Latifur Rahman to build a business empire. But his legacy is that of a torchbearer of independent media.
This is how speakers remembered the late business mogul at a virtual memorial session organised by The Daily Star and the Prothom Alo yesterday.
"If you want to create an independent media, in which you are a major investor, then you have to make yourself invulnerable to pressure. Most businesses leave room for leverage," said Rehman Sobhan, chairperson of the Centre for Policy Dialogue.
"When governments want to put pressure on newspapers, they do not need to pressurise the editors, they can simply go to the businesses and remind them of some unattended issues of their tax files for example. The independence of newspapers depends on the independence of the businesses financing it.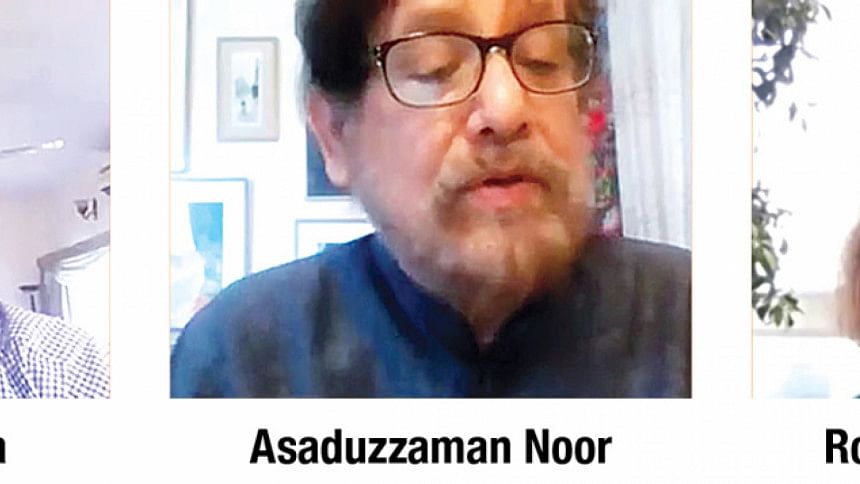 "That such a possibility is possible in Bangladesh, is one of the achievements of our generation," noted the eminent economist.
"Shamim [Latifur] used to say that this is one of the core parts of my business practices -- that because I own newspapers, I need to keep myself clean. He was giving you [the editors] a degree of protection, by taking on his back what should have gone on your [the editors'] shoulders," he observed.
Rokia Afzal Rahman, chairperson of Mediaworld Ltd, the owning company of The Daily Star, said, "One of the qualities that I admire in him [Latifur] was his decisiveness. He was never a fence-sitter -- he either agreed or disagreed and always with reasons and facts.
"And having chosen his side, he would vigorously defend that position."
Quality services to the clients and customer satisfaction were his obsession. Everything his companies produced must be of the highest standard. Every employee must have the highest level of training -- that was his fundamental commitment, she pointed out.
"For him, paying taxes was a badge of honour -- the higher the more honourable. I remember him as a symbol of ethical business and as a patriot who believed in the future of his country," she mused.
M Anis Ud Dowla, chairman of the Advanced Chemical Industries (ACI), said Latifur was many things to many people.
"To his friends, he was a charming and caring person. To the young, he is a role model. To the beginners in business, his stories of struggle in initial years give them hope. For the established business houses, his policies and principles are an example to follow.
"To those who are in leadership position, his style is worth copying and to those who are already successful in some measures, he inspires them to create a vision that will last beyond them," he added.
Asaduzzaman Noor, a lawmaker and trustee of the Liberation War Museum, said Latifur once told him that an independent Bangladesh is the greatest asset of the people.
"In all my exchanges with him [Latifur], he never uttered a word about politics, except this one time. He mentioned that people who had opposed Bangladesh in the Liberation War, raped women, killed freedom fighters and general people and later killed Bangabandhu should be punished for their misdeeds," Noor said.
Brac Chairperson Hossain Zillur Rahman termed Latifur a gentleman who had an adverse attitude towards publicity.
The country has lost an ethical businessman, he said.
"He had proved that a person can become successful doing business ethically. Youths can take lessons from his life and imitate his life."
Md Mahbub-ur Rahman, chief executive officer of the HSBC, narrated an incident to illustrate Latifur's sense of ethics.
"In 2005, we were the bankers for Eskayef Pharmaceuticals. We had told him many times to also let us handle their transactions for beverage business. But he said he could not do so because when he was struggling to make it flourish, some local banks came to his aid.
"He said he could not take that business away from them but told me that if they ever expand, I would get a business deal."
Five years later when Transcom expanded its business with the launching of Aquafina in the country, Latifur kept his word, said Mahbub-ur.
Monjurul Ahsan Bulbul, editor-in-chief of Ekushey TV, remembered Latifur as a pillar of independent media.
"Latifur Rahman is a rare person who had never impeded the independence of his media for his own gain. In all discussions, we are calling him an idol for the younger generation, but may I humbly suggest that other businesspeople also learn from him…
"Can all our businesspeople say that they will not move about with two passports in their pockets? That they will pay their taxes? Our media world needs more people like Latifur Rahman."
Rupali Chowdhury, managing director of Berger Paints Bangladesh Ltd, said, "He [Latifur] made the choice to remain honest forever. This value is extremely difficult to maintain in Bangladesh.
"We believe that the next generation will maintain these values. We believe that his descendants will carry on his legacy."
AK Azad, president of Newspapers Owners' Association of Bangladesh, spoke about the phone calls Latifur used to get every day on the contents of the newspapers. Latifur used to say that he did not know anything and instructed the callers to talk to the editors, Azad said.
"The person who started his life in 1971 with rented furniture has left behind a legacy, including two independent editors who are unwavering in their positions," he said.
Matiur Rahman, editor of Prothom Alo, said Latifur never discussed the contents of the newspapers during board meetings. "The discussions were always about the business."
Mahfuz Anam, editor and publisher of The Daily Star, added, "He used to refer to The Daily Star as 'your newspaper' when talking to me. He has never told me, never once mentioned to me, that 'you wrote this and now I will be affected'."
Latifur's daughter Simeen Hossain, managing director and chief executive officer of Eskayef Pharmaceuticals Ltd, said there had actually been multiple instances over the years that a certain news report had a negative impact on some of the Transcom Group businesses and that she had gone up to her father expecting solutions. But Latifur responded clinically by saying that the paper was just doing its job and was discharging its duties.
Federation of Bangladesh Chambers of Commerce and Industry (FBCCI) President Sheikh Fazle Fahim said his every discussion and chitchats with Latifur had left him touched one way or the other in a value adding aspect of life.
Rajiv Shaha, managing director of Kumudini, recalled how he always was allowed to speak up during board meetings despite being the youngest.
While others spoke of the strides made by Latifur in the business world, his cousin and former ambassador to India Tareq Karim remembered him as a child he played with.
"I remember Shamim [Latifur] and I quietly sneaking out to go to see a Tarzan movie in Lion's Cinema in Armanitola. Shamim was allowed to go because he was going with his elder brother, Tareq bhaia," he reminisced.
"Shamim steadfastly refused to complete his studies in England. His parents asked my father to convince him to go for higher studies but Shamim wanted to start his own business. He lived up to his family's expectations and much, much more.
"I as his elder should have gone first," said Karim, breaking down in tears.
"We are all created from dust and ultimately the body must return to the dust, but the soul goes on to the Supreme Being, leaving behind a legacy on earth," he ended.
Tapan Chowdhury, managing director of Square Pharmaceuticals Ltd, said for a businessman, investing in newspapers and television channels in Bangladesh was very risky.
"Nobody can believe that a newspaper and TV channel can operate independently.
Latifur Rahman proved that there is no scope for having influence as owners in independent houses. For allowing the newspapers to run independently, he had to face a lot of suffering but Latifur never hesitated to call a spade a spade," he said.
Syed Nasim Manzur, managing director of Apex Footwear Ltd, said during his life, Latifur had a firm belief on the potential of Bangladesh.
"He showed us not only the potential of exports but also the huge potential in the local market," Nasim said.
He had shown how to build institutions by blending professionalism and affection.
Zaraif Ayaat Hossain also remembered his grandfather and the legacy of independent media he left behind.
Kutubuddin Ahmed, chairman of the Envoy Group, and Rezwana Choudhury Bannya, celebrated Rabindra Sangeet singer, also paid their respects.