Plasma Therapy Trial: Two doctors donate blood at DMCH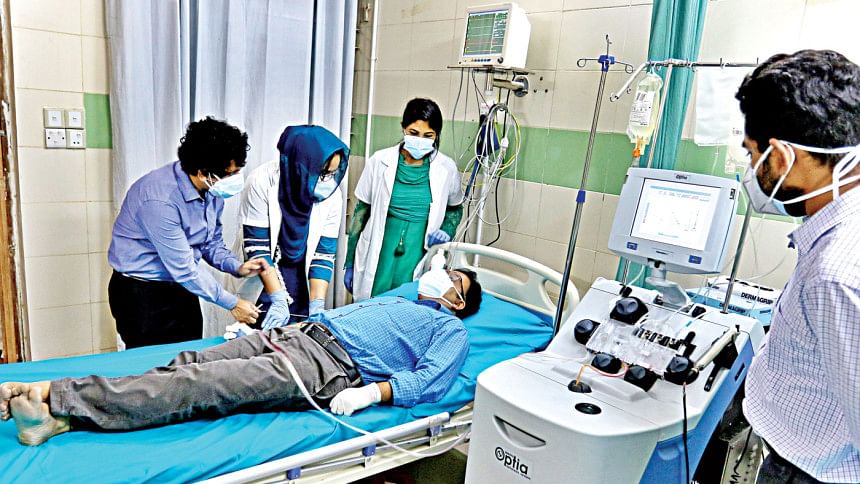 Two physicians, who are Covid-19 survivors, donated plasma at Dhaka Medical College Hospital yesterday for the trial of Convalescent Plasma Therapy (CPT) aimed at treating coronavirus patients.
They made this donation at the hematology department of the hospital under the supervision of Prof MA Khan,  who heads the technical sub-committee on plasma therapy at DMCH. 
 "We will need one more week to start the therapy on ailing patients. We will  continue to collect blood to extract plasma from other COVID-19 survivors to prevent waste of kits for this," Prof  Khan, also chairman of the department, told The Daily Star.
At the beginning, around 30 to 45 patients will be given plasma therapy, said this noted physician, who has been co-opted as a member to the National Technical Advisory Committee (NTAC) formed to combat coronavirus pandemic. 
 As there is no drug to treat Covid-19, doctors in multiple countries are using CPT -- extracting blood plasma from an individual who has recovered from Covid-19 and transfusing it into a patient. This technique is still under trial.
The two doctors who donated blood yesterday are Dildar Hossain Badol of Shaheed Shuhrawardy Medical College Hospital and Rawnak Jamil of Salimullah Medical College Hospital. They  recovered on May 9 and May 5 respectively.
On April 18, the health ministry formed a technical committee headed by Prof MA Khan to conduct feasibility of this method for treating Covid-19 patients.
A protocol the committee submitted to the Bangladesh Medical Research Centre (BMRC) is yet under evaluation.
The committee started collecting plasma yesterday after the DMCH authority ethically permitted the the trial
"The Directorate General of Health Services  also gave permission for this. There are few more processes -- testing antibody, matching blood groups, etc. We have collected kits from Spain for this, with fund donation by a private organisation," Dr Khan said.
"We will complete primary research with this support. We will need funding from the government for this," he added.
He urged those who have recovered from Covid-19 to come forward to donate plasma.
Initially, the therapy will be administered on the ailing patients at the Covid-19 unit of DMCH and also at Kuwait-Moitree Hospital.
Once it will be proved fruitful, the therapy will be used massively.
A RAY OF HOPE
On April 28, the World Health Organization (WHO) published a report mentioning use of 33 drugs and around 200 types of treatment methods which are being applied on Covid-19 patients across the globe.
Plasma therapy is one of those methods. Multiple countries including China, the United State, and United Kingdom have started it and got positive outcomes.
The blood from people who've recovered is called convalescent plasma. Plasma is the liquid portion of the blood.
Researchers hope that convalescent plasma can be given to people with severe COVID-19 to boost their ability to fight the virus.
It also might help keep people who are moderately ill from becoming more ill and experiencing COVID-19 complications.
China is the first country which used this therapy on ten patients under a clinical trial.
Of the patients, eight recovered from their illness.
Considering potentials, the Food and Drug Administration (FDA) has allowed  clinical research on plasma therapy.
Many hospitals in the world are now conducting research on this method and receiving positive result.