Pandemic Fallout: About 100 schools go up for sale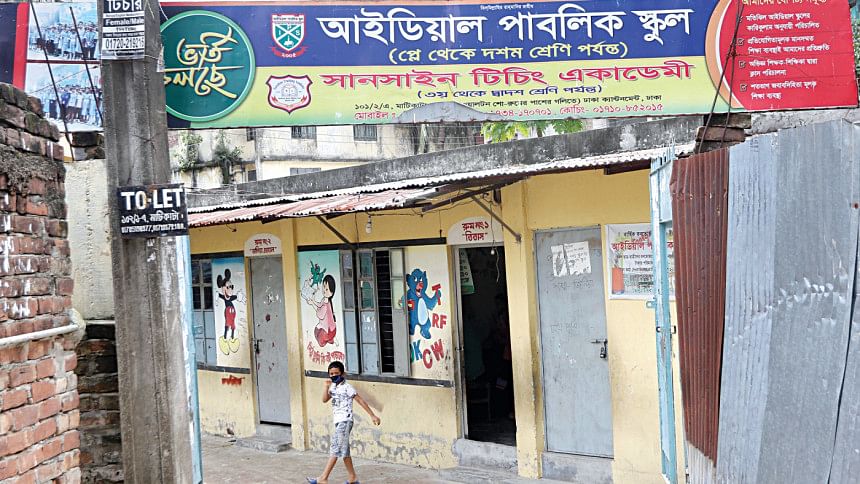 It was a heartbreaking decision for Nargis Akter to make. Burdened with unpaid bills, she had no other choice but to put her school up for sale.
Over the last four months, Ideal Public School in the capital's Matikata area saw its earnings plummet as most of the guardians were unable to pay tuition and other fees amid the Covid pandemic.
"I had my back against the wall… The pandemic posed unprecedented challenges... The amount of outstanding house rent and unpaid salaries of teachers and staffers are going up every month," said Nargis, the founder and head teacher of the kindergarten.
If she fails to find a buyer, the school has to close its doors to 300 students and 25 teachers and staffers after 15 years of operation.
No one has yet showed any interest in buying it, said a frustrated Nargis.
Every month, Nargis has to pay Tk 50,000 as house rent and Tk 70,000 in salaries of teachers and staffers. Till June, the dues stood at about Tk 5 lakh.
The government announced closure of all schools from March 17 due to the coronaviruspandemic. It's still uncertain when they will reopen.
Nargis said they don't have any funds to meet the expenses as the school reached breakeven point only a few months back.
Many schools in and around the capital found themselves in a tight corner amid the pandemic. The majority of the teachers at these schools have returned to their village homes and are in financial hardship.
About a hundred schools have been put up for sale over the last few months, say people involved in the sector.
Srijan Central School and College in Savar's Bypile area is one such institution. It has about 150 students and 15 teachers.
Its Chairman Shamim Iqbal said, "I was compelled to make such a difficult decision. I really feel bad when I think about my students. But what can I do? I need about Tk 1 lakh a month to run this school. I am not getting any tuition fees."
Another school, Rajdhani Ideal High School in Basila area, was put on sale by its Director Faruk Hossain Ripon.
Founded in 2015, the school has 170 students and 15 teachers.
"I have to pay dues of around TK 3.5 lakh in house rent and salaries of teachers and staffers," Faruk said.
With 250 students and 12 teachers, Phoolkuri Kindergarten and High Schoolin the capital's Mohammadpur has also been put up for sale. Established in 2003, its monthly expenditure is about Tk 1 lakh.
In April, school Director Takbir Ahmed gave advertisement for selling it.
"No one has yet made any offer…," he said.
As the owners move to sell their schools in the middle of the academic year, the students of class V and VIII of these institutions may find themselves in a difficult situation. They are expected to take public exams in November this year.
Iqbal Bahar Chowdhury, chairman of Bangladesh Kindergarten School and College Oikya Parishad, said almost every day they get news that schools have been put up for sale.
"As far as we know, about 100 schools have been put on sale.
"If the government doesn't provide any assistance and the Covid crisis lingers, many of the estimated 60,000 kindergartens across the country will be closed," he noted.
Iqbal demanded financial assistance for teachers, soft loans for owners of kindergartens and waiver of utility bills of the hard-hit schools.
Asked, Primary and Mass Education Secretary Akram-Al-Hossain said, "The authorities of the kindergartens did not seek any financial assistance from us. I am not in a position to comment on this.
"If any kindergarten closes down, primary schools should enrol the students of those institutions even in the middle of the academic year," he added.
Manzoor Ahmed, professor emeritus of Brac University, said 100 percent enrolment of students at the primary level will be at risk as a consequence of permanent closure and sale of kindergartens.
"Besides, the number of dropouts will also increase.
"The government should assess how many kindergartens are in crisis and give them financial assistance if needed," added Manzoor, also former senior adviser at the university's Institute of Educational Development.