Online Classes by Public Universities: Many students out of the frame
Poor internet coverage, lack of access to digital devices, floods are to blame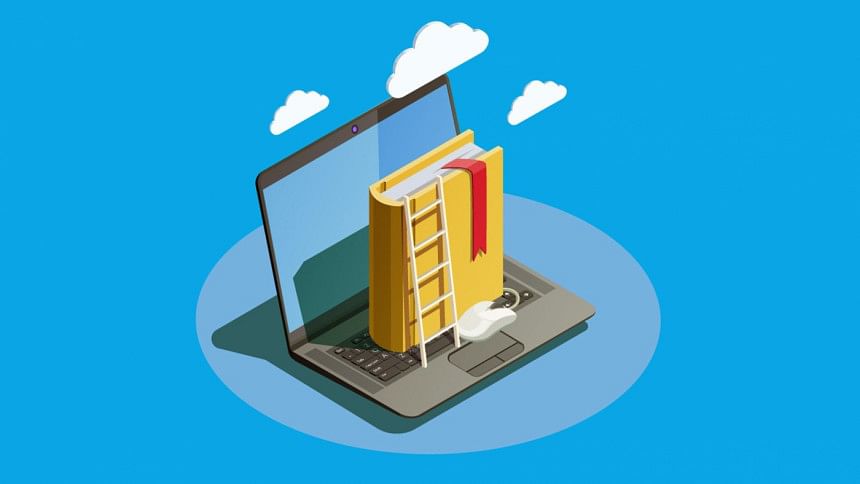 Most of the major public universities are taking online classes with only half or even fewer students mostly because of poor internet coverage in rural areas and people not having access to a digital device. 
Besides, attending an online class is probably not the first thing in the mind of many who lost almost all of their belongings in the flood over the last few weeks.
As if to make matters worse, mobile data has become more expensive with the new taxes. Internet service providers said the students who spent Tk 1,000 for the internet two months ago, now have to pay Tk 1,300-Tk 1,400 for the same volume of data.
Bokhtiar Ahmed, associate professor of anthropology at Rajshahi University, said the problem of digital divide has just become more pressing since the classes moved online.
Dhaka University (DU) started online classes from July.
At its masters programme, the university's public administration department saw an average attendance of 50 percent, officials said.
Fourth year philosophy classes, which have over 150 students,  were attended on an average by 60 students. And only one fourth of the students attend the master classes of Islamic studies department.
Meanwhile, students in large parts of the country are faced with more pressing problems.
"There is water everywhere in my village and there is almost no signal in my home to connect to the internet. I have to get on a boat and find a quiet place with better signals to attend the classes," Sanwar Hossain said from his village in Netrakona's Kendua. 
The philosophy student of DU told The Daily Star yesterday that some of his classmates were in even worse conditions.   
Final year student Zahidul Islam Chapal, who is in Jamalpur, said, "Most of our district is now under water and there are frequent power cuts . I fail to join the classes most of the time. But I used to be someone who almost never missed a class."
Teachers of business studies and science faculties said their departments saw about 60 to 65 percent presence in classes.
Contacted, DU Pro vice-chancellor Prof ASM Maksud Kamal said additional classes on weekends and vacations might compensate for the losses once the situation became normal.
In May, a survey by the University Grants Commission concluded that at least 13 percent of the public university students did not have a smartphone.
Journalism teacher Shiblee Noman of Jahangirnagar University (JU) said many of his students could not be contacted at all.
Anthropology Prof Mirza Taslima Sultana said students' presence has been declining since the classes started in July.
JU Journalists' Association in a survey on 1,200 students found that 68 percent of them faced problems with access to a mobile device and paying for the internet.
"JU has formed a technical committee and we are talking with different companies about ensuring cheaper internet," said Pro-vice Chancellor Prof Nurul Alam.
Rajshahi University also started online classes from July. According to the faculty offices, around 50 percent students have been joining the classes of business studies, law, arts, social science and agriculture departments.
Anthropology teacher Bokhtiar Ahmed said many parents have had their earnings cut due to the pandemic. "But we have to ensure their access. The government should provide them with whatever is needed for them to join the classes."
Proctor Prof Lutfor Rahman said the University Grants Commission was informed about the issue.
Rajshahi University of Engineering and Technology (RUET) started online classes on June 6. Its classes have been attended by 40 to 50 percent students.
Vice-chancellor Prof Rafiqul Islam Sheikh said the presence was becoming thinner by the day. "Many of our students can't afford the equipment or they live in an area with no reliable internet."
Hands-on training has been postponed altogether, he added.
Buet VC Satya Prasad Majumder said that they are holding online classes for post-graduate students only.
Pro VC Sekendar Ali of Sher-e-Bangla Agriculture University said it has not been measured how many students were attending the classes. 
Other teachers said most of their students were from rural areas and they were struggling.