Flood-Hit Areas: Food, drinking water scarce
4 children, woman drown in floodwater in Kurigram
Four children and a woman drowned and died in floodwater in Anantapur area of Kurigram's Ulipur upazila yesterday.
Meanwhile, thousands of people in flood-affected areas across the country are suffering from a shortage of food and drinking water for the last couple of days.
In Kurigram, the victims were Runa Begum, 28; Rupa Moni, 8; Hasibul Islam, 8; Sumon, 8, and Ruku Moni, 8.
Officer-in-Charge of Ulipur Police Station Moazzem Hossain said around 1:30pm, some 20-25 women and children were traveling on boat in the area. Suddenly, a portion of the boat began leaking and it sank.
Many managed to survive by swimming ashore, but the five persons could not survive, said the OC.
In the district, over three lakh people of nine upazilas are currently marooned in waterlogged areas, while homes of 1,031 families have been inundated in the flood, according to sources at the district relief and rehabilitation office.
Many of the affected people are having to have meals only once a day, as food supply has been scarce.
"We have been taking shelter on Guribadh [embankment], on the bank if Dharla river, for the last five days. We have been eating only once a day since then," said Mobarak Ali, 66, a flood victim of Char Madhobrum village in Kurigram's Sadar upazila.
According to the Flood Forecasting and Warning Centre (FFWC), the floods may worsen in Kurigram, Jamalpur, Gaibandha, Bogra, Sirajganj and Tangail today, while
the situation may improve in Lalmonirhat, Netrokona, Sunamganj, Sylhet, Habiganj and Moulvibazar.
Medium to heavy rainfall may occur in the northern and north-eastern parts of the country, according to FFWC bulletin.
FFWC officials yesterday monitored the conditions of rivers in their 93 stations across the country. Of these, 23 had water flowing above danger levels.
In Chattogram, most of tube-wells in Patiya upazila's Shovandandi union have been submerged creating an acute crisis of drinking water for villagers.
Visiting the area yesterday, our correspondent saw many villagers collecting rain water, while many others had to walk miles through waist or chest-deep water to collect drinking water.
"We are confined by water. But we don't have a drop to drink," said Md Lokman, a resident of Adamalla Para area of the union.
"There is only one tube-well left that has not been submerged. It is around two kilometres away from our residence. All the people of our village have to walk through waist-deep water to collect drinking water from there," said Md Idris, a resident of Yakub Nagar area.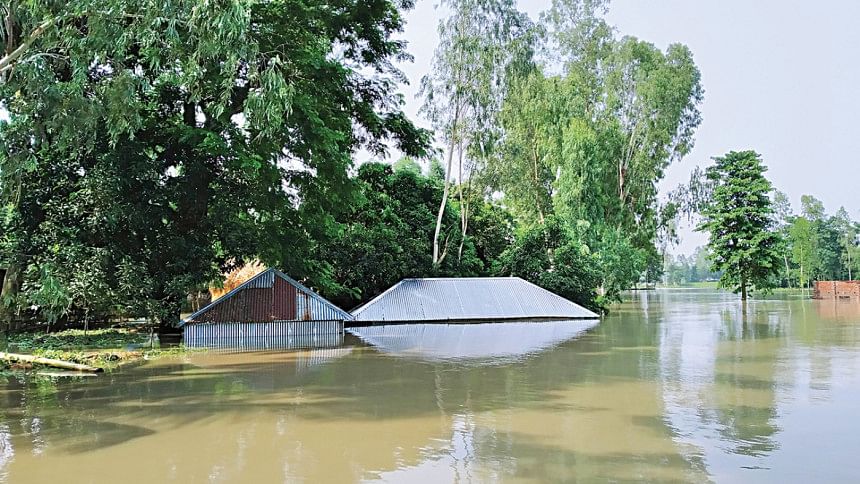 Many flood-affected people are suffering from food crisis.
"All the women and children of my family have taken shelter in our relative's house in another upazila. I am alone here to look after my house. I have been eating biscuits and some dry foods for the past two days," he said.
Crisis of food and drinking water prevails in other flood-affected areas in the district as well, while some 4.5 lakhs people of nine upazilas are in waterlogged areas.
Contacted, Chattogram's deputy commissioner Mohammad Elias Hossain said the district administration had already directed all upazila administrations to take necessary measures for ensuring sufficient relief, drinking water and other essentials for the affected people.
In Rangamati, flood-hit people in Baghaichari upazila are in severe need of drinking water as their houses and tube-wells have all been submerged.
"All the members of five families jointly use one tube-well near our residence. But it has been submerged. So, we have to collect drinking water from a tube-well far away," said Hajera Khatun, a resident of Muslim Block area in the upazila.
However, some are using water purifying tablets to make floodwater drinkable.
"We have got tablets from local medical teams. We are using it to purify floodwater so that it is drinkable," said Rahima Begum, 45, a resident of Kuddus Para village in the same upazila.
Around 10,000 people of the upazila are affected by the flood, according to locals and the authorities concerned.
Speaking to The Daily Star, local upazila nirbahi officer (UNO) Muhammad Ahsan Habib Jitu said they had already distributed dry food, rice, oil, salt and pure drinking water among the affected families.
In Nilphamari, around 40,000 people in the Teesta basin area, who are marooned by flood, are facing a crisis of food and pure drinking water.
Officials concerned said they were distributing relief, but the affected-people claim those were insufficient.  
Our Bandarban correspondent recently visited 10 shelters in the disctrict's town where flood victims claimed that they were facing a serious shortage of food and drinking water and were barely getting help from government.
"We are so worried about our children. They are becoming weak as we cannot provide them with sufficient food," said Monwara Begum, who took shelter in Bandarban Govt Girls' High School.
In Gaibandha, the flood situation has worsened as fresh areas of four upazilas were inundated yesterday following the collapse of a dyke near the district town.
Meanwhile, the flood yesterday started improving in Lalmonihat, while the situations remain unchanged in Mymensingh and Netrokona.
In Kaptai, the authoritites of Kaptai Hydroelectric Power Plant (KHPP), the country's lone hydroelectric project yesterday opened its 16 gates of the dam, as water level on the lake rose above 20-feet higher than the dam can hold, posing a threat of flash floods in adjoining upazilas. 
The authorities opened the gates yesterday evening, with the aim to control the water level, said KHPP Manager ATM Abduzzaher.
Boats and steamers were also warned by the authorities to take precautions as their movement may be difficult due to strong currents.
(Our correspondents from different districts contributed to this report.)