Experts ring alarm over cattle markets
Clerics call for tweak in Eid-ul-Azha traditions to avoid virus risks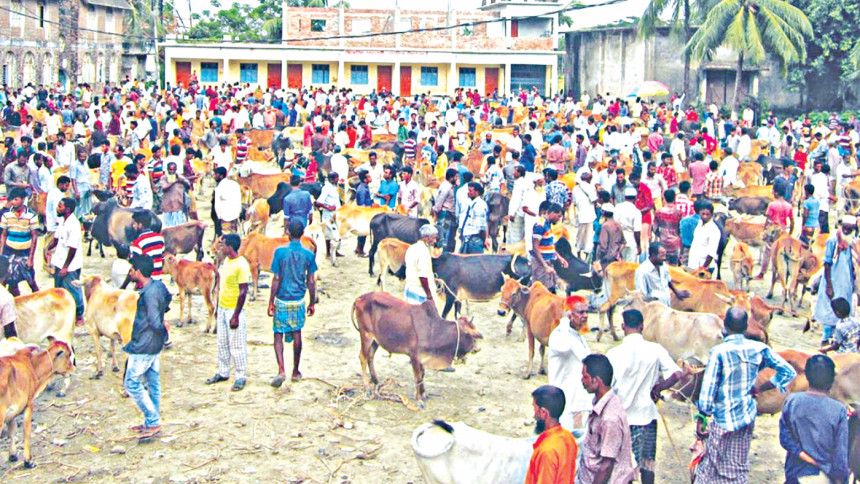 The country may face an acceleration in the already growing number of Covid-19 cases if the government fails to ensure the maintenance of health guidelines in cattle markets across the country ahead of Eid-ul-Azha, public health experts warned.
Slaughtering animals in open spaces during the festival may also increase the risk of infection, they said.
Meanwhile, Islamic clerics have urged a change in festival traditions to help curb further spread of the virus.
Several scholars from the Islamic Foundation and National Mosque Baitul Mukarram opined that it would be better for people to avoid the traditional rituals over animal sacrifice due to the pandemic.
They suggested following the Saudi Arabian system, in which the government centrally arranges the animals and the slaughter on behalf of people who just deposit money in a bank to pay for the whole process.
Citing examples of different countries, including Pakistan, the clerics said the government may also set up slaughterhouses in each locality instead of allowing slaughter at individual homes to avoid the risk of spreading the deadly virus.
Mufti Mizanur Rahman, senior Imam of Baitul Mukarram, told The Daily Star that the government, if possible, could arrange a central system for animal sacrifice this year as individual arrangements can increase the risk of infection.
Mufti Waliur Rahman Khan, a scholar of the Islamic Foundation, told this correspondent, "From the point of Islam and Shariah, there is no bar for the government to arrange a central system for slaughtering animals."
Healthcare experts feared dire consequences if the government allows makeshift cattle markets to operate in Dhaka and other big cities.
"We are going to face difficult days ahead and I fear the government won't be able to ensure that health guidelines are maintained in the cattle markets," said Prof Dr Shah Monir Hossain, one of the eight members of the government-appointed committee to supervise, monitor and support the Covid-19 response.
"I will suggest that the cattle markets be closed this year," he added.
Eid-ul-Azha will be observed this year on July 31, subject to the sighting of the moon.
The two city corporations in the capital have decided to set up 28 cattle markets -- 18 in Dhaka south and 10 in north.
If the makeshift cattle markets, which hundreds of people begin thronging from days ahead of Eid-ul-Azha, are allowed to operate during the pandemic, the infection rate will surge among different people, including traders, farmers and customers -- further spreading the virus to different parts of the country, experts said.
The cattle markets, they added, are always in unhygienic conditions and will not only expose traders and farmers to the infection but will also make them suspected vectors when they return to their village homes.
Besides, the slaughter of animals at individual houses with professional or amateur butchers and the distribution of meat, during which it is near impossible to maintain social distancing, also pose huge risks of Covid-19 transmission, they further warned.
Expressing frustration, Dr Shah Monir said, "Covid-19 will not leave us anytime soon because of the way people are mingling freely without maintaining health guidelines.
"If this situation continues, we may run out of space in hospitals to treat Covid-19 patients in the days to come."
Several other members of the eight-member National Technical Advisory Committee on Covid-19 told The Daily Star that the situation could have been under control by the end of June, had the government acted in line with their suggestions.
"In April, we had suggested that the government not lift restrictions before June 25. But our advice fell on deaf ears, and now people are paying for this," said a member of the committee, preferring anonymity.
About whether the committee has made any recommendation to the government about closing down cattle markets, Shah Monir said they did not do that out of sheer frustration.
"Earlier, we had made a number of suggestions...But the government didn't pay heed to our advice and due to that, huge numbers of people are being infected and dying from Covid-19 now," he said.
Meanwhile, Dr Mushtaq Ahmed, another scholar and former director of the Islamic Foundation, said the government can direct people to slaughter their animals on one of the three days designated for sacrifice instead of on the day of Eid-ul-Azha alone.
Prof Muzaherul Huq, former WHO director for Southeast Asia region, said the government can use makeshift or mobile slaughterhouses this year instead of allowing slaughter of animals at every house.
"We are not in a position to absorb another Covid-19 spike," he added.
Nurul Islam, secretary of religious affairs ministry, told The Daily Star on June 19 that they will hold an inter-ministerial meeting soon to discuss how to deal with these matters.
Contacted, LGRD Minister Md Tazul Islam, DNCC Mayor Atiqul Islam and Chief Executive Officer of DSCC Shah Md Imdadul Haque said they would take measures to strictly enforce health guidelines in the cattle markets.
But Prof Nazmul Islam, former vice-chancellor of Bangabandhu Sheikh Mujib Medical University, said social distancing would be a far cry in cattle markets.
"It is really difficult to control people in a cattle market and many traders, who come from different parts of the country, will get in close contact with those in the capital, for which the risk of infection will be increased," said Nazrul.
He also said if the authorities set up a market in a large area, it may be possible to maintain physical distancing.
The government had introduced a designated area for slaughtering animals in a locality two years ago. But according to DNCC Mayor Atiqul Islam, it was not used due to non-compliance from the public.