ELECTRICITY gets costlier
5.3pc hike effective from March 1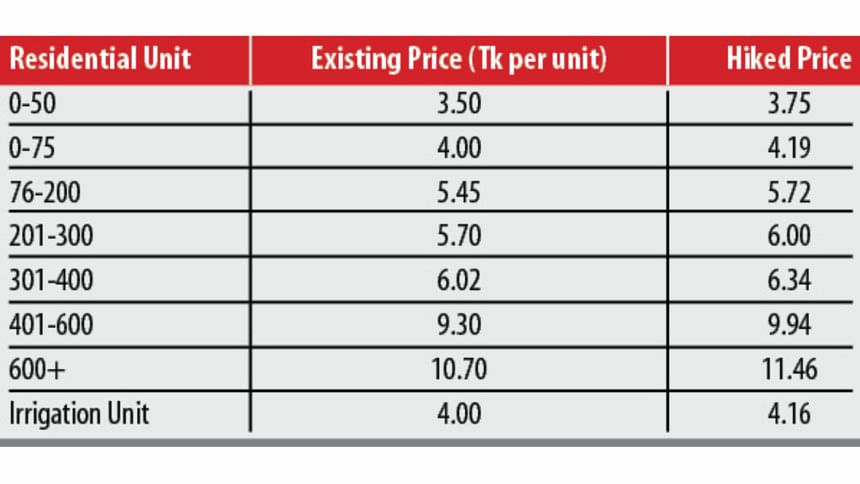 At a time when people are grappling with high prices of many daily essentials, the government has hiked electricity prices, which is likely to cause a big ripple effect on the economy.
The new rate will take effect from Sunday, and in a few weeks power consumption will increase with farmers irrigating their land and people using fans and ACs as temperatures rise.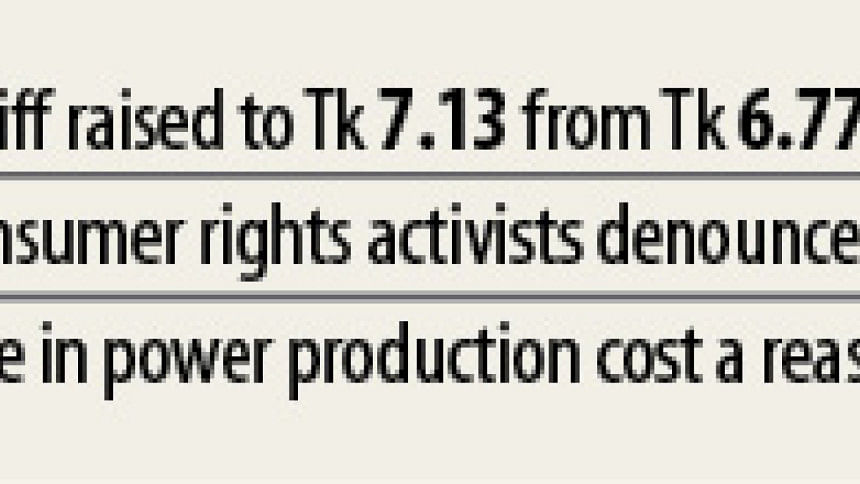 Consumer rights activists and economists said the effect will be the hardest on those living paycheque to paycheque.
Bangladesh Energy Regulatory Commission (BERC) yesterday announced that each unit of electricity will be Tk 7.13, a 5.3 percent increase from the current rate.
The last time power prices were hiked was in November 2017. It was also a 5.3 percent increase.
"We hiked the price considering the overall economic situation, production cost of electricity and its demand. We have assessed the impact [of the hike] on general public, irrigation, and small and medium entrepreneurs," BERC Chairman Abdul Jalil told reporters at a press conference at his office in the capital.
He added that the hike would barely affect the general public.
When reporters asked him about the rationale for the decision, he said, "We are satisfied with our decision."
For the same level of usage, those who used to pay Tk 215-219 a month will now have to pay Tk 220-224, and those who used to pay Tk 759 will pay Tk 803, he said.
For irrigation, farmers spending Tk 3,260 will now pay Tk 3,448. Small entrepreneurs will pay Tk 17,360 instead of Tk 16,550. Medium entrepreneurs will pay Tk 3,44,000 instead of Tk 3,26,000 a month.
Prices of up to 75 units of electricity went up by Tk 15; 150 units by Tk 48; 250 units by Tk 90; 450 units by Tk 196; and 1,000 units by Tk 604, Jalil said.
A public hearing on the proposals for the hike was held by BERC on November 28 last year, when Bangladesh Power Development Board proposed increasing bulk electricity tariff by 23.27 percent.
Dhaka Power Distribution Company, West Zone Power Distribution Company Ltd, and Northern Electricity Supply Company also submitted proposals to increase prices that day. The companies said the costs of operation, hiring employees, modern technology and equipment had increased.
Ghulam Rahman, president of Consumers Association of Bangladesh, told The Daily Star: "During the hearing, we said the move was not acceptable at all. It is illogical, unjust and likely to breed corruption in the private power companies."
According to Trading Corporation of Bangladesh, prices of rice, pulse, oil, spices, sugar and many other daily essentials have increased this year. Onion prices rose by 277 percent compared to last year.
"Gas price was hiked a few months ago, and now electricity will be costlier. But my salary remains the same. I do not know how to adjust my expenses," Sultan Ahmed, a private employee, told the correspondents.
Bangladesh Bureau of Statistics in a recent report said there was a 6.30 percent non-food inflation in January, the highest since December 2015. People living in rural areas are hit the hardest due to the spiralling prices of goods and services other than food.
Since 2010, household electricity price has been hiked seven times and bulk nine times.
Economist Ahsan H Mansur said, "It will create a difficult situation in the industrial sector as production costs will increase. The competitiveness of the readymade garment sector may diminish."
The supposed aim of price hike is to reduce the subsidy, but the cost of power generation would have come down if the government increased efficiency, he added.