Death of ex-major 'isolated incident'
Says army chief; IGP says 'crossfire' is an NGO term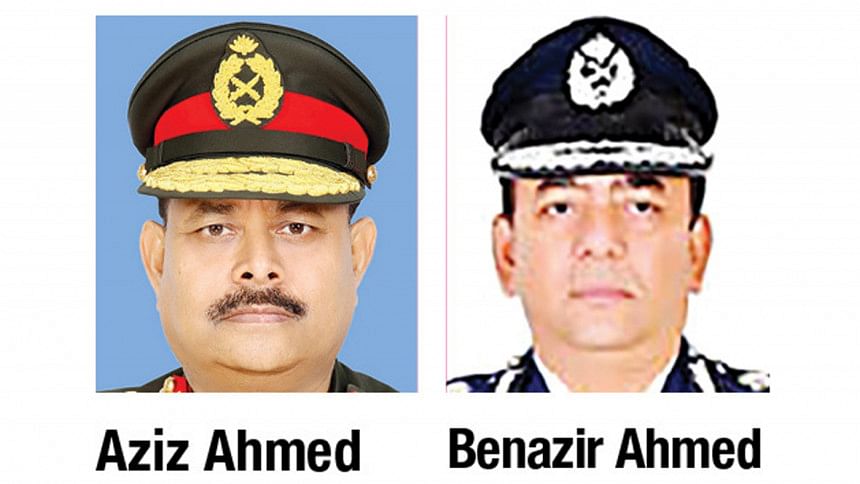 The killing of ex-major Sinha Md Rashed Khan is an isolated incident and it will not cause a rift in the relationship between the army and police, said Chief of Army Staff General Aziz Ahmed and Inspector General of Police Benazir Ahmed yesterday.
General Aziz and Benazir made the remarks at a joint briefing at Cox's Bazar Army Rest House
Sinha was shot at a police check-post on Marine Drive road in Teknaf upazila of the district on Friday.
A reporter at yesterday's briefing pointed out that "crossfires" took place frequently on Marine Drive road.
Benazir then said he would not use the word crossfire.
NGOs use the word, he added, they bring money from abroad talking about different issues. There are many things they can say to justify that, and crossfire is one of them, he said.
About the investigation into Sinha's killing, he said, "We can assure you that the government-formed probe body will conduct the investigation impartially."
The relationship between army and police has been good for almost 50 years as both forces have confidence in each other. It will not deteriorate because of this incident, he added, some quarters are trying to fish in troubled water, but they will not succeed.
General Aziz said the two forces held two meetings with high-ups. Both sides are shocked over the death of Major (retd) Sinha.
"A joint team has been formed at the directive of the prime minister and the team started its investigation over the incident," he said.
"If any person is found responsible for the incident, then the force will not take his responsibility."
Police and army will be very careful in future so that no such incident repeats, he further said.
"We unequivocally want to say that nothing that may cause rift in the relationship of the two forces will happen."
Sinha, who served in the Special Security Force (SSF), was shot by police at Baharchhara police check post.
It triggered widespread criticisms on the social media and Transparency International Bangladesh (TIB) in a statement yesterday said that there was no alternative to ensuring accountability by conducting credible investigations into the killing.
"There are contradictions between primary investigations by the Bangladesh Army and case papers of Bangladesh Police. After an acceptable investigation, countrymen should be informed whether police fired bullets in defence…" TIB said.
The incident cannot be considered an isolated one, said the rights body and added that the anti-constitutional and extrajudicial killings should stop.
As of July 30, 287 people died in "gunfights" with law enforcers in Cox's Bazar since the anti-narcotic drive began in 2018.
It also called for legal protection of three university students who were with the retired army officer during the incident.
Ain o Salish Kendra demanded fair and impartial investigations and justice for every "extrajudicial or gunfight killing".
It also announced that it will provide legal assistance to the three students.