Covid-19 Vaccination: Plan it realistically to avoid chaos
Speakers at webinar urge the govt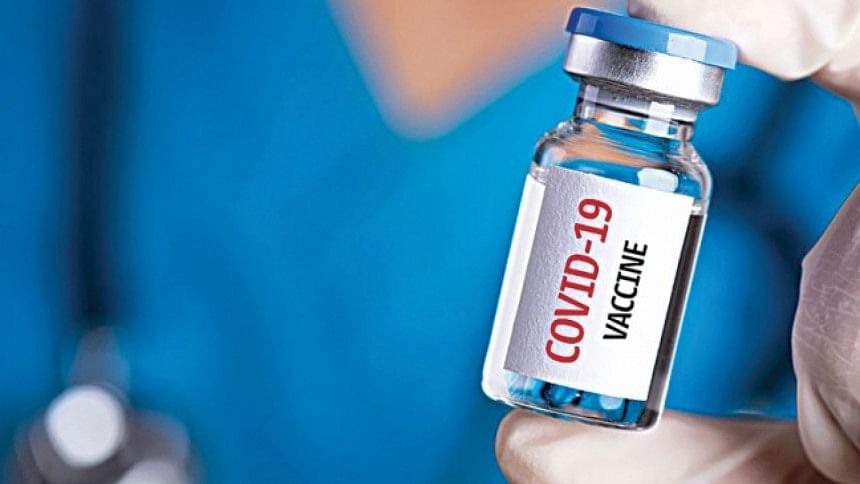 With the government finalising the Covid vaccine deployment plan, a number of speakers yesterday warned that there may be chaos if the plan is not consistent with field-level reality.
While the government faces the challenge of collecting vaccines timely at affordable prices, some unanswered questions about vaccine preservation and fair distribution in the country need to be addressed in a transparent manner, they said at a discussion.
Citizen's Platform on SDGs organised the virtual dialogue titled "Access to Covid-19 Vaccine in Bangladesh: Who, When and How?" joined by eminent personalities, scientists, healthcare professionals and political leaders.
"We can plan well but we have weakness in implementation… When it comes to distribution [of vaccine] at the district level, I am sceptical… There is that might-is-right reality," said former health minister Dr AFM Ruhal Haque.
"The [vaccine deployment] plan is being prepared, but I have doubts about how much control we will have over the situation."
Pointing at the authorities, Dr Rashid-E-Mahbub, former president of Bangladesh Medical Association, said, "Those you are considering as eligible for vaccination in the first phase are ineligible for it given the country's socio-economic context. There will be chaos in priority fixing and vaccine distribution."
Presenting a concept paper, Dr Mushtaque Raza Chowdhury, convener of Bangladesh Health Watch, said, "There are a lot of questions over many issues such as cold chain management, list of vaccine recipients and community engagement."
Dr Debapriya Bhattacharya, convener of the Citizen's Platform for SDGs, said, "Such a big initiative must be turned into a national one with participation of the private sector."
Referring to post-vaccination side effects, eminent scientist Dr Ferdausi Qadri said whatever risks the developed countries face, Bangladesh will face those too.
"…We have to be careful, we have to look at the side effects. We have a different type of population. Genetics is different. We don't know how the vaccine will work in our setting. Unless we use the vaccine, we will not know how to go forward with it, and we don't have a choice."
"I think face covering, hand washing and sanitisation will continue. We have to vaccinate 80 percent of the population to get herd immunity… It's not that we will get vaccines whenever we want," she mentioned.
About vaccine requisition by developed countries, Ferdausi said, "The most terrible thing is vaccine nationalisation. So [the question is] how Bangladesh will get enough shots of vaccines."
Recently, an international campaigners' alliance, which includes Amnesty International, Frontline AIDS, Global Justice Now and Oxfam, warned that nine out of 10 people in 70 low-income countries are unlikely to be vaccinated against Covid next year.
It mentioned that rich countries with 14 percent of the world's population have secured 53 percent of the Covid vaccines either approved by various regulatory authorities or pending approval.
At yesterday's discussion, several experts said arranging and maintaining cold storage for vaccines is another challenge for the country.
Initiated in 1979, a total of 692 cold chain points (2-8°C) have been set up across the country. They can accommodate 50 lakh doses of vaccines at a time.
"If we get the vaccines [Oxford-AstraZeneca vaccines] in phases, we can accommodate those with our existing capacity. But we will not be able to do so if those arrive in a huge volume at a time," said Hamidul Islam, cold chain specialist at the Unicef Bangladesh.
Raising the issue of selecting vaccine recipients, eminent vaccine expert Dr Bijon Kumar Sil said, "Who will get the vaccine?... Only those who have no antibody [against coronavirus] should get the vaccine. We have to select those people through laboratory tests."
Echoing his view, ex-health minister Ruhal urged the government to introduce antibody-based rapid testing.
Prof Rounaq Jahan, distinguished fellow at the Centre for Policy Dialogue, said the government took up many plans in the last nine months but it was seen that it had no capacity to implement those. 
"Plans have to be prepared based on experience."
Prof Sanya Tahmina, former additional director general at the Directorate General of Health Services (DGHS), said, "The reasons behind the excitement surrounding vaccines are business and politics… Wearing masks, hand washing and other hygiene-related matters are more important."
Prof Dr Rashid-E-Mahbub said the private sector should be permitted to import and distribute vaccines.
"But that must be done under the government's regulatory control."
Awami League lawmaker Dr Habibe Millat said it may not be the case that people will queue in their thousands to get vaccines.
He also pointed out that the country doesn't have adequate human resources to vaccinate a large segment of the population at a time.
Dr Md Tajuddin Sikder, chairman of public health and informatics department at Jahangirnagar University, and Dr Rumana Huque, professor of Economics at Dhaka University, also spoke.
Last week, the DGHS submitted the draft National Vaccine Deployment Plan to the health ministry for approval, according to DGHS officials.
As per the plan, 80 percent of the country's population will be vaccinated in four phases. The first consignment of 50 lakh vaccine shots is likely to arrive from India next month or in February.
Around 10 percent of the population or 1.73 crore people will be vaccinated in the first phase. They include frontline government and private healthcare workers, freedom fighters, elderly citizens with comorbidity, members of law enforcement agencies and civil administration, journalists, staffers of religious institutions, emergency service workers, migrant workers, and immunocompromised people.
The rest of the population will be vaccinated in three more phases.
So far, the government has secured 98 million doses of Covid vaccines from two different sources. Of those, 68 million doses will be supplied by the global vaccine alliance "Gavi" under a global arrangement called COVAX facility. Another 30 million doses of Oxford-AstraZeneca vaccine will come from Serum Institute of India via Beximco Pharmaceuticals Ltd.