Containing Covid-19: Testing kit crunch frustrates efforts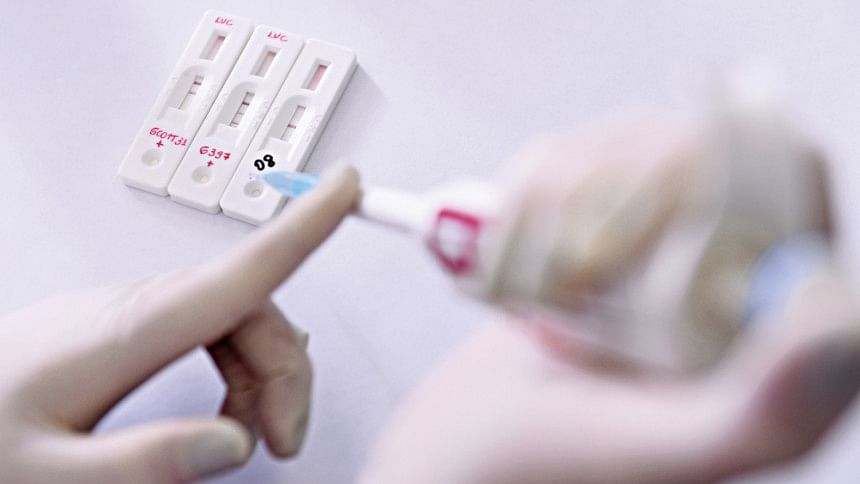 With the country witnessing a continuous surge in Covid-19 infections and deaths, a shortage of testing kits appears to be a major setback for efforts to contain the spread of the deadly coronavirus.
In terms of the number of tests, Bangladesh remains at the bottom among the South Asian countries, and the crisis of kits has already led to suspension of testing in some laboratories.
Shortage of kits at such a crucial time raises serious concern as it is not only causing delays in identifying infected people and tracing their contacts, but also in deciding whether a patient has recovered, said experts.
They said the authorities were not testing enough people taking the country's high population density into consideration. The number of daily tests still hovers around 17,000, although it should be at least 20,000.
As of yesterday, the country tested 660,444 samples, shows data from the Directorate General of Health Services (DGHS).
According to www.worldometers.info, 4,029 out of every one million people in the country have so far been tested, whereas the number is 89,351 in the United States, 83,585 in Italy and 5,329 in India.
The government has managed to test only about one out of every 250 people, which is direly inadequate to get any conclusive picture of the real Covid-19 situation on the ground, said experts.
KIT CRUNCH
The 300-bed government hospital in Narayanganj is one of the places where testing remained suspended for five days from Thursday amid kit shortage.
"We have the capacity to test 280 samples per day. The demand is huge, but we cannot meet it because of the crisis of kits," Goutam Roy, superintendent of the hospital, told The Daily Star yesterday.
The facility received 1,920 kits on Tuesday, which would last for a week and officials have already asked for more, he added.
In Gazipur, Shaheed Taj Uddin Ahmad Medical College wrote to the Prime Minister's Office, drawing its attention to a severe crisis of test kits.
"We had informed the matter to the Prime Minister's Office on Tuesday. We then got some kits. The problem is solved for now," said Principal Prof Asad Hussain.
SK Saiful Alam, assistant professor and head of the department of microbiology there, said they were supposed to test 188 samples a day, but the number came down to 70 to 80 due to the shortage.
The microbiologist also said his team got some new European kits, but the team needs training to learn using them. He said he hoped that they would begin using them from Friday.
Even a ruling party lawmaker has recently vented anger over the shortage of kits that led to suspension of Covid-19 tests in three districts.
Coming live on Facebook on Monday, Ekramul Karim Chowdhury, lawmaker from Noakhali-4, alleged that the testing had stopped in Noakhali, Feni, and Laxmipur.
Ekramul, also a member of the parliamentary standing committee on the Ministry of Health and Family Welfare, said, "I have come to know that three or four business companies have already brought around 10 lakh testing kits, but they have not been able to supply them to the health ministry due to the 'Mithu Syndicate'. Our health sector will never be normal until it gets rid of the Mithu Syndicate."
IEDCR data indicates that the testing also got halted in Jamalpur and at some private hospitals in Dhaka, apparently due to a shortage of kits.
Experts said the country's testing capacity was still drastically insufficient against its huge population, amid a pandemic when testing facilities should have been expanded every day.
"The current number of daily tests is poor. We have to take the number to 50,000," said IEDCR consultant and epidemiologist Mushtuq Husain, but pointed out that that might not be possible with PCR machines.
RT-PCR, in which samples from nose and throat are swabbed, is considered gold standard for Covid-19 tests.
Since the testing machines have to be imported, there are chances of a disruption in the supply chain. "So, we have to go for local production or other means of testing."
Replying to a query, Prof Shahid Ullah, chief of the National Technical Advisory Committee on Covid-19, said it was tough to determine the target of daily tests as the "trend of infection will determine the number."
"We have been saying there should be at least 20,000 tests per day now," he said.
The DGHS yesterday said 17,245 samples were collected and 16,430 tested in 66 labs across the country.
Regarding the kit crisis, he said the government must keep at least two lakh kits in reserve as the supply chain could be disrupted any time. Besides, it should look for other markets also.
Health officials said one of the major challenges is PCR machines cannot conduct a huge number of tests in a single day.
Take the capacity of DNA Lab limited, a testing facility in Dhaka, for an example.
It has around 500 kits in stock and those could last about three days. After that they will have to collect more kits.
"Kit crisis is worsening every day," said Gobindha Chandra Ghosh, a top official of the facility.
Officials, however, said there was no crisis of kits and that the testing did not stop at any place.
"Right now, we have one lakh and two thousand kits. More kits will come. So there is no kit crisis in the country," said Abul Kalam Azad, director general of DGHS.
He said they were gradually increasing the test numbers and more districts were coming under the testing facilities.