Coastal farmers take the brunt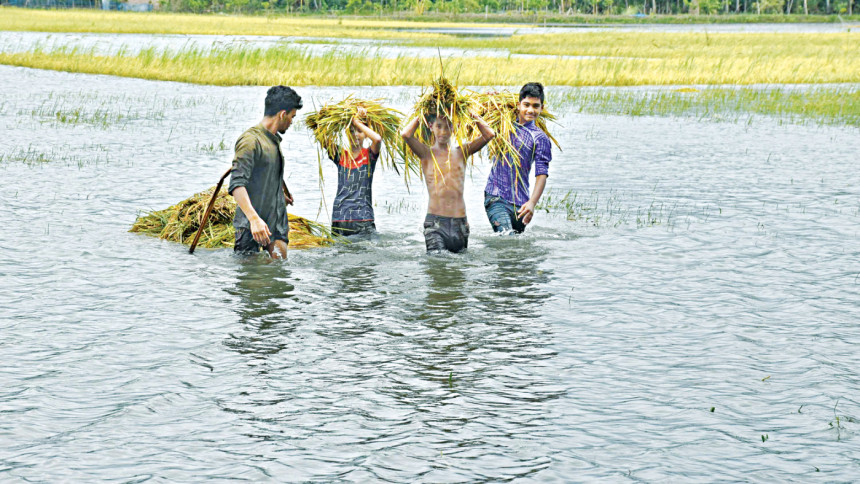 Cyclone Amphan has caused 40,800 farmers of shrimp, finfish and crab losses worth Tk 217 crore in the south and southwest coastal divisions, according to preliminary estimate by the Department of Fisheries.
Officials linked the losses mainly to the flooding of farms due to the cyclone.
"It appears that the post-larvae shrimps that were stocked by farmers in enclosures were partially washed away. Embankments were also damaged in various areas such as Sathkhira's Shyamnagar and Ashashuni," said DoF Additional Director General Md Ramjan Ali.
The fisheries department estimated that shrimp, finfish and crab farmers in the southwest division of Khulna were mostly affected, followed by farmers in Barishal, the southern coastal division.
Shrimp farmers, who export to Europe and the Americas to help the nation earn $500 million annually, were worst hit.
Nearly Tk 175 crore of 18,450 shrimp farms in the southern coastal regions were lost due to the cyclone.
Also 21,700 finfish farms suffered losses due to Amphan.
In addition, it affected 176,000 hectares of crops, including standing Boro paddy, vegetables, and mango, said the agriculture ministry in its initial estimate.
The amount of loss of crops in monetary terms was not calculated, said the agriculture ministry
"Mango growers in Sathkhira suffered the biggest loss due to the cyclone," said Agriculture Minister Muhammad Abdur Razzaque at a virtual media briefing yesterday.
Farmers in the southwest district of Sathkhira grew mangoes on 4,000 hectares and the cyclone damaged up to 70 percent of those mangoes.
Overall, 10 percent of nearly 7,400 hectares of mangoes were damaged.
Sharing the preliminary estimate of effects on crops, he said the loss of crops was less than feared and it will not affect overall food production in the country.
He added that Amphan affected 47,000 hectares of standing Boro paddy, for which 10 percent of the staple crop would be lost.
Farmers grew Boro on 47.54 lakh hectares and harvested 72 percent of the crop until yesterday. Around 96 percent of the crop in coastal regions were harvested, said Razzaque.
The cyclone also damaged farms of mung bean, soybeans, vegetable and betel leaf. Half of the mung bean, on 8,000 hectares, and soybean, on 640 hectares, were lost.
The cyclone caused losses of one-fourth of 42,000 hectares of vegetable farms.
"Betel leaf growers also suffered huge losses," said Razzaque.
The natural calamity damaged parts of papaya, green chilli, peanut, litchi, banana and aush crop on 6,500 hectares.
Razzaque said his ministry would finalise the estimate of agricultural losses soon.
It would also take up initiatives to support affected farmers of vegetables and spices.
Besides, betel leaf and fruit growers would be provided farm loans with four percent interest.