City Bank founder Deen Mohammad passes away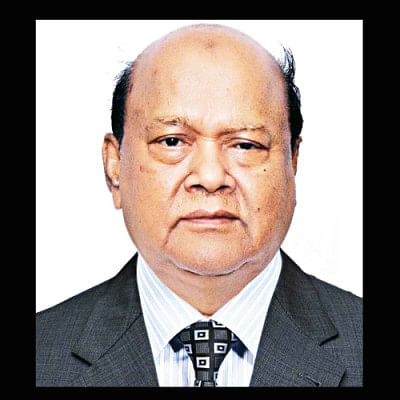 Prominent Industrialist and Chairman of Phoenix Group Deen Mohammad passed away at a hospital in Dhaka early yesterday. He was 83.
Deen Mohammad, also the founder of City Bank, breathed his last at Anwer Khan Modern Hospital around 1:00am due to old age complications and Covid-19 infection.
The noted businessman left behind his wife, one son, two daughters, and a host of relatives and well-wishers to mourn his death.
He had been admitted to different hospitals in the city at different times due to his age-related complications earlier. Later, he was admitted to Sikder Medical College and Hospital after he got infected with Covid-19.
Three days back, he was admitted to Anwer Khan Modern Hospital where he was tested Covid-19 negative, said his son Mohammad Shoeb over the phone.
"My father had a heart problem and he had a bypass operation in 1992. He was very strong but the coronavirus left irreparable damage to his lung. And he could not make it after he suffered from two strokes," said Shoeb.
Deen Mohammad, who was also involved with many socio-cultural organisations, was buried at Lalbagh Shahi Mosque premises after his namaz-e-janaza at the mosque after Zohr prayers, followed by another janaza in Shyamoli.
Born on August 3, 1938, in Dhaka's Lalbagh area, Deen Mohammad was a man on a mission.
His mission had started in 1960 through hardware business with only Pakistani Rs 5,000 he got from his father.
Later, he established himself in the business arena both in the country and abroad.
In continuation of his success, he had established one after various business organisations and had created employment for thousands of people.
He was the founder chairman of Phoenix Group of Industries, which is associated with Phoenix Textile Mills Ltd, Phoenix Spinning Mills Ltd, Phoenix Fabrics Lit, and Eastern Dyeing and Calendaring Works Ltd.
Today Phoenix Group has nearly 20,000 employees, according to Shoeb.
Deen Mohammad had served as chairman of the PICL between 2000 and 2006 and was also the founder chairman of and director of The City Bank Ltd, Phoenix Finance and Investment Ltd, and Phoenix Securities Limited.
He was the proprietor of Apollo Steel and a partner in the real estate company Rupayan Group.
He had earned a huge name and fame in the business community for his honesty, integrity, dedication, hard work, and a high degree of sense of responsibility.
Known as one of the native traders of Dhaka, his experience expanded in time and reflects through his successful works that played a leading role in the development of industrialisation and the economy of the country.
He was a lifelong member of Dhaka Club Ltd, Gulshan Club Ltd, Uttara Club, and Rotary Club.
Deen Mohammad was awarded various awards and medals at home and abroad. He was honoured with Maulana Akram Khan Gold Medal and Jagadish Chandra Gold Medal.
He was awarded Business Initiative Directions (BID) by a Spanish-based business firm.
His founding Phoenix Finance and Investments Limited was awarded the International Award (ISAQ).
Deen Mohammad will be remembered always through his contribution to trade and commerce, job creation, and industrialisation in the country.
Following his death, different business organisations including the Federation of Bangladesh Chambers of Commerce and Industry (FBCCI), political and cultural personalities expressed deep shock and extended condolence to his bereaved family members.
"We have lost a guardian. He was never talked to us with an angry voice and had always been caring about the benefits of employees," said Rafiqur Rahman, deputy managing director and secretary of Phoenix Insurance.