A breath of fresh air in Covid crisis
Buet researchers develop low-cost portable device to provide Oxygen to critical coronavirus patients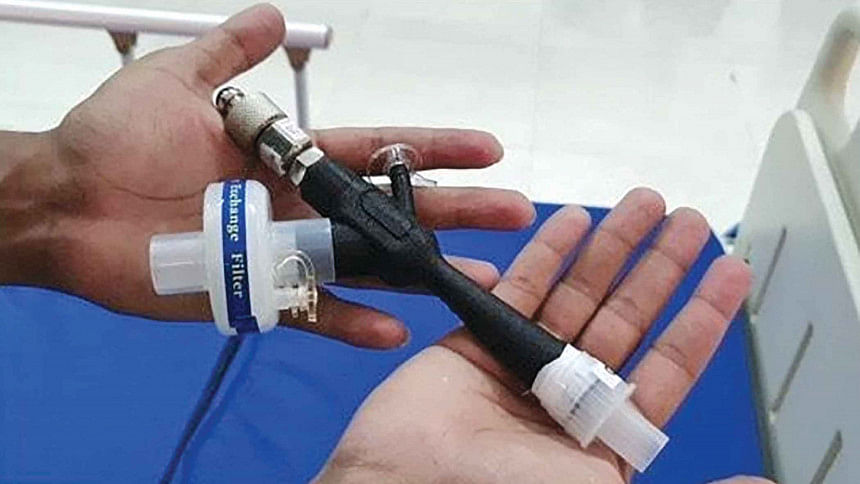 As the demand for oxygen increased at hospitals amid this second wave of the pandemic, a group of Buet researchers has developed a low-cost portable ventilator that can deliver oxygen to patients efficiently without electricity.
The non-invasive device, which requires a connection with an cylinder or medical oxygen supply, is designed to help severe coronavirus patients with low oxygen levels, according to the researchers.
Named OxyJet CPAP by the researchers from Buet's Department of Biomedical Engineering, it has already been field-tested and approved for clinical trials.
This device can be used in remote villages or ambulances -- wherever it is possible to carry cylinders -- as an alternative to the high-flow nasal oxygen (HFNO) support.
"We've developed a non-invasive CPAP ventilator that runs without electricity. The main goal of the device is to provide oxygen treatment to patients of general wards and prevent ICU admission," Dr Taufiq Hasan, the supervisor of the project and a co-inventor, told The Daily Star.
They took the initiative taking into consideration the high demand of oxygen in the country amid the Covid-19 crisis.
He said it is better to use a medical oxygen supply in a hospital to have high oxygen concentration but in case of emergency, OxyJet CPAP can be used, although it will not last long.
In the general wards, most hospitals of Bangladesh have the mechanism to provide oxygen to patients up to 15 litres per minute.
When a critically-ill Covid-19 patient requires more oxygen, they are usually administered the HFNO treatment. However, continuous positive airway pressure (CPAP) is also one of the key methods that can be used to treat such patients.
Depending on the patient's need, OxyJet CPAP can provide up to 60 litres/min of 100 percent oxygen in the general wards before ICU admission.
Non-invasive respiratory support strategies, such as CPAP or HFNO, are attractive treatment options that might avoid the need for invasive mechanical ventilation and its inherent risks, according to the acclaimed medical journal, the Lancet.
HFNO is delivered by an air/oxygen blender, an active humidifier, a single heated circuit, and a nasal cannula. Though effective in treating severe Covid-19 patients, it is too expensive for public hospitals.
On the other hand, OxyJet CPAP requires a standard CPAP mask with accessories and a connection to an oxygen source without any electricity.
"We hope that our device can be a low-cost alternative to HFNO, especially for patients treated at the suspected or confirmed Covid-19 wards, and reduce ICU admissions," said Dr Taufiq.
"When we are faced with peak COVID-19 spread, it is not possible to accumulate an adequate number of high-flow nasal cannula devices in the country. Due to the lack of expert operators, these devices cannot be efficiently utilised," he said.
With the approval of Bangladesh Medical Research Council, OxyJet CPAP has already passed the first and second stages of the clinical trial and got the permission for the third stage of a randomised controlled trial. In the third phase, the safety and efficacy of the device will be compared against HFNO.
The third phase trial is currently going on in Dhaka Medical College Hospital.
"If the trial is successful, with the approval of the authorities concerned and the advice of physicians, this device can be used as a low-cost alternative to high-flow nasal cannula," Dr Taufiq said.
The OxyJet CPAP project is being funded by Ankur International Foundation; Innovation and Entrepreneurship Development Academy Establishment under the ICT Division of the government, and Manusher Jonno Foundation.
Dr Forhad Uddin Hasan Chowdhury, medicine and infectious diseases specialist at Dhaka Medical College Hospital, said, "In the phase three trial, a total of 20 patients will be administered oxygen with high-flow nasal cannula while 20 others with OxyJet CPAP.
"We have so far enrolled about 14 patients and now collecting data. We hope to get the results within two months."
Dr Forhad, who is involved in the study, said OxyJet CPAP was used for the patients who required more than 15 litres of oxygen per minute. It can be handled by any physician after only one hour of training while the use of HFNO devices is more complex.
The other benefit of this ventilator is that it is cost effective as it takes around Tk 25,000 to make the device. The cost will go down once the commercial production begins, he said.