Academic books on shelves, BCS guides on tables
Job seekers crowd DU libraries, which see 61% decline in books issued in last 10 years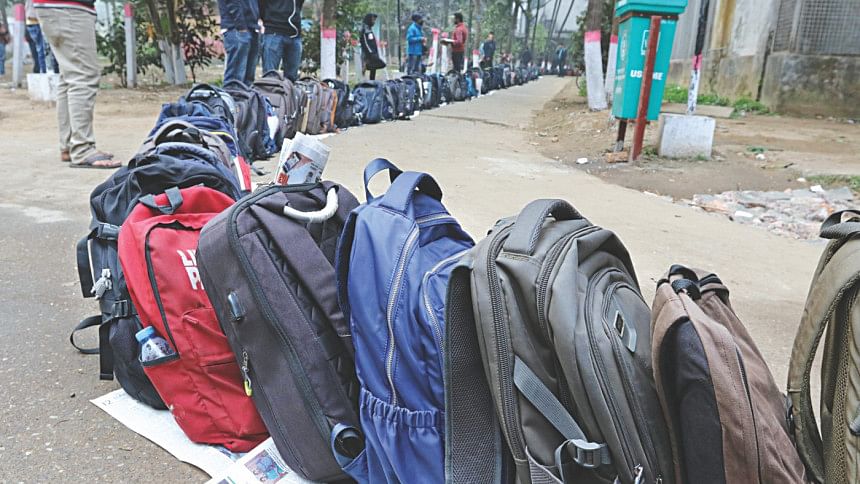 It's an everyday scene on the Dhaka University campus.
With the first light of day still more than an hour away, DU students, mainly those willing to sit for recruitment tests for BCS and other government jobs, start gathering in front of the Central Library gate from 5:00am. They use their bags, a book or two, or even a newspaper page to secure a spot in the seemingly never-ending queues there.
The library actually opens at 8:00am.
Over the years, the number of those going to the library has increased, but there has been a sharp decline in the number of books issued. The situation in nearby Science Library on the campus and other libraries elsewhere in the city is similar.
Most of the library goers appear to be government jobseekers and they bring their own study materials, including guides and notebooks.   
According to DU statistics, the number of books issued by the two university libraries has declined by 61 percent in the last 10 years.
Data shows that the two libraries issued 9,15,425 books to DU teachers and students in 2008-09 academic session. This comes to an average of around 2,500 books a day.
In 2017-18, the total number stood at 3,52,310 -- an average of only 965 books a day. Students and teachers also downloaded 4,86,991 full-text e-journal articles from the DU libraries' website.
The total number of printed and e-books that academic year is still less than the number of printed books issued in 2008-09.
Although no formal research was found in the case of the libraries in Dhaka, a report on the trends at Rajshahi University, published last year, revealed that only 9.25 percent of students read printed books from the central library on the campus. On the other hand, all the students, who took part in the survey, said they read e-books, according to the researchers.
In January, The Daily Star visited nine libraries in Dhaka to collect attendance numbers and information on the library uses. Those include DU's central and science libraries, the Sufia Kamal National Public Library, two libraries at Bangladesh Bureau of Educational Information and Statistics (BANBEIS), Granthabitan, Gyantapas Abdur Razzaq Bidyapeeth, Armanitola Public Library and Biswa Sahitya Kendra.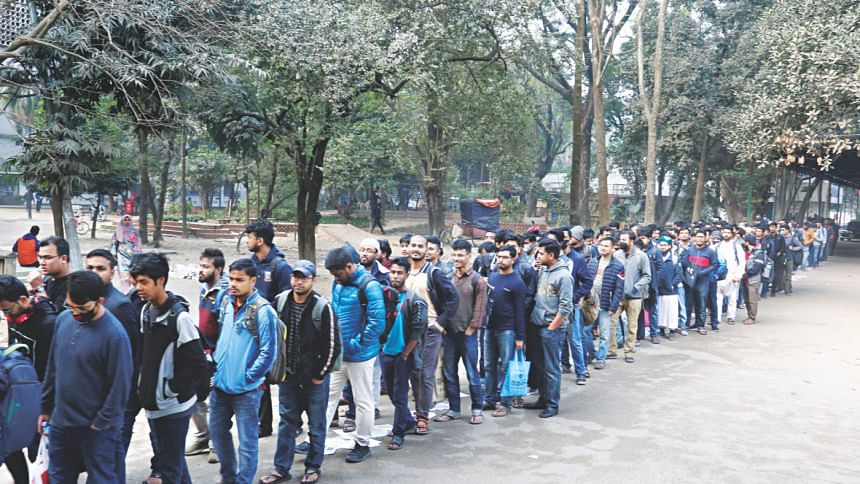 Information collected by this newspaper suggestsat least 97 percent of library users bring note guides with them to study at those libraries -- with the rest studying library books, reading newspapers or magazines, or using the internet.
This correspondent found mainly students bringing their own materials, using these libraries as a space to read rather than as a source of books. The library books themselves were covered in dust and many were in tatters, due to a lack of maintenance.
Out of 1,395 total readers present in those libraries when The Daily Star visited, 1,355 were studying from or reading BCS and other job-related books and guide-books.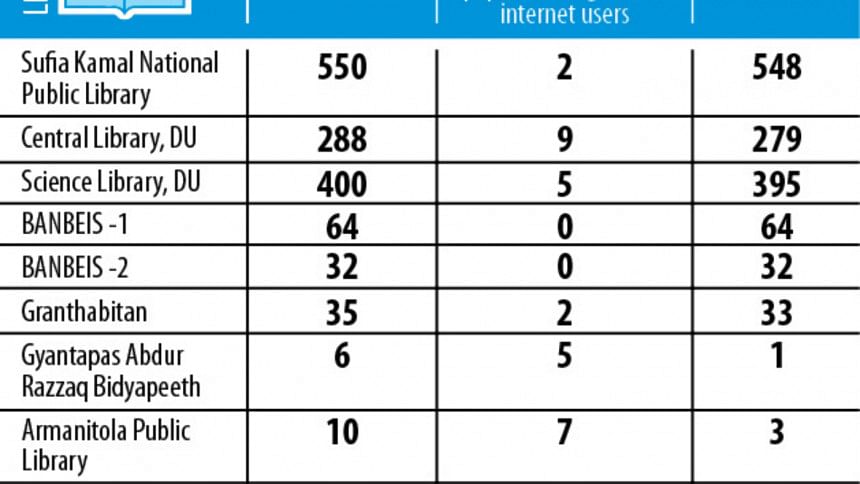 Nineteen people were reading newspapers or magazines, or browsing the internet. Only 21 users were reading library books.
Biswa Sahitya Kendra was a rare exception, with none of the readers there bringing in any book from outside, as observed by this correspondent.
Library users this correspondent spoke to cited various reasons why they no longer peruse library books -- government jobs are increasingly lucrative and students spend a lot of time at libraries preparing for the BCS exams, library books are often outdated, e-books and journals are easily available on online platforms, greater time spent on social media, and limited leisure time.
THEY EYE GOVT JOB
On a weekday morning, this correspondent found around 400 students at the DU Science Library. Only five were studying for their classes, whereas the rest were preparing for competitive job exams, having brought their own books.
The teachers' room in the library was seen to be completely empty.
"It's not possible to study uninterrupted at rooms inside the residential halls, so I come here every morning and go to class from here," said Partha Sutradhar, a third-year student of mathematics department, one of the few students using the academic resources available at the library.
Elias Shaon, a student who already graduated in biochemistry and was preparing for BCS job, said, "I only took a book from this library when I was first-year student." 
Humayun Kabir Masud, a student if molecular biology, echoed his statement.
The DU library books are too old, Elias said, "No new books are available here."
According to article 27 (1) of the DU Library Use Policy, a student cannot bring books from outside the library. However, this rule has been relaxed since 2009, following protests by the students, said University Librarian Prof Nasiruddin Munshi.
Sufia Kamal National Public Library was found to be crowded with students around noon the same day. The library had a seating capacity for 550 -- all the tables were occupied by BCS job seekers, studying. Two students were even sitting on the floor.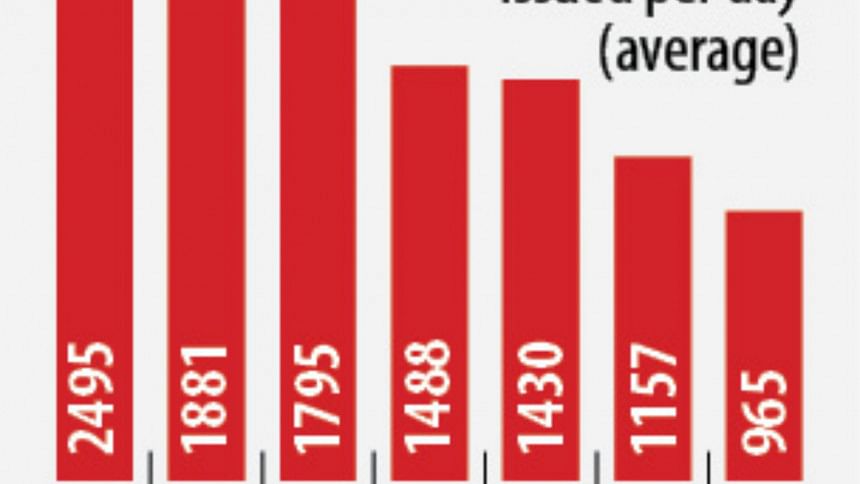 At Granthabitan, a private library established in 1952 in Old Dhaka's Lalbagh, only two out of 35 students were reading library books on a weekday afternoon.
In the two libraries at the Bangladesh Bureau of Education Information and Statistics (BANBEIS) office in Palashi area, around 100 people present on a weekday afternoon were all studying job-related books.
Prottoy Biswash, a student of English at Dhaka College, was the only one studying from a guide-book at Gyantapas Abdur Razzaq Bidyapeeth, a recently established private library in Dhanmondi.
"Books cannot be brought here from outside. So we separate sections of our books and bring them in as sheets, so that we can study them here," he said.
Talking to The Daily Star on the issue, DU Professor Emeritus Serajul Islam Choudhury said, "This state of libraries shows that the utility and value of knowledge is diminishing among people and life is becoming job and livelihood-centric."
He said that this indicates people are becoming self-centred, busy with using technology, and not developing socially.
"If we want to draw lots of students there [in libraries], we should transfer libraries into socio-cultural institutions," he added.