80 aspirants from AL, 45 from BNP
Both parties may have to deal with rebels in Khulna division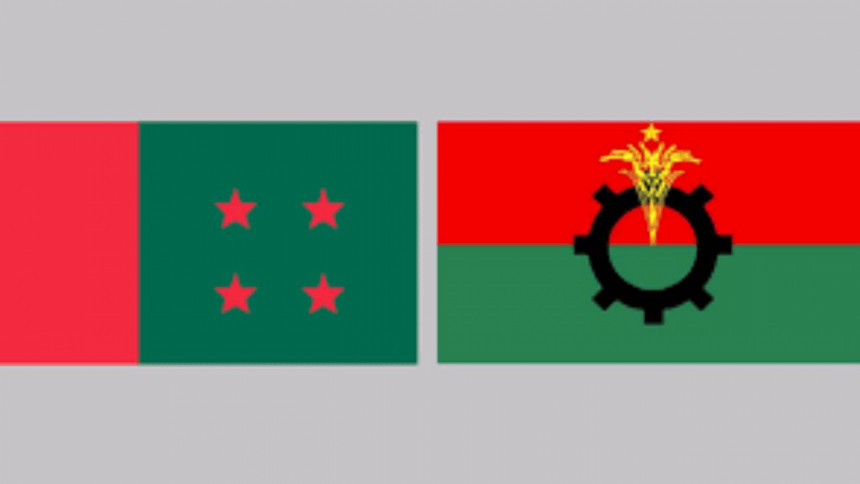 With multiple MP hopefuls in each constituency of Khulna division, the Awami League may have to deal with a serious problem of possible rebel candidates, while the BNP is in a better position with fewer MP hopefuls.
At least 80 aspirants are competing for AL nominations in the districts.
Meanwhile, with only 45 hopefuls, the BNP is almost invisible in the field as its party men are busy fighting lawsuits.
In Khulna district, five out of six constituencies are AL strongholds. Khulna-6 is Jamaat dominated, according to locals.
Among the heavyweight AL aspirants, former state minister Begum Monnujan Sufian, Fisheries and Livestock Minister Narayon Chandra Chanda and Prime Minister's Economic Affairs Adviser Moshiur Rahman are likely to run in Khulna-3, Khulna-5 and Khulna-6 respectively. But they are likely to face rivals as other AL leaders are also eyeing nominations.
In Bagerhat-1, AL President Sheikh Hasina won in the last three elections. In Bagerhat-2, the AL has at least five prospective candidates, including Hasina's cousin Sheikh Helal Uddin. The BNP has only one candidate there.
Khulna Mayor Talukder Abdul Khalque's wife Habibun Nahar is the incumbent lawmaker of Bagerhat-3. There are four other MP hopefuls there. The BNP has at least four aspirants while Jamaat leader Sheikh Abdul Wadud is likely to run as an independent.
In Satkhira-3, former health minister AFM Ruhal Haque is a prospective candidate while there are three other AL aspirants. In the district, over a dozen AL leaders are trying to get party tickets.
Although no BNP aspirant is visibly campaigning in the district, party leaders claimed they have potential candidates.
In Jhenidah, AL hopefuls are campaigning in full-swing, while the BNP remains invisible in the field.
Conflict among AL men has reached alarming proportions in the district as rivaling groups have engaged in scuffles on multiple occasions recently. At least 18 candidates are competing for four party tickets.
The BNP tent is silent with seven aspirants. Two Jamaat men are preparing to run as well.
In two Narail constituencies, there are six AL and four BNP hopefuls. Bangladesh Jatiya Samajtantrik Dal President Sharif Nurul Ambia is campaigning in Narial-2.
In Magura, over six AL leaders, including prime minister's Assistant Private Secretary Saifuzzaman Shekhor and State Minister Biren Sikder are trying to get party nominations. The BNP's two possible candidates are Khaleda Zia's Adviser Nitai Roy Chowdhury and former lawmaker Salimul Haq Kamal.
In Kushtia, Information Minister Hasanul Haq Inu and AL Joint General Secretary Mahbubul Alam Hanif are like to contest in Kushtia-2 and Kushtia-3. Besides, at least seven AL and six BNP men are in the race.
In Chuadanga, parliament Whip Solaiman Haq Jaoardar Selun, businessman Dilip Kumar Agarwal and two other AL men are trying to get party tickets in Chuadanga-1, while Khaleda Zia's adviser Shamsuzzaman Dudu and district BNP Convener Ohidul Islam are also trying to get BNP tickets. At least three other AL and one BNP men are trying to run.
In Meherpur, at least five AL and four BNP leaders are campaigning in two constituencies.
Although Khulna has been swing division since 2001, the current political situation in the 10 districts seems to be heavily in favour of the ruling Awami League despite rivalries within the party.
The AL leaders and activists are vigorously campaigning for multiple potential party nominees while their arch-rivals, the BNP men, are mostly absent in the field.