Khaleda back home
People suffer as traffic disrupted on airport road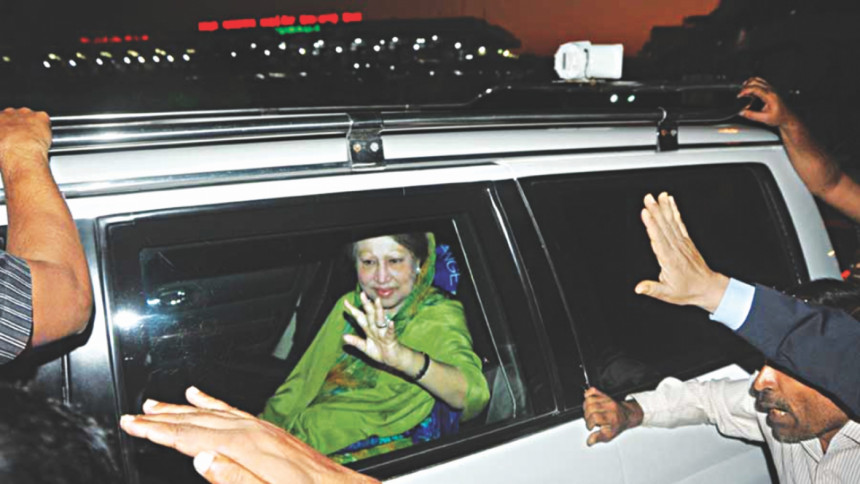 BNP Chairperson Khaleda Zia returned home last evening after staying in the UK for more than two months for medical treatment and spending time with her family members there.
A flight of Emirates Airlines carrying the BNP chief landed at the Hazrat Shahjalal International Airport at 5:10pm.
There was huge security in and around the airport as several hundred enthusiastic leaders and activists of BNP gathered to welcome the party chief on the busy highway.
Water canons, riot cars and fire brigade vehicles were deployed at different points of entrance to the airport. Joint forces of Rab, Armed Police Battalion, police and Ansar were seen deployed at different intersections from the airport to Banani.
Commuters, especially elderly people and children, faced untold sufferings as transport communications were snapped on the airport road stretching from the Airport Intersection to Hotel Radisson for at least one and a half hours since 5:37pm.
Public vehicles were seen stranded on the road for hours since Khaleda came out of the airport to go to her residence at Gulshan-2 at 5:37pm forcing many to go to their destinations on foot.
The law-enforcement agencies forced outgoing passengers to leave CNGs and other hired vehicles at the Airport Intersection although many were carrying heavy luggage.
"I have three pieces of big luggage in addition to other small bags. How will I take those to the terminal alone?" Md Selim, an Oman-bound expatriate, told The Daily Star after being forced to leave his vehicle by the law enforcers.
Several other outgoing passengers were seen facing the same difficulties on their way to the airport.
With around 50 motorcycles in front of her motorcade, Khaleda reached her residence around 7:25pm.
Police were seen taking video footage of Khaleda's motorcade until she entered her residence. Asked, a police official told The Daily Star that they had instruction from the higher authorities.
After reaching her residence, Khaleda did not talk to the media.
Earlier in the day, BNP sought necessary security from the police for the party chief.
The party also sent copies of a letter to the Dhaka Metropolitan Police commissioner, the deputy police commissioner of Uttara and the officer-in-charge of Airport police seeking adequate security measures for Khaleda, says a press release.
The release adds the party sought the police security as it is worried about her safety.
Khaleda left Heathrow Airport for Bangladesh in an Emirates flight at 10:30pm [local time] on Friday.
She reached London on September 16 on a personal tour for her eye treatment and celebrating the Eid-ul-Azha there with her family members. Though initially it was a two-week tour, she delayed her return at least eight times, triggering various speculations at home and abroad.