Hilsa delight for hoarders
Call to strike the frozen fish off Baishakh menu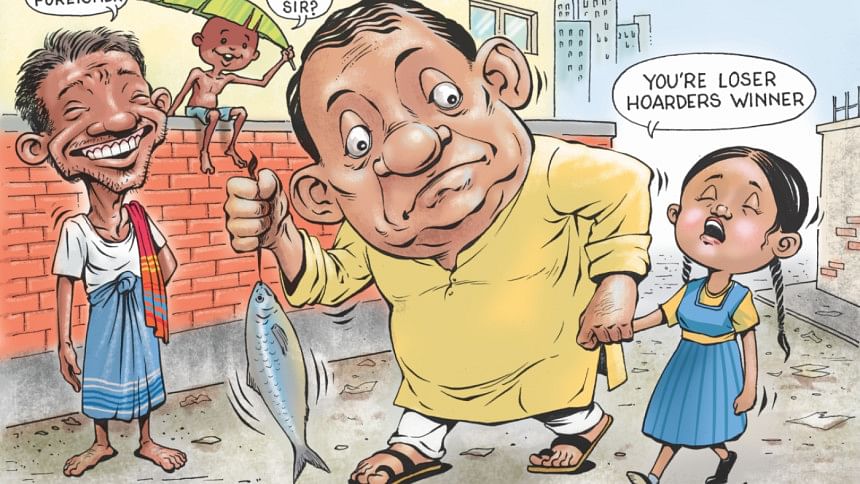 Comes Pahela Baishakh, comes opportunity for hilsa hoarders.
As the whole nation is preparing with great enthusiasm to welcome the first day of Bangla New Year, a section of unscrupulous fish traders is out to exploit the rising demand for hilsa ahead of the festival.
These profit-hungry traders, who hoard the fish all year round, sell those at four to five times the normal prices before Pahela Baishakh, dampening the festive mood of many.
A couple of big hilsa now costs no less than Tk 10,000.
And the hilsa they are selling at exorbitant prices are not fresh, as the bulk of the supply comes from cold storages where the fish was preserved mainly in the peak catching season of July-September.
Many of the traders are even selling jatka (hilsa fry) at some kitchen markets in the capital.
The traders, however, attribute the soaring prices to surging demand before Pahela Baishakh and a drop in supply due to multiple factors, including a two-month government ban (March-April) on catching hilsa in a 340-kilometre area of five major rivers in six southern districts.
Whatever the facts may be, a large number of people are crowding kitchen markets to buy hilsa to celebrate the day with fried hilsa and rice soaked in water, a culinary delight which evolved in recent years.
However, many have abandoned their hopes to buy hilsa this time.
"Can't we celebrate Pahela Baishakh without having hilsa? Of course, we can. All we have to do is to spend the money on something else instead of buying a stale hilsa," said Mahfuzur Rahman, a resident of Mohammadpur.
"Can you believe a hilsa weighing over a kilogram costs Tk 5,000? I will buy clothes for my kids with this money or may go to a nice place instead. That will be more fun," he said.
Mahfuzur, who works at a private firm, said "People are now mad for hilsa as if it was the main part of Baishakh celebrations."
Over the last few days, some users of social networking websites, especially Facebook, have been running campaigns, urging people not to have hilsa on Pahela Baishakh.
Masum Ali, a banker in the capital, said despite the ongoing ban on catching hilsa, a huge quantity of jatka is being caught just for Pahela Baishakh.
"I saw news of law enforcers arresting traders with jatka over the last few days," he said.
In a daylong drive yesterday, a mobile court of Chittagong district administration seized a total of 9.5 tonnes of jatka worth Tk 2 crore from cold storages in Kotwali area.
Eight cold storage owners were jailed and fined for storing jatka.
Jamshed Alam, a physician who lived in the US for around a decade, said, "In foreign countries, the prices of many products come down before a big occasion, but the situation is the opposite in Bangladesh where we see a surge in prices before a festival."