Hasina, Modi talk Teesta, terrorism
'More discussions needed to reach Teesta solution'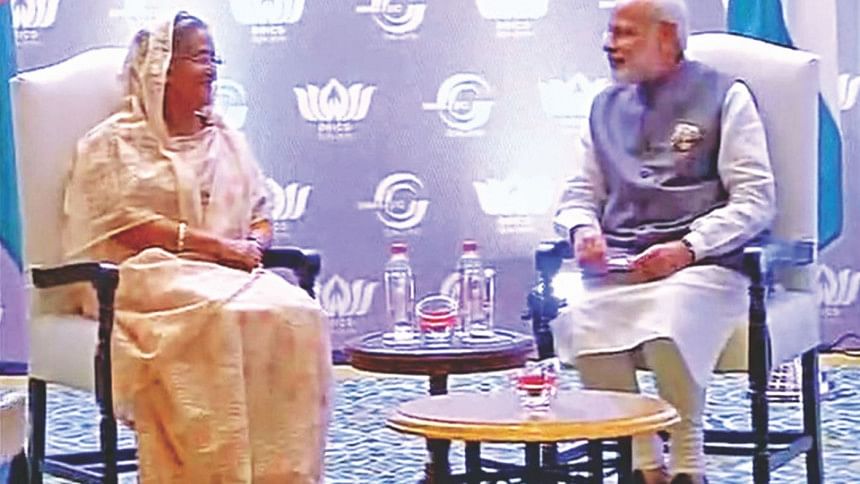 Terrorism and Teesta river water-sharing issues came up for discussion as Prime Minister Sheikh Hasina met her Indian counterpart Narendra Modi in Goa last night.
The Teesta issue came up at the meeting between the two prime ministers and it was agreed that more discussions were needed to arrive at an acceptable solution, said Foreign Secretary Md Shahidul Haque.
Briefing the media after the half-an-hour meeting, Shahidul and PM's Press Secretary Ihsanul Karim said Modi commended the way the Bangladesh premier is tackling the menace of terror in Bangladesh and requested her to share her government's experience in this area.
In response, Hasina told Modi about the steps her government has taken in combating terror including a crackdown on radical elements and creating and spreading social awareness against radicalisation of youths, Shahidul and Ihsanul said.
They said discussions are at various levels between Bangladesh and India on Hasina's possible official visit to India in December this year but no final decision has been made as yet. More discussions on this will take place between the two sides. "Let us see."
Hasina's previous visit to India was in January 2010.
A deal on the Teesta water-sharing has remained in limbo ever since West Bengal Chief Minister Mamata Banerjee had opposed inking it and opted out of the then Indian prime minister Manmohan Singh's visit to Dhaka in September 2011 at the eleventh hour.
Since then, both Manmohan and his successor Modi have repeatedly assured Hasina that efforts were on to work out a consensus between West Bengal government and federal Indian government on the Teesta issue.
Other bilateral issues as well as the South Asian security situation were discussed by the two leaders.
Shahidul and Ihsanul said the two prime ministers agreed that given the current situation in South Asia, it was not conducive to holding of the Saarc Summit in Pakistan next month, and postponing it was a "right decision".
Both the leaders also agreed that questions had been raised about the future of Saarc and only the top leaderships of the countries in the region could find answers to those questions.