Catalans declare independence
Madrid imposes direct rule dissolving regional parliament, calls snap polls; EU, world powers rally behind Spain; rebellion charges filed against Catalan leader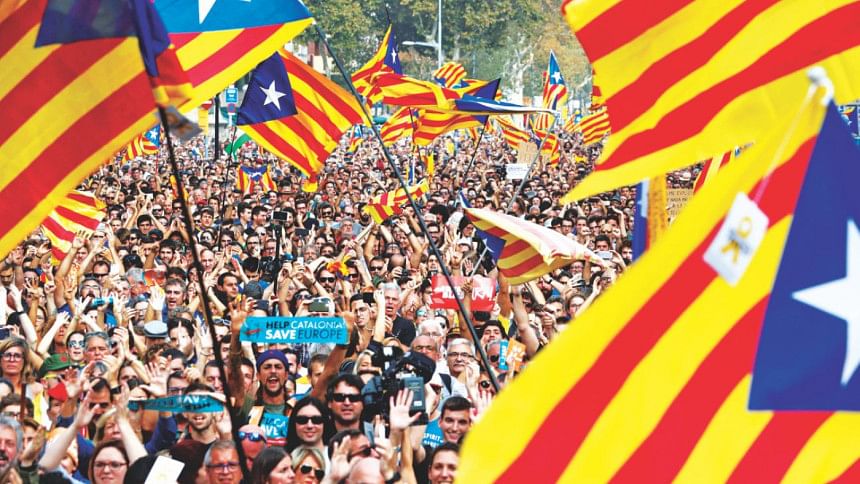 Catalan lawmakers yesterday voted to declare independence from Spain but Madrid immediately moved to quash the breakaway bid in a sharp escalation of a crisis that has caused jitters in secession-wary Europe.
Hours after the declaration, Spain dissolved Catalonia's parliament and called new elections imposing direct rule over the region.
In a televised address after an emergency cabinet meeting, Prime Minister Mariano Rajoy said he had also removed secessionist Catalan leader Carles Puigdemont and his executives.
Rajoy moved swiftly after the Senate gave his government sweeping powers to impose direct rule on the semi-autonomous region to quash its drive to break away from Spain.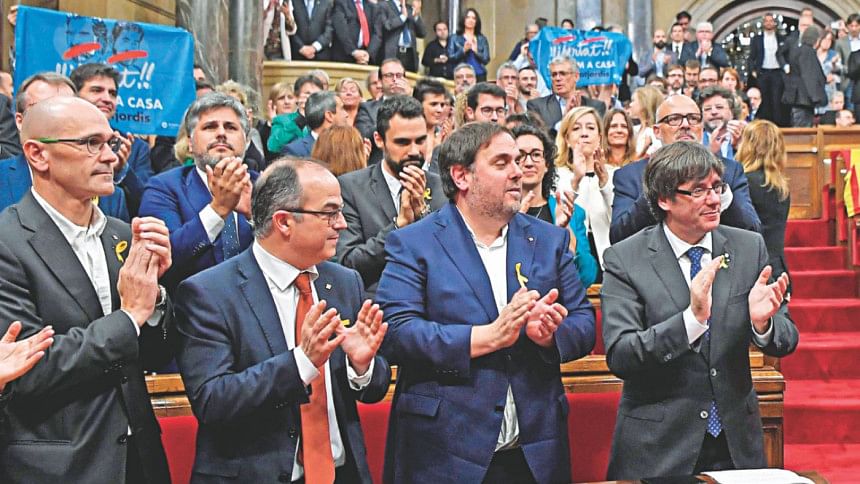 He called for regional elections on December 21 as part of efforts to "restore normality" after the vote in the Catalan parliament plunged Spain into uncharted waters.
After a months-long standoff with Madrid, regional lawmakers voted 70 to 10 in the 135-member parliament to declare Catalonia "a republic in the form of an independent and sovereign state".
Demonstrators in Barcelona broke out in ecstatic shouts of: "Independence!" as the result was announced, while separatist MPs cheered, clapped and embraced before breaking out in the Catalan anthem.
But any cause for joy was soon nipped in the bud with Rajoy's announcement.
"We Spaniards are living through a sad day in which a lack of reason prevailed upon the law and demolished democracy in Catalonia," he said.
Madrid's allies in the European Union and the United States rallied behind Rajoy, voicing alarm over the latest developments in the deep constitutional crisis, and expressing support for a united Spain.
Analysts say Catalonia´s government, now dissolved, would have had no legal power to execute the independence vote.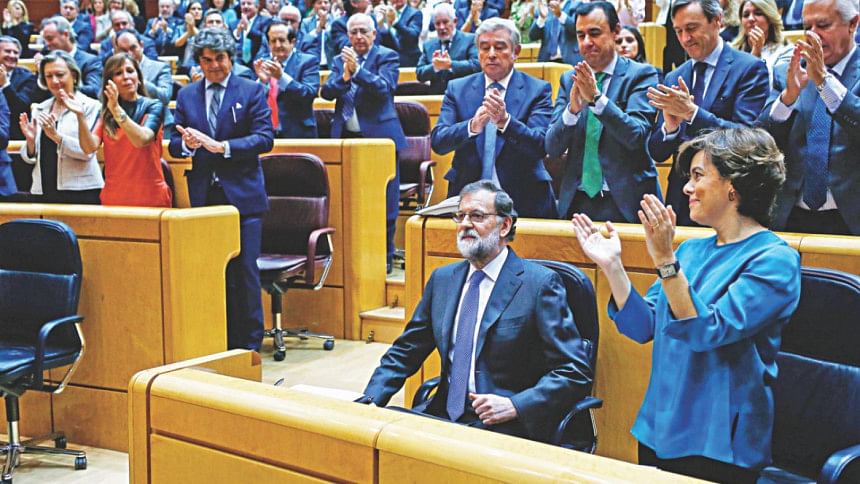 Dozens of opposition MPs had walked out before the secret ballot in the Catalan parliament, one lamenting "a dark day" for democracy.
Shares in Spanish companies, particularly Catalan banks, dropped sharply after the vote.
Catalonia, a region of some 7.5 million people, accounts for about 16 percent of Spain's population, a fifth of its economic output and attracts more foreign tourists than anywhere else in the country.
The measures were approved by the Senate under Article 155 of the constitution, designed to rein in rebels among Spain's 17 regions.
Spain's prosecuting authority also announced it would file charges of "rebellion" -- punishable by up to 30 years in jail -- against Puigdemont next week.
EU President Donald Tusk insisted Madrid "remains our only interlocutor" in Spain after the independence vote that could test the stability of a key member of the bloc.
Wary of nationalist and secessionist sentiment, particularly after Britain's dramatic decision last year to leave the EU, the bloc has stood firmly behind Madrid in the increasingly vitriolic feud.
Tusk urged Madrid to exercise restraint, tweeting: "I hope the Spanish government favours force of argument, not argument of force."
Puigdemont had also urged calm.
"We will have to maintain the momentum of this country (Catalonia) in the coming hours," he told lawmakers and onlookers in Barcelona, while urging them to do so in the spirit of "peace, civic responsibility and dignity."
The United States, one of Spain's Nato allies, declared backing for Madrid using "constitutional measures to keep Spain strong and united".
Germany, France, and Britain, too, rejected the notion of Catalan independence, while the United Nations urged all concerned "to seek solutions within the framework of the Spanish constitutional and through established political and legal channels."
There are deep concerns over the economic impact of the showdown, with nearly 1,700 companies having recently moved their legal headquarters out of Catalonia, a region with an economic output equivalent to that of Portugal.
Catalan resentment at Madrid's perceived interference has been building for years, culminating in an October 1 independence vote deemed illegal by the central government and the courts.
The 2008 economic crisis compounded the bitterness, with Catalans feeling they contribute more to the central purse than they get back.
But while fiercely protective of their language, culture and autonomy -- restored at the end of the 1939-1975 dictatorship of Francisco Franco -- Catalans are deeply divided on independence.
Catalan authorities said 90 percent voted "Yes" in the unregulated referendum now held up by secessionist leaders as a mandate for independence.
Only about 43 percent of voters turned out, however, with many anti-secessionists staying away and others prevented from casting their ballot by Spanish police in a crackdown that turned violent.
Rajoy yesterday sought to place the blame for Spain's worst political crisis in decades squarely on separatist shoulders.
The government´s steps under Article 155 were not aimed against the people of the region, he insisted, but "to prevent abuse of Catalonia" by its own leaders.
Far-left groups had threatened "massive civil disobedience" if Madrid moves to usurp its autonomy.