Blogger Rajib Murder: Convicted planner, deported from Malaysia, arrested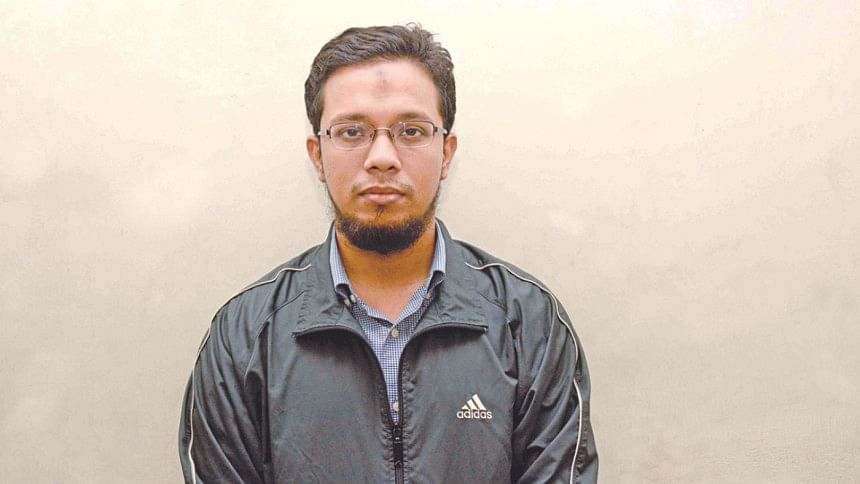 Redwanul Azad Rana, a fugitive sentenced to death over the murder of blogger Ahmed Rajib Haider, was arrested yesterday soon after he had landed in Dhaka being deported by Malaysian authorities.
A key organiser of banned militant outfit Ansarullah Bangla Team (ABT) in its initial years and the main planner of Rajib murder, Rana was held along with an associate named Ashraf in Uttara around 2:00pm.
On February 15, 2013, blogger and Shahbagh movement activist Rajib was hacked to death near his house in Mirpur.
For the killing, a Dhaka court on December 31, 2015 handed down death penalty to Rana, also a former North South University student, and another NSU student Faisal Bin Nayem alias Dweep.
Six others -- five NSU students and ABT chief and spiritual leader Jashim Uddin Rahmani -- were awarded different jail terms.
To execute the plan to kill Rajib, ABT members had worked being divided into two -- "intel group" and "execution group".
As law enforcers detected Rana after the murder, he fled to Malaysia in 2014 managing a passport where he faked his present and permanent addresses, chief of Counter Terrorism and Transnational Crime unit of Dhaka Metropolitan Police (DMP) Monirul Islam said yesterday.
"We had been maintaining regular contacts with Malaysian authorities and providing them with intelligence about the possible whereabouts of Rana. Malaysian detectives tracked and arrested him recently and deported him with an associate yesterday," the CTTC chief said.
A CTTC team followed Rana from the airport and arrested him along with his associate Ashraf in Uttara West Police Station area, he added.
At one stage of his stay in Malaysia, Rana came in contact with Junnun Shikder, a militant suspect who was once arrested by law enforcers in Bangladesh but got bail and fled the country.
"Although Rana was an organiser of banned militant outfit Ansarullah Bangla Team for several years, he was attracted to Islamic State being motivated by Junnun Shikder and took baiyat [oath of allegiance] to the global terror body," Monirul said while briefing journalists at the Central Shaheed Minar about the security arrangement of Ekushey February.
According to the CTTC chief, Junnun is now in Syria. Rana also tried to go to the war-torn country from Malaysia but failed.
Later, Rana along with Ashraf contacted Philippines-based violent jihadist organisation Abu Sayyaf to visit Philippines and take militant training. But before leaving for Philippines, they got arrested by Malaysian detectives.    
Rana, who is from Feni, mentioned Gazipur as his present and permanent addresses in his fake passport used for Malaysia trip, Monirul said.
The number of his original passport was "blocked" by law enforcers so that he got caught at the immigration. But how he managed the fake passport is not known and it is under investigation. 
RISE OF RANA & ABT
ABT was formed with Rana as its leader in 2013. He along with some other NSU students formed different cells and carried out operations. One of such cells killed Rajib Haider.
Another cell attempted to murder blogger Asif Mohiuddin in January 2013, leaving him severely wounded. Rana, who masterminded the attack, is a charge-sheeted accused in the case filed in this connection.
Rana, now 34, is also a charge-sheeted accused in another case filed for planning to kill an assistant headmaster of Monipur High School in the capital at the end of 2013.
Law enforcers intercepted two ABT members while they were on their way to kill the teacher. One was arrested while the other managed to flee.
"The arrested ABT man later identified Rana through his photograph and admitted that Rana assigned them to carry out the attack," Monirul said, adding both the cases are under trial.
The DMP in March 2015 announced a Tk 5 lakh bounty on Rana.
Monirul said Rana might have links to some incidents that took place in Bangladesh before he was attracted to IS in 2015.
"We think that from Malaysia, he continued his militant activities and played roles in different terrorist attacks [in Bangladesh]."
Asked whether Rana has any connection with Ansar al Islam's military commander Maj (sacked) Syed Ziaul Haq, Monirul said they would place him before a court today, appeal for his remand in a case to be filed later in the day under Anti-Terrorism Act and interrogate him to know whether he has any links with Zia.
He also said they would also try to know whether he had any links with one of the Gulshan café attackers, Nibras Islam, who once studied at a Malaysian university.
Ansar al Islam was previously called Ansarullah Bangla Team.
As a rising militant outfit, ABT wanted to launch al-Qaeda in Bangladesh (AQIB) like al-Qaeda in Indian Sub-Continent (AQIS). But the AQIS headquarters in Pakistan did not approve the idea and suggested Ansarullah be renamed Ansar al Islam and work as the Bangladesh chapter of AQIS.