Bangladesh leads in solar home systems
4m systems installed in the country out of 6m worldwide till 2016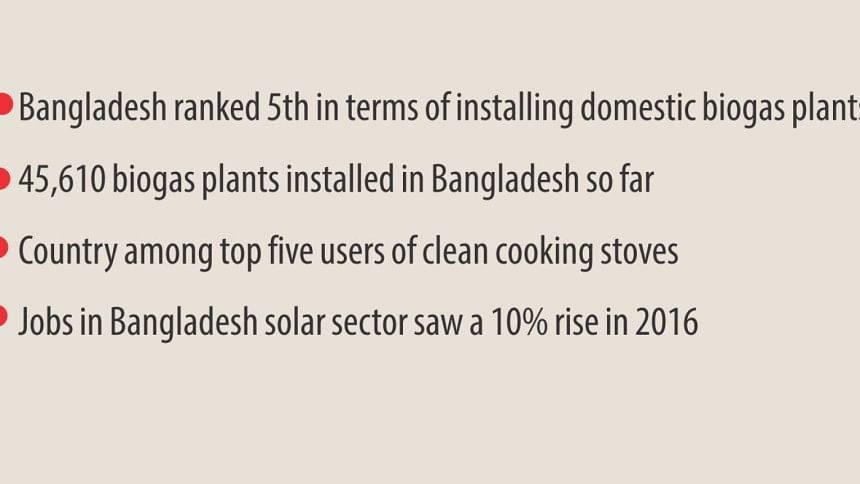 Bangladesh has topped a global list of countries that have installed the highest number of Solar Home Systems (SHS).
With four million of the systems set up so far, the country is also at the forefront of nations using clean stoves and biogas plants, and promoting the cause of renewable energy that constitutes a fifth of the world's final power consumption. This growth in renewable energy use also helped increase employment in Bangladesh.
"As of 2016, more than 6 million SHS and kits were in operation worldwide, with 25 million people benefiting from them. Bangladesh, the largest SHS market worldwide, now has more than 4 million units installed," said the just released "Renewables 2017 Global Status Report".
Paris-based energy think-tank, REN21, brought out the report with financing from the German Federal Ministry for Economic Cooperation and Development (BMZ), the German Federal Ministry for Economic Affairs and Energy (BMWi), UN Environment Programme (UNEP) and the Inter-American Development Bank (IDB).  
The report also credited microcredit schemes for helping Bangladesh achieve the feat of becoming the largest SHS market in the world.
"Markets for both mini-grids and stand-alone systems are evolving rapidly.  Bangladesh, with 4 million units installed, has the largest solar home system market using mainly microcredit schemes," said the report.
Bangladesh is followed by many African nations. 
Currently, 2.86 percent of all power generated in the country comes from renewable energy, including solar power, according to power and energy ministry data. 
The report observed that the cumbersome process of providing electricity access through grid extension alone is becoming obsolete, as new business models and technologies enables the development of off-grid markets.
The 4 million units installed in Bangladesh so far have all taken place in areas beyond the reach of the national grid.
According to the report, approximately 60 million people or 38 percent of the population in Bangladesh have no access to electricity.  
The REN21 report noted that mini-grids and stand-alone energy systems are evolving rapidly, as is the growth of pay-as-you-go business models supported by mobile technology.
In 2012, investments in solar companies using these technologies were only $3 million (2.6 million euros). By 2015, that figure had risen to $158 million, growing to $223 million in 2016.
A record volume of renewable power capacity was installed worldwide last year as falling costs for wind and solar made them more competitive with fossil fuels.
However, the 15 percent VAT on solar panels, as proposed in the next fiscal year's budget, will lead to higher prices than before in Bangladesh. 
According to the REN21 report, Bangladesh also emerged as 5th in installing clean cooking stoves with gradual increased use of the improved stoves.
Five lakh clean cooking stoves were installed in 2014 in Bangladesh, which rose to seven lakh the next year. Bangladesh reduced its import duty on improved stoves by 10 percent, making the stoves more cost-competitive, the report observed.
"In  2015,  some  20  million  clean  cook  stoves  were  distributed,  an  18 percent  increase  from  the  17  million  distributed  in  2014. China continued to lead installations in 2015, followed distantly by India, Ethiopia, Nigeria and Bangladesh."
The report also highlighted that Bangladesh belongs in the list of top five countries to have installed domestic biogas plants. The number of biogas plants stands at 45,610 in Bangladesh.
The use of biogas for cooking continued to increase in 2016, the report noted, adding that Asia leads in total installations of domestic biogas plants, most of which are in China (42.6 million units at the end of 2016) and India (4.7 million units), with an estimated 620,000 units installed elsewhere in the region.
In addition, an increasing number of companies were working in 2016 to integrate renewable energy technology directly into vehicles.
For example, an inexpensive solar-powered three-wheeled ambulance is set to provide service to rural areas of Bangladesh before the end of this year.
The report also said the renewable energy sector employed 9.8 million people globally in 2016, an increase of 1.1 percent over 2015.
In the field of technology, Solar Photovoltaic (PV) and biofuels provided the largest number of jobs. Employment shifted further towards Asia, which accounted for 62 percent of all renewable energy jobs (not including large-scale hydropower), led by China.
"Renewable energy employment increased during 2016 in several other countries, particularly in Asia. In Bangladesh, the number of jobs in solar PV rose 10 percent, primarily due to growth in deployment of mini-grids and solar water pumps."
Solar PV panels on the roofs of homes and businesses use energy from the sun to generate electricity cleanly and quietly. The conversion of sunlight into electricity takes place in cells of specially fabricated semiconductor crystals.
The report states that in 2016, renewable energy provided nearly 20 percent of the world's final power consumption.
Global additions of renewable power capacity outpaced all (net) fossil fuel capacity additions, accounting for around 62 percent of net additions to global power generating capacity in 2016.
"Solar PV was the star performer in 2016, accounting for around 47 percent of the total [capacity] additions, followed by wind power at 34 percent and hydropower at 15.5 percent," the report said.
Investments in new renewable capacity in 2016 reached $249.8 billion, roughly double the investments in fossil fuel capacity.
Record bids for offshore wind energy in Europe brought the industry closer to its goal to generate offshore wind power more cheaply than coal by 2025.
"The world is adding more renewable power capacity each year than it adds in new capacity from all fossil fuels combined," said Arthouros Zervos, chair of REN21, in a press release.
Renewable power generation capacity had its largest annual increase in 2016, with an estimated 161 gigawatts (GW) of capacity added.
Total global renewable power capacity, including hydropower, rose to 2,017 GW in 2016, up almost nine percent, from the previous year.
In 2016, renewables accounted for almost 62 percent of net additions to global generating capacity, the report said.
"Renewables are becoming the least costly option," it said.