7 mega projects gaining pace
Padma Bridge makes significant progress; Metro rail to complete early; 2 more schemes included in fast-track list
Seven mega development projects by the government are well underway and are expected to have significant positive impact for the country.
All of the seven top priority Fast Track Projects costing around $40 billion have now gained pace, although some of them are a few years behind the schedule.
The projects are the Padma Bridge, Rooppur Nuclear Power project, Paira Sea Port, the coal fired large power projects of Matarbari and Rampal, Metro Rail and LNG terminal.
Recently, another project -- Padma Bridge Rail Link project -- was included in the fast-track project. But it has not seen much progress as the Ecnec approve the Tk 34,988-crore scheme only early this month. 
A ninth such project -- the Sonadia Deep Sea port -- remains shelved for now.
The Rooppur project alone claims $12.65 billion. The Paira port project, which would take seven years to complete in three phases, also may need over $15 b -- depending on the final plan. The feasibility report of the Paira port project was just submitted last month.
Construction of the LNG terminal started in 2010 but due to management issues, the project limped along for long although the authorities were holding unsolicited negotiations under the Special Act for 'Quick' Supply of Power and Energy, 2010. Finally the government signed contract with a US based company on March 31 last.
Besides, the government's initiative to build a deep sea port also suffered a delay of around five years. Back in 2009, following a Japanese study, the government had planned to build the country's first deep sea port in Sonadia off Maheshkhali. But now, the government has switched to a new location in Paira, off Patuakhali.
In the latest meeting of the Fast Track Project Monitoring Committee headed by the prime minister on April 27, officials discussed inclusion of another project as fast track: the Railway from Dohazari via Cox's Bazar to Gundum of Myanmar.
PADMA BRIDGE: PROGRESS SATISFACTORY
Originally planned to be completed by December 2013, the much-troubled Padma Bridge Project is now making good progress and it is expected to be completed by 2018.
According to official reports presented to the Prime Minister on April 27, the project marked 65 percent progress in constructing approach roads at Jajira, 73 percent at Mawa, main bridge and river training, 21 percent. Thirty-four percent progress has been made in bridge financing.
The project that saw several cost escalations is now being implemented at a hefty cost of $3.7 b. This cost jumped from $2.9 b at 2010—when the World Bank had agreed to fund it. After the WB withdrew its promise, the government began implementing the project from 2014 using its own resources.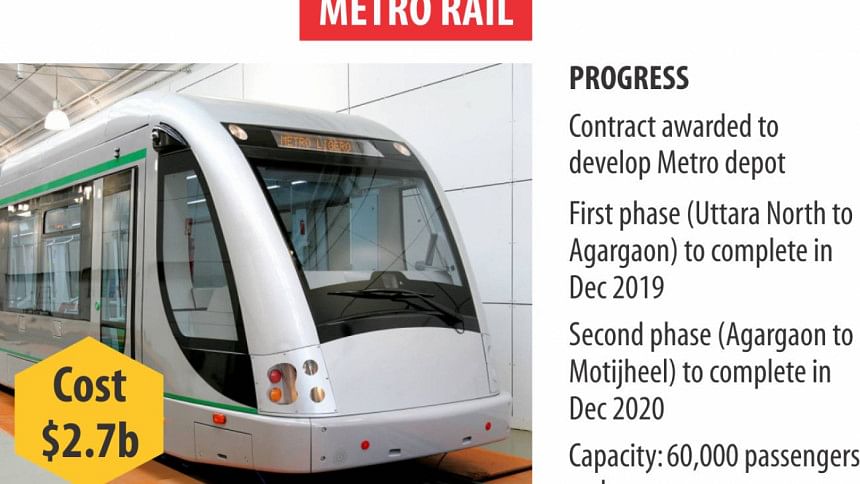 METRO RAIL: PROJECT DEADLINE CUT BY ONE YEAR
The Metro Rail project was delayed by five years and was set to be completed in 2020. But now this 20-km vital rapid transit project may finish before the deadline. Work on the first part of the project from Uttara North to Agargaon will begin from early 2017 aiming to be completed by December 2019. Works between Agargaon to Motijheel would also start in 2017—but it would be completed in December 2020.
The $2.7b metro rail project got a shot in the arm upon receiving Japanese funding in February 2014.
On March 27 last, the government signed a contract with Japanese Tokyu Construction Company to develop the Metro Rail depot.
The project is currently facing some hurdle as certain roads were found not wide enough. Besides, an old temple stands on the way. The authorities are seeking a Tk 50 crore allocation to widen a road in the cantonment area and relocate Chakuli Temple from the Mirpur cantonment.
Once completed, the project would carry 60,000 passengers per hour and bring great relief to the city's notorious traffic congestion and delays.
This 20-km Metro Rail route, named Mass Rapid Transit (MRT) Line-6, will be constructed from Uttara to Bangladesh Bank and will have 16 stops.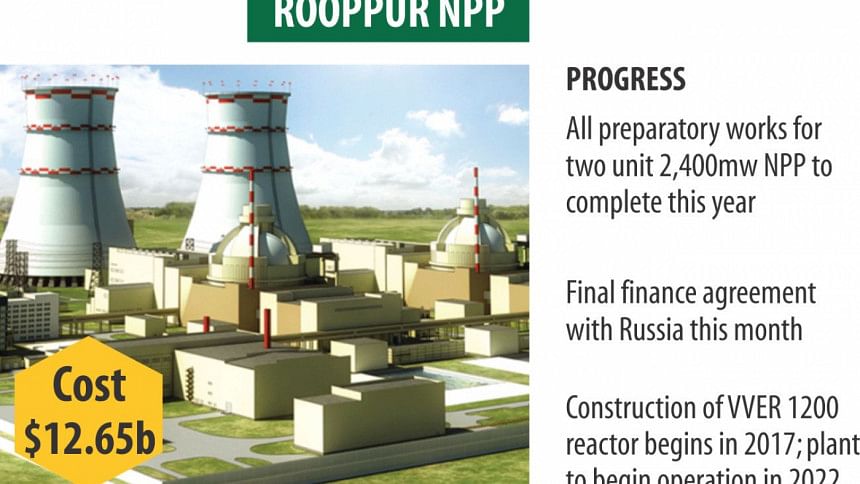 ROOPPUR NUCLEAR POWER: PROGRESS SATISFACTORY
The 2400 megawatt Rooppur nuclear power project has made significant progress as it has initialled a $12.65 b financing agreement with Russia last December.
All preparatory construction works will be finished within this year, while certain field level works have been fully completed, a well-placed source said.
"We expect the financial agreement to be finalized by May, because we want to make advance payment from the next budget for equipment that takes around three years to construct," he said.
Bangladesh will hold a discussion with Russia over the state credit agreement on May 16.
Russian state company Rosatom began working at Rooppur in mid 2013 and is currently undertaking a techno-feasibility study under a half-a billion dollar loan.
Rosatom's sister concern Atomenergoproekt—which is undertaking the study has recently floated a tender for engineering survey, environmental monitoring and development of project documents for the Rooppur NPP site.
The government expects the construction of the nuclear reactor to start early 2017 and complete by 2020. The plant's trial operation target is in the following year but officials say the plant will begin operation from 2022.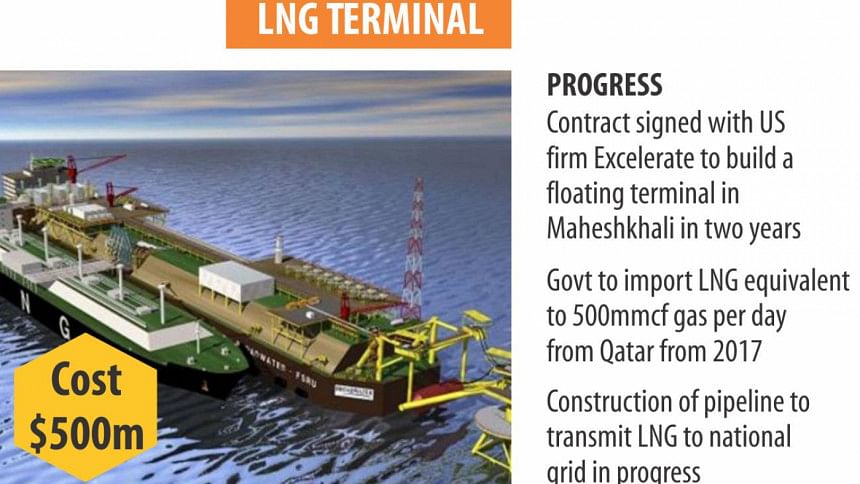 LNG TERMINAL: SIX YEARS LATE, BUT DEAL SIGNED RECENTLY
After six years of floating the tender for the Liquefied Natural Gas terminal, Petrobangla on March 31 signed a contract with US based company Excelerate Bangladesh to build the floating terminal within two years investing $500 million.
Part of this project is building a 90 km gas pipeline from Maheshkhali to Chittagong to connect to the national grid.
The government will spend $1.5 b a year to import 500 million cubic feet of LNG per day from Qatar from 2017.
The LNG would be very costly, but it would not only diversify the country's primary energy sources—but also ensure that the gas-based industries and installations do not face a sudden death in the near future. It is expected that after mixing LNG with the national gas, the average price of national gas will have to be more than doubled to make it cost effective.
Excelerate Energy will realise $159,000 per day as rent of the floating terminal and $45,000 per day as operational charge. As a result, the price of each thousand cubic feet of natural gas from imported LNG would be at least $3.2.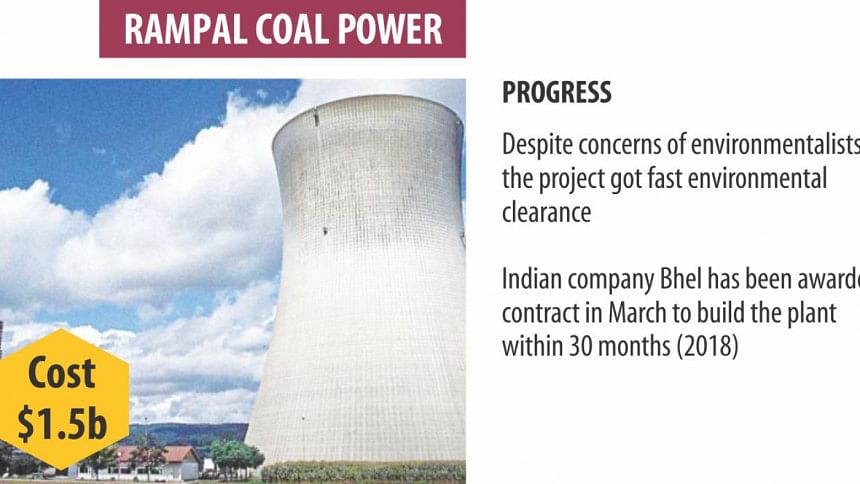 RAMPAL POWER PROJECT: 2 YEARS LATE, BUT DEAL SIGNED RECENTLY
After initiating the project in 2010, the Rampal 1320 mw project suffered a delay of two years.
While there is widespread protest about the location of the power plant, the India-Bangladesh joint venture company in March has awarded Indian company Bhel the Engineering, Procurement and Construction (EPC) contract for the $1.5 billion dollar project. It is expected to come into operation in 30 months.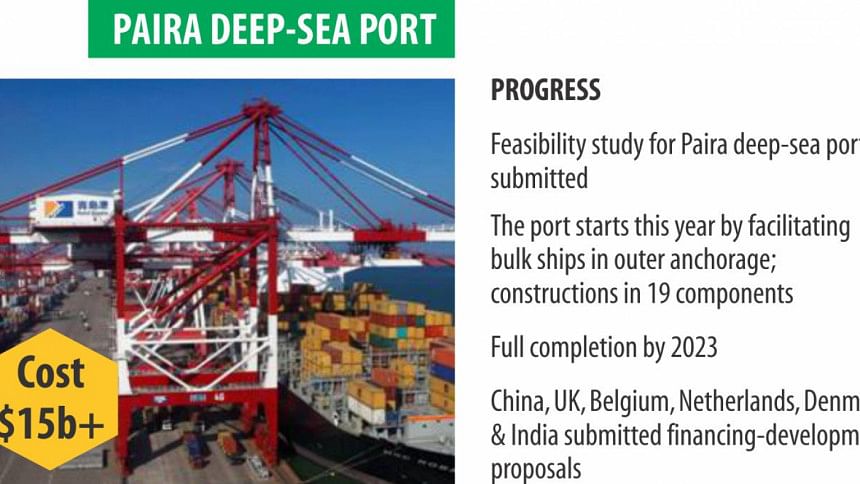 DEEP SEA PORTS: FEASIBILITY COMPLETED
The government has shelved Sonadia deep sea port and has concentrated on developing the Paira Deep sea port off Patuakhali with the aim to begin operation in a limited scale this year.
Meanwhile, a British company HR Wallingford has completed the feasibility study for Paira deep sea port. This would guide the government in finalizing the implementation plan.
Construction works for the deep sea port will be implemented through 19 different tenders.
Meanwhile, the government is reviewing merits of proposals from China, UK, Belgium, Netherlands, Denmark and India. They are interested to invest more than $15 billion.
The government has set short-term, mid-term and long-term goals for the port. In short-term, this year the government would facilitate outer anchoring of clinkering, fertilizer and other bulk ships.
In mid-term, the government would complete building a multipurpose and bulk terminal infrastructure by 2018 at a depth of 10 meter channel through dredging.
By 2023, a full deep sea port facility of 16 meter channel will be operational.
The Sonadia deep sea port remains as the eighth fast track project that could not proceed due to "lack of investors' interest". A 10-member committee has been given the responsibility to look into proposals from different governments and make a decision.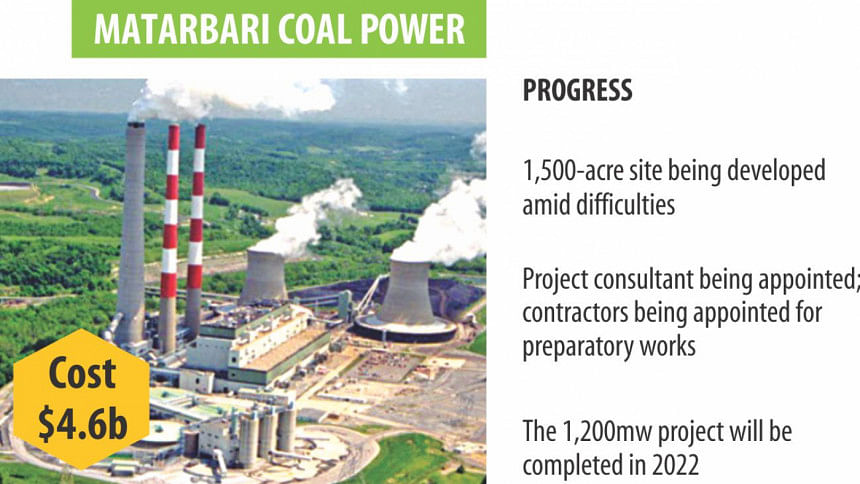 MATARBARI 1,200MW COAL POWER PROJECT: PROGRESS SATISFACTORY
This project has full funding and its consultants are working from 2014.
The government's Coal Power Generation Company has acquired 1500 acres of land for the project. Ninety percent of boundary fencing of the project site has been completed and the appointment of the project's consultant is being finalised.
The project is actually taking a very long time to shape up because huge works were needed to develop the project site in Matarbari close to Maheshkhali.
The authorities have selected a contractor in February to complete power plant and port site preparatory work and are now processing contracts for power evacuation and building a power substation.
With a price tag of $4.6 b, this is one of the costliest power projects of its size in the world that will come with its own deep sea port to facilitate import of coal. The project will be completed by 2022.