32 thrust sectors could fetch billions
Main challenge is how Bangladesh can tap the investment potential, UK analyst tells conference on new economic thinking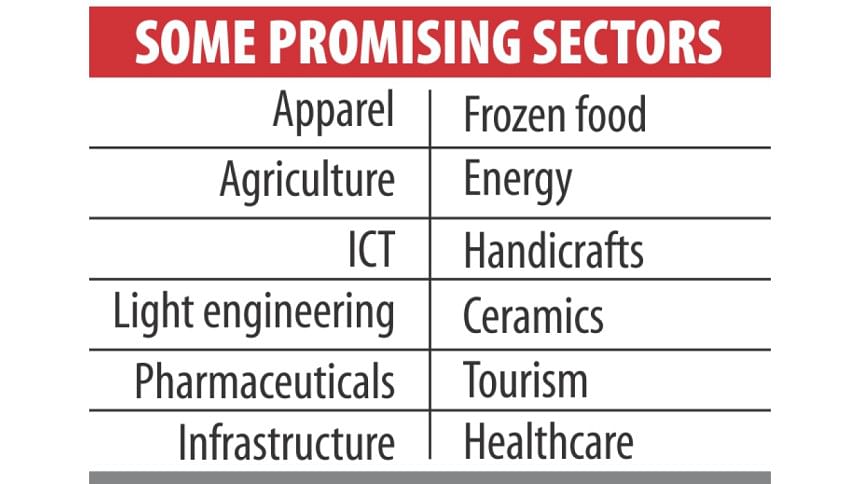 Bangladesh has 32 thrust sectors that have the potential to fetch billions of dollars in investment and export earnings, an analyst said yesterday.
But the main challenge will be how the country will exploit the potential, said Joseph DiVanna, managing director of Maris Strategies, UK.
He presented a keynote at a session on "the next billion dollar opportunities in Bangladesh" on the sidelines of a daylong conference -- new economic thinking: Bangladesh 2030 and beyond -- organised by Dhaka Chamber of Commerce and Industry at Radisson hotel in the capital.
Kazi M Aminul Islam, executive chairman of Bangladesh Investment Development Authority, moderated the session.
"All the 32 sectors have the potential to become the next billion dollar investment opportunities in Bangladesh," DiVanna said.
The sectors include apparel, agriculture, ICT, light engineering, pharmaceuticals, infrastructure, frozen food, energy, handicrafts, ceramics, tourism and healthcare.
DiVanna also identified some actions through which Bangladesh can secure its future: job creation, rethinking commerce, mobilising youth human capital, and reducing lending risk.
ICT State Minister Zunaid Ahmed Palak said Bangladesh can be a lucrative investment destination for the entrepreneurs who are looking for new investment opportunities, as there are political commitment, policy support, fiscal incentives, skilled human resources and necessary infrastructure in Bangladesh.
He also said ICT will be a billion dollar export earning sector by 2018.
Syed Nasim Manzur, managing director of Apex Footwear, stressed the need for innovation and utilisation of the country's young population for the transformation of the economy by 2030.
He said per capita footwear use in Bangladesh last year was less than a pair, which indicates that the sector has huge potential.
Humayun Rashid, vice-president of DCCI, said the light engineering sector will grow significantly in the next 15 years.
Thousands of jobs will be created for skilled and semi-skilled people, he said.
He also said the export earnings from the light engineering sector stood at $510 million in FY16, and the export target is $9 billion by 2030 and $15 billion by 2041.
Commerce Secretary Hedayetullah Al Mamoon said the government is creating opportunities for entrepreneurs so they can make investment.
Bangladesh economy is now growing at more than 7 percent and the government is taking various initiatives to make the growth sustainable, he said.
Industries Secretary Md Mosharraf Hossain Bhuiyan said there are many sectors in Bangladesh such as ICT, light engineering, pharmaceuticals, leather and footwear that can bring billion dollar investment and export earnings.
Syed S Kaiser, chief executive officer of Renata, Md Shafiul Islam, first vice-president of the Federation of Bangladesh Chambers of Commerce and Industry, and Khurshed Alam, secretary of the foreign affairs ministry, made presentations on pharmaceuticals and active pharmaceutical ingredients, backward linkage of apparel and textile, and blue economy.