Tiger covers 100km in 4 months to reach Sundarbans in Bangladesh from Indian side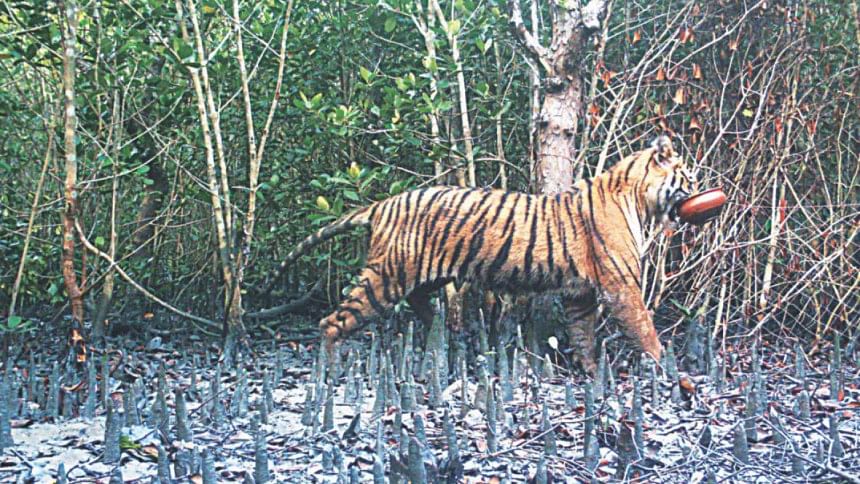 A radio-collared tiger in the Sundarbans travelled nearly 100km in four months before crossing over to the Bangladesh part of the mangrove forest, India's West Bengal Chief Wildlife Warden VK Yadav was quoted today as saying.
The Times of India newspaper quoted Yadav as saying that the male tiger, radio-collared in December last year, was captured from Harinbhanga forest just opposite the Harikhali camp under Bashirhat range in Bengal. It was later released with the satellite collar on December 27, reports our New Delhi correspondent.
The movement of the big cat was tracked as part of a joint project taken up by the forest department and World Wildlife Fund-India's Sundarbans chapter to ascertain the animal-human conflict in Indian part of the Sundarbans.
According to Yadav, the tiger was not clicked by camera traps. "So, it's possible that it had come from the Bangladesh Sundarbans when we had captured it for collaring," Yadav added.
After moving around on the Indian side in the initial period, the animal began venturing into Talpatti island in Bangladesh Sundarbans and crossed Choto Harikhali, Boro Harikhali and Raimangal rivers, Yadav said.
According to the chief wildlife warden, from December 27 to May 11, when the radio collar stopped giving signals, the tiger moved across Harinbhanga and Khatuajhuri islands in the Indian part of the Sundarbans and Talpatti island on the Bangladesh side.
The last recorded location of the tiger on May 11 was at Talpatti island in Bangladesh, the newspaper said.
This was not the first time that a tiger from India had strayed into the Bangladesh territory. Another tiger, which was radio collared, had in the past entered Talpatti island.
Asked if the tiger was fine since the collar stopped giving signals after May 11, Yadav said, "The gadget also had a mortality sensor, which gives signals in case of the tiger's death. But that didn't happen…. In all probability, the collar has slipped off its neck. In the Sundarbans, salinity in the water can also damage radio collars."