Saline land now a green landscape
Coastal village in Barguna yearly produces vegetables worth Tk 5 crore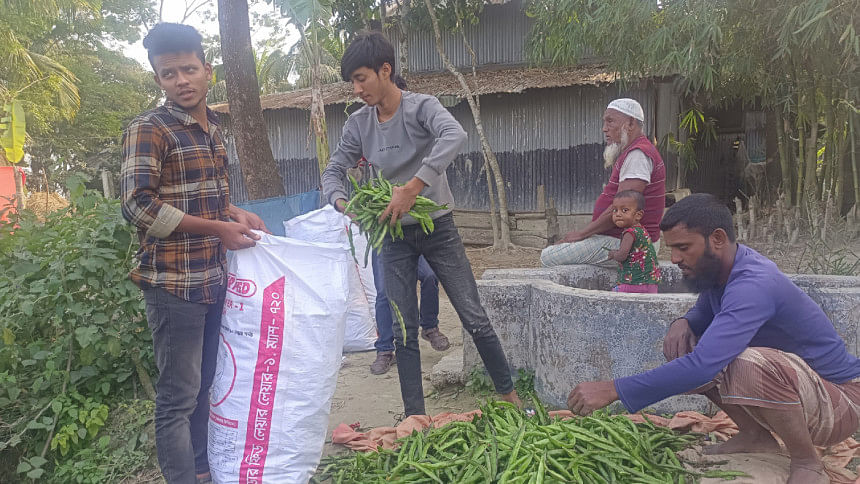 Farmers of a remote coastal village in Barguna's Taltali upazila have not only become solvent by producing seasonal vegetables but also turned the salty land into a green landscape.
For the last couple of years, vegetable cultivation seems to be more profitable than growing paddy for the farmers of Saudagarpara village, about five-kilometre from the upazila headquarters, due to high soil salinity.
However, switching to another crop was never easy for local paddy farmers, thanks to Shahadat Matubbar for his leading role in producing different vegetables around the year.
Shahadat used to run a readymade garment shop in Taltali town. In 2015, he went to Dhaka with a huge sum of money to purchase some goods for his shop, but unfortunately, he was robbed on the way and returned home empty-handed.
After that incident, he could not continue the business due to the financial crisis and soon became incomeless.
The idea of vegetable farming came to Shahadat's mind after watching a programme on a private television channel.
Inspired by the idea, he started cultivating different seasonal vegetables on a small scale, by raising his low paddy land.
Now Shahadat produces various vegetables that include gourd, pumpkin, beans, eggplants, green pepper and watermelon all year round.
Seeing his success, many farmers of the locality raised their lowlands and started cultivating seasonal vegetables.
Apart from paddy cultivation, more than 200 farmers of the village are now engaged in producing various types of vegetables around the year.
During a recent visit to the area, this correspondent saw field after field covered with winter vegetables.
People were seen either collecting vegetables from the field, or loading produced crops on trucks to send those to different markets.
Farmer Ibrahim said he grows gourd, pumpkin, potato, bean, brinjal and green chillies.
Traders from Barguna, Patuakhali, Barisal and even Dhaka travel to the village to buy those vegetables.
Another grower Ismail Matubbar said he cultivated beans on 1.20 acres of land and had already sold the crop worth Tk 1 lakh this year.
Earlier, it cost Tk 10,000 to Tk 12,000 to carry the products to Dhaka, but now farmers have to pay about Tk 20,000 for the same due to increased fuel prices, he added.
Abul Bashar of the village said he opted for vegetable farming because it is more profitable than paddy cultivation.
"Instead of any chemical fertilisers or pesticides, we apply natural manure in the field which helps the plants grow well," Bashar said.
Taltali Upazila Agriculture Extension Officer Sumon Howladar said around 200 farmers of Saudagarpara village are engaged in producing various seasonal vegetables on about 700 acres of land. The coastal village now produces vegetables worth Tk 5 crore every year, he said.