Floods in the North: Cries for help getting louder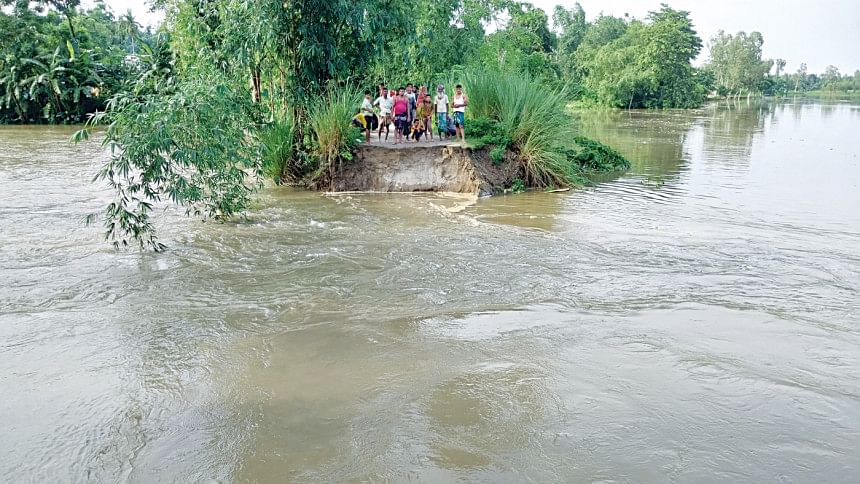 The flood affected people in the north are struggling with limited to no access to food, water, and shelter.
Around 2.5 lakh people have been marooned in  Lalmonirhat, Kurigram, Nilphamari and Rangpur, according to the local administration and representatives.
The flood situation may begin improving today in some places, said officials of the Bangladesh Water Development Board.
"The flood situation in the low-lying areas of Nilphamari and Lalmonirhat may improve in the next 24 hours, while it may remain unchanged in the low-lying areas of Kurigram," said the weather bulletin of Flood Forecasting and Warning Centre at 9:00am yesterday.
Although government officials concerned said they were distributing relief materials, flood victims said the aid supply was inadequate.
In Lalmonirhat, the Teesta was flowing 20cm above the danger level at Dalia point at 6:00am yesterday.
Rafiqul Islam, 63, a resident of Char Falimari village in Sadar upazila, along with five members of his family had to shift to a flood shelter on Thursday after their house was submerged.
"Since then, we've been only having dry food. We've not had a cooked meal in the last three days," he said.
"The tube wells in the area have gone underwater. We are facing an acute crisis of drinking water," said Mohasin Islam, 62, of Dakshin Balapara village of Aditmari upazila.
Deputy Commissioner Mohammad Ullah said the distribution of relief materials among the flood-affected was ongoing.
In Kurigram, the Dharla River was flowing 22cm above the danger level at Dharla Bridge Point at 6:00am yesterday.
"I along with my family have been living on the road in a makeshift tent. We don't have the facility to cook here. We don't even have enough money to buy dry food here," said Apiar Rahman, 48, a day labourer from Char Gorokamandal village in Phulbari upazila.
District Relief and Rehabilitation Officer Abdul Hai Sarkar said his office has enough stock of dry food, drinking water, and cash aid to provide relief assistance to the victims, adding that, the distribution of relief items was underway.
In Rangpur, the Teesta River was flowing 0.7cm above the danger level at Kaunia Point at around 6:00pm yesterday.
Many flood victims said they were yet to receive a sufficient amount of relief assistance.
Abdullah Al Hadi, chairman of Laxmitari union in Gangachara upazila, said, "Around 5,000 people have been marooned in our union. As of now, we've been able to send aid to around 1,000 people. We can't help more people as they're stranded in remote areas that are currently hard to reach."
Soleman Ali, of the upazila's Purba Ischi, said, "All the tube wells in our area are now underwater. Now, we have to collect drinking water from a tube well that is a few kilometres away."
Contacted, Gangachara UNO Nahid Tamanna said all measures were taken to provide necessary relief assistance to the flood-affected.
In Nilphamari, the Teesta River was flowing 12cm above the danger mark at Dowani Point at 6:00am yesterday.
Nur Islam, of the Uttar Kharibari area in Dimla upazila, said, "I along with my family took shelter on a dyke on Thursday after my house was washed away. We had brought some dry food with us like roti [bread], chira [flat rice], and muri [puffed rice], which all ran out by Friday. We have not had food since."
Contacted, Dimla UNO Belayet Hossain said "We've already started distributing dry food among the affected people. We will soon beef up the relief distribution."
[Our correspondents from Lalmonirhat, Dinajpur, and Nilphamari contributed to the report.]