Floods in haor: Forecast gives window to harvest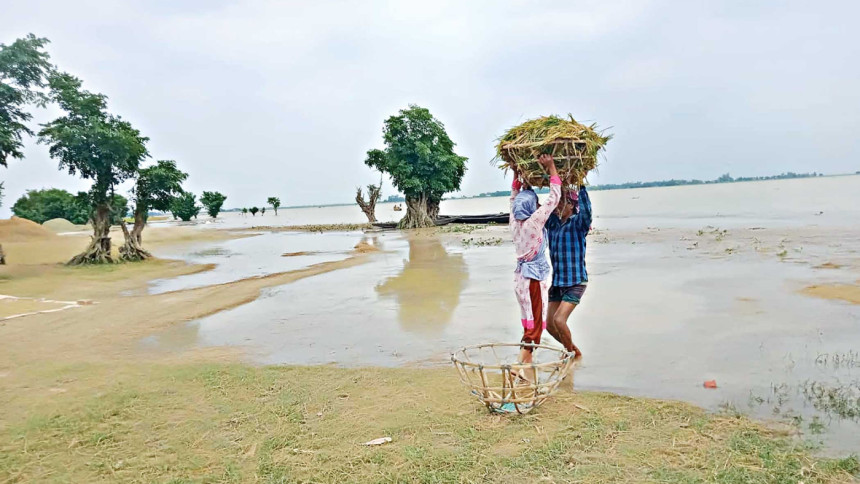 Farmers in the haors are now busy harvesting Boro paddy as the sky was clear and no flash flood was forecasted anytime soon.
Jyotimohon Das, a farmer in Sunamganj's Jamalganj upazila, said, "I have harvested most of the paddy in the last couple of days as we have sunny weather and no worries of flash floods."
According to the Department of Agriculture Extension, around 70 percent of the total Boro paddy was harvested in Sylhet division till yesterday.
Mosarraf Hossain Khan, additional director of DAE in Sylhet division, said, "It will take another week to harvest cent percent Boro in the haors. We are hopeful that no more loss will incur due to flash flood."
According to the Flood Forecasting and Warning Centre (FFWC) of the Bangladesh Water Development Board, the water level in the rivers of the north-eastern region is receding.
It will continue to recede as there is no forecast of torrential rainfall in the region and India's Meghalaya, the forecast added.
The Someshwari river in Netrokona's Kalmakanda and the Baulai river in the district's Khaliajuri are flowing above the danger level. 
The bulletin circulated by FFWC Executive Engineer Arifuzzaman Bhuiyan also stated that the water level of the rivers flowing through the north-eastern region is receding at 30 points out of 39 total measuring stations.