Flash floods hit haor region: Desperate farmers try to save half-ripe crops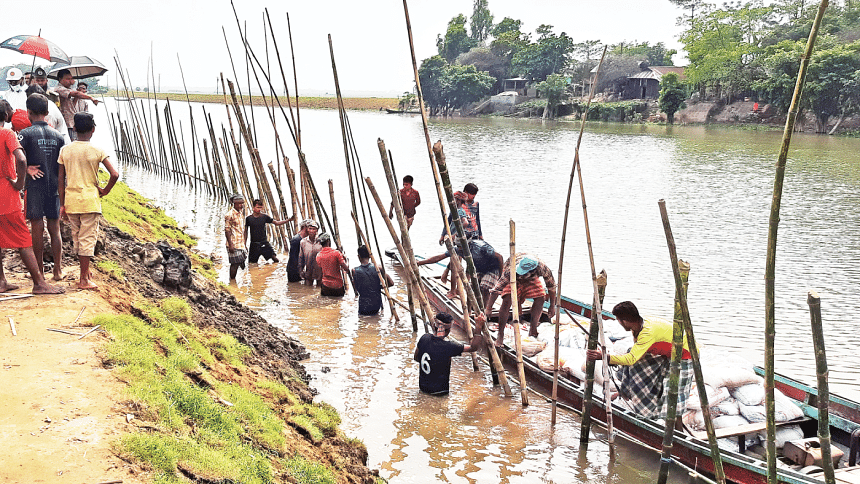 The government invests a significant amount of public money to construct and repair levees in the haor areas of the country's north-eastern districts to protect the Boro harvest from the flash floods.
However, the farmers in the region suffer for years because of the poor quality work.
On Friday, the flash flood hit the districts -- Sunamganj, Netrokona, Kishoreganj and Sylhet -- and the levees started cracking and breaking apart.
As a result, vast cropland in the region that was left unprotected by the levees started flooding fast.
The situation is intense in Sunamganj.
Some 520km levees were constructed and repaired spending Tk 120 crore to protect Boro harvest in 222,850 hectares of land.
On Tuesday, Dharmapasha upazila's levees at Chandra Shonar Thal haor, Gurmar haor and Sonamorol haor broke.
Two other dykes in Shalla upazila -- on Koiyarbon haor and Putia haor -- were also damaged.
Meanwhile, more than 100 dykes were cracked during this time, claimed rights activists citing farmers.
However, the Bangladesh Water Development Board (BWDB) in Sunamgnaj could not give any data on how many dykes cracked or broke because of flash floods.
Jahurul Islam, executive engineer of Sunamganj BWDB, said, "We are not counting the damaged levees but focusing on holding up the floodwater as much as possible. Locals are helping us voluntarily to protect the levees."
To protect the dykes, thousands of farmers from all levee-adjacent areas have been passing hard times holding up the levees with mud, bamboo and other materials.
Abul Hossain, farmer of Kauhani village in Madhyanaga upazila, said, "We are passing restless days and nights on the levees so that we could save our harvest."
Meanwhile, Haor Bachao Andolon, a rights organisation, arranged a procession in Sunamganj town protesting against corruption, anomalies and negligence in the construction of the levees.
Later they submitted a memorandum to the Prime Minister via Sunamganj's deputy commissioner's office demanding punishment for those involved.
Zahangir Hossain, deputy commissioner of Sunamganj and president of the district committee for constructing levees, declared forming a probe body to investigate the alleged corruption and anomalies.
During a visit to Chandra Shonar Thal haor in Dharmapasha, he told journalists that no matter who was responsible for the low-quality works at the levees, legal actions would be taken against them if found guilty in the probe.