Poor rainfall hits Aman plantation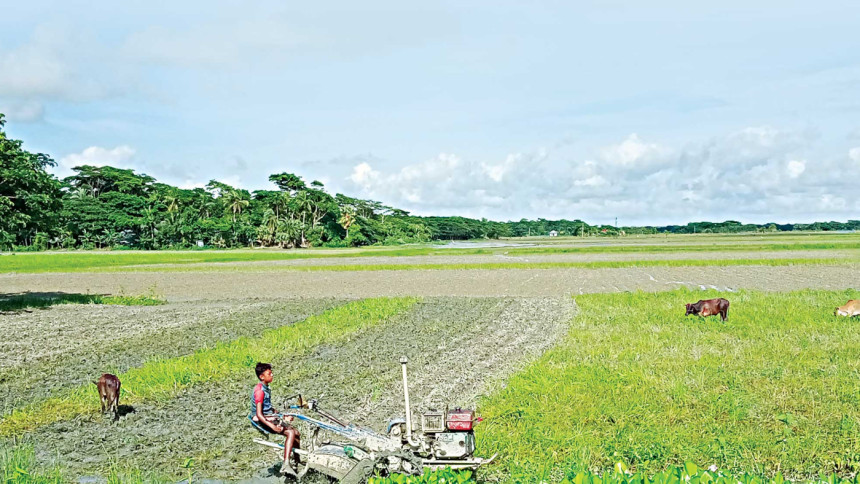 Cultivation of Aman paddy in different upazilas of the district is facing a setback due to inadequate rain during the ongoing monsoon.
Due to scanty rainfall in the time of the year farmers are worried about preparing their Aman seed beds and plantation of the saplings.
According to Patuakhali Department of Agriculture Extension (DAE) the department has a target to bring about 1.89 lakh hectares of land under Aman cultivation this season, but so far Aman has been planted on 391 hectares.
Abdul Sattar, a marginal farmer from Tilla village in Rangabali upazila, said he has a plan to cultivate Aman on two acres of land this year, but he could not even prepare his seedbeds yet due to lack of adequate water.
Although he somehow managed to collect some seeds from other areas, he could not prepare his field for sowing saplings for lack of rain, Sattar said, adding that if there is not enough rain and such situation continues, many farmers in the area won't be able to plant Aman this year.
Farmer Sagir Fakir of Mollabazar area of the upazila, who was busy preparing his Aman field, said due to lack of rainfall and the draught like situation most of the seedbeds and fields are getting dried up.
Though he has a target to cultivate Aman on 13 acres of land this year, he is yet to sow the saplings, Sagir said.
Rangabali Upazila Agriculture Officer Iqbal Ahmad said usually farmers in the area start watermelon cultivation after harvesting Aman. 
If Aman cultivation is delayed, it will surely affect watermelon farming, he added.
According to Patuakhali DAE office, farmers in the region prepare their Aman seedbeds in the middle of the Bangla month of Ashar, and start planting the seedlings from the middle of Shraban till early Bhadra.
But, due to lack of rainfall this season, plantation of seedlings has already been delayed, he added.
Patuakhali DAE Deputy Director (DD) AKM Mohiuddin said Aman cultivation in different upazilas is being delayed due to inadequate rain this season.
About half of the targeted land was supposed to be brought under Aman cultivation till this time of the season, but the progress is very little as the fields are getting dries up.  Minimum rainfall was recorded 778mm in the district in July last year, while it was only 181mm in July this year, the DD added.