Flashflood after rainfall in Dinajpur
Over 1,000 families marooned
Rivers swell, inundate low-lying areas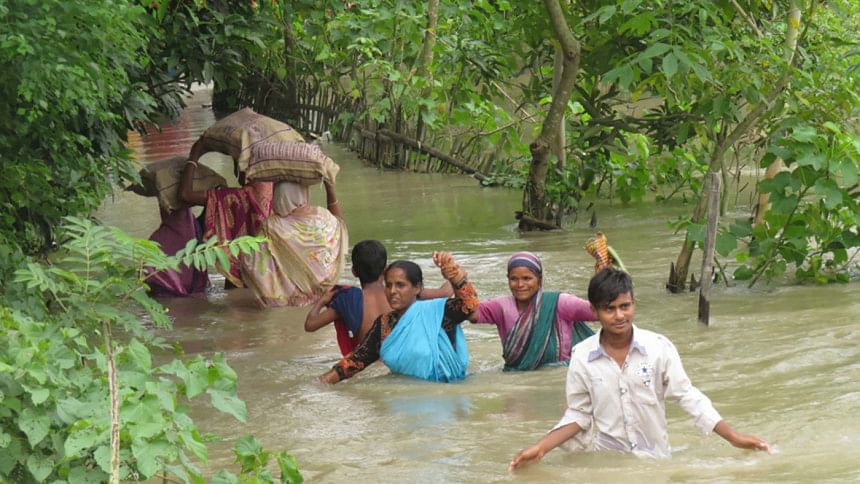 Following downpour in the last two days, swelled up rivers have inundated the low-lying areas in Dinajpur Sadar upazila and in the vicinity of the district town, leaving over 1,000 families marooned amid flash flood.
The affected people took shelter on the highlands on both sides of the Punarbhaba river, which flows through Dinajpur town, reports our local correspondent.
Officials of Water Development Board in Dinajpur said the water levels of Punarbhaba along with other rivers in Dinajpur started to rise after the torrential rain that started from Saturday.
The Met office in Dinajpur recorded around 370mm rainfall since Saturday.
WDB officials said Punarbhaba was flowing 9-cm above the danger level till this afternoon, while water levels of other rivers including Atrai and Tangor were also rising.
Visiting different places of Dinajpur town today, this correspondent found a large number of people marooned in Hathatpara, Golapbagh, Lalbagh, Santinagar, Mazadanga, Ramnagar, Chawkchawka, areas surrounding Dinajpur Central Bus Terminal, and Maljhar village under Biral upazila as the areas were flooded after the Punarbhaba inundated the areas.
Mozibar Rahman of Shantinagar area said water started flooding the area on Sunday afternoon and got into the houses within midnight.
Around 250 families in the area were marooned. Many of them took shelter on a nearby road which is on higher ground, Mozibar added.
"We have been starving with our family members as most earning members of these affected families could not work in the last three days," said Mamunur Rashid of Golapbagh area.
"We are yet to get any relief support," he added.
Situation was found worst at Hathatpara village where around 500 families were marooned as the area went under chest deep water. The villagers took shelter on higher grounds in the vicinity with their family members and domestic animals.
Shakil Ahmed, deputy commissioner of Dinajpur, today visited Hathatpara village, among other areas, and distributed 500 bags of relief materials among the affected villagers.
"We are trying to give all out support to the affected people," said the DC.
Vast areas of cropland, especially paddy fields, vegetable plantations and banana orchards have gone under water in the district.
"I will suffer loss if the water remains stagnant in my two-acre paddy field for long," said Habibur Rahman, a farmer of Chawkchawka village.
Md Rakibul Hasan, WDB executive engineer in Dinajpur, said the water level of the Punarbhaba will start to recede from tomorrow afternoon if there is no more rainfall.