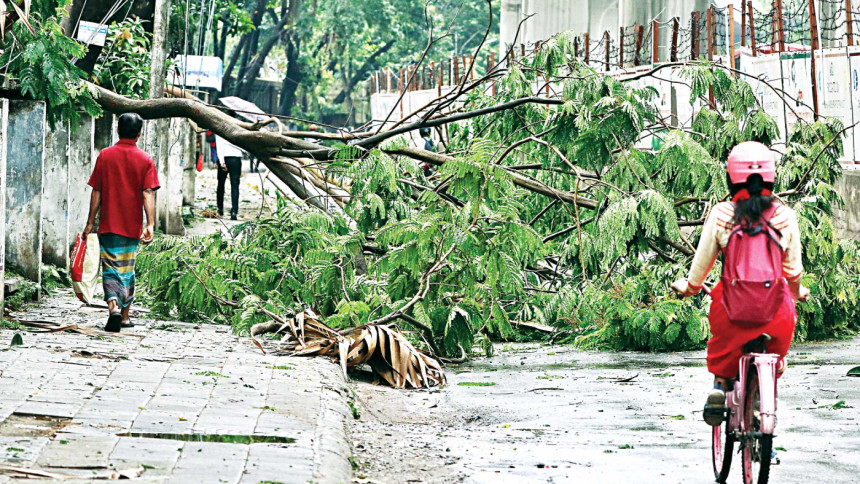 Nor'westers lashed many parts of the country, including the capital and its adjacent districts, early yesterday, killing at least five people.
The storms, locally known as Kalbaishakhi, accompanied by rain and gusty wind, hit the country around 6:00am.
According to reports from our correspondents, standing boro crop was damaged in large areas of different districts.
However, mango farmers in Rajshahi region were happy about the rain as they were struggling with drought this season, said Md Alim Uddin, principal scientific officer at the Fruit Research Station in the district.
"Although parts of Rajshahi witnessed nor'westers, many areas around the district experienced a much awaited rain which is likely to help famers have a good mango yield," he said.
Among the five dead is 12-year-old Anika. She died after a speedboat carrying 20 passengers on Sandwip-Kumira route capsized in the Bay of Bengal in Sandwip during the storm.
Her twin sisters Adiba and Arifa and 10-year-old Saikat remained missing till 4:00pm, according to River Police in Chattogram.
Anwar Hossain, in-charge of boat operations at Guptachara Ghat, said the speedboat capsized due to strong wind and rough sea.
Passengers, however, alleged that despite several directives by the authorities to ensure safety, speedboat owners and staffers hardly think about it.
In Cumilla, an auto-rickshaw passenger was killed and four others were injured after a tree fell on the vehicle on Muradnagar-Ramchandapur road during the storm.
The dead, Shishu Mia, 60, was a resident of Khoshgram village in Muradnagar upazila.
In Chattogram's Fatikchhari, a housewife was killed when a tree fell on her.
The dead, Rina Akter, 40, was from Uttar Kanchannagar in the upazila.
In Bogura, a man died after a tree branch fell on him in the morning.
The deceased was identified as Md Rezaul Hossain, 45, a resident of Bhatgram village in the district's Nandigram upazila.
In Manikganj, 55-year-old Firoza Begum died from a lightning strike while she was working in a field in Daulatpur upazila's Rouha village in the morning.
CROP DAMAGED
Half-ripe boro paddy on a vast swathe of land was flattened in Bogura by the storm.
Hamidur Rahman, a famer in Rahobol village of Shibganj upazila, said, "I cultivated boro on 7 bighas of land. The crop on one bigha had almost ripened but flattened due to the storm. I will lose part of my crop."
Dulal Hossain, deputy director of the Department of Agricultural Extension in Bogura, said paddy on 4,377 hactares was flattened in the district due to the nor'wester.
Yesterday, the meteorological department recorded 59mm rain until noon. The wind speed hit 70km per hour-mark in the capital during the storm.
Except Dhaka, storms hit Chattogram, Rangpur, Naogaon, Kurigram, Dinajpur, Kishoreganj, Brahmanbaria, Hatia and Sandwip of Chattogram, Cumilla, Noakhali, Rangamati, Faridpur and Rajbari districts.