Low lying areas in Sirajganj flooded as Jamuna swells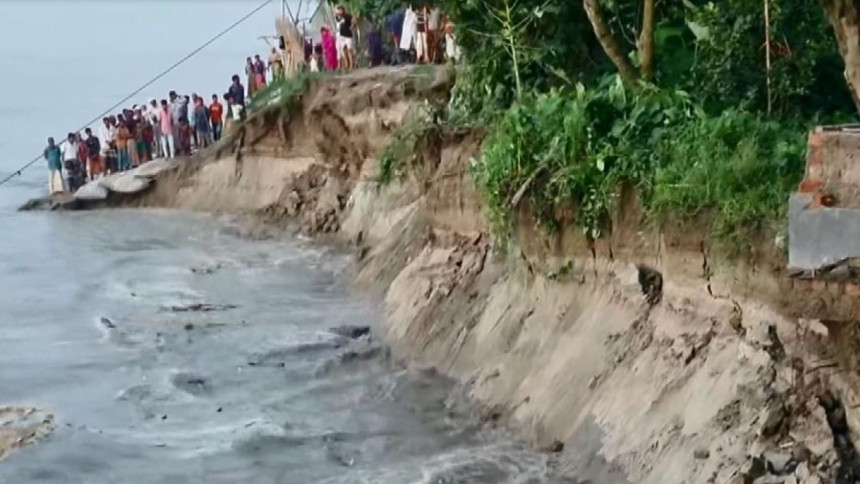 Low lying areas in Sirajganj and adjoining Chalanbeel have been flooded as water level is rising in the Jamuna river along with Fulzore, Kortoa, Boral and other connective rivers of the district.
Sub-divisional Engineer of Sirajganj Water Development Board, Md Nasir Uddin, said Jamuna is flowing at 11.95 metre at the Hard point in Sirajganj today, reports our Pabna correspondent.
According to flood forecast, water level will be rising over the next few days and may cross the danger level soon, the WDB engineer said.
"Due to the excessive rain in the upstream in India, water level has been rising in Teesta and that's why Jamuna's water is swelling," WDB engineer Nasir added.
Talking to The Daily Star, Sirajganj District Rehabilitation Officer Md Aktaruzzaman, however, said although water level has been rising, there has been no report of flood damage.
"We have already informed all the UNOs to submit report about flood damage but no report is available till now. So, nothing to be worried about," he said.
Meanwhile, increasing water of Jamuna is also threatening erosion, sources said.
Over 300 homesteads eroded in Chowhali and Shahzadpur upazila in the last few weeks. There are chances of more erosion in the affected areas, according to the WDB and local representatives.
WDB engineer said WDB has started dumping sand bags in the affected areas to bring the erosion under control.