Flood-hit farmers in haors: Combine harvesters saving grace for some
Opt for combine harvester amid labour shortage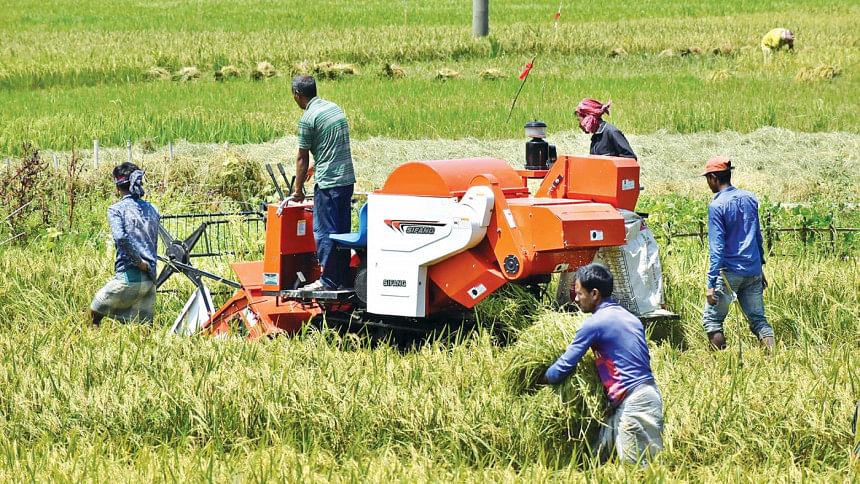 As most crop protection levees are on the verge of collapse due to flash floods, haor farmers in the north-eastern districts are harvesting ripe and half-ripe Boro paddy with combine harvesters.
The machine is becoming popular as there is a shortage of labourer. Farmers say the harvesters are more cost-effective and faster than having the job done by labourers.
Farmer Jyotimohon Das of Dosmontopur village in Sunamganj's Jamalganj, said, "For years, we have been facing labour crisis during the harvest season and due to flash floods, the number of labourers coming from other districts dropped significantly."
"For this, the labour cost has become almost double which we cannot afford," he added.
"The flood situation is worsening and that's why the demand for combine harvesters is skyrocketing," said owner of a combine harvester Atiqul Islam, of Sunamganj's Tahirpur.
In seven districts in the north-eastern region, 1,507 combine harvesters are currently being used to reap Boro paddy, according to the district offices of the Department of Agricultural Extension (DAE).
Of them, 535 machines are in Sunamganj, 330 in Netrakona, 237 in Kishoreganj, 170 in Habiganj, 65 in Sylhet, 65 in Moulvibazar and 105 in Brahmanbaria.
However, the DAE in a press release yesterday said 1,700 harvesters are working in the districts.
According to combine harvester owners, farmers pay Tk 2,500-4,500 per acre depending on the cropland's condition and possible yield.
Abdus Sobhan, a farmer and a combine harvester owner of Sunamganj's Dharmapasha, said, "Almost all the haors are inundated and using combine harvesters have become difficult. It takes a long time to reap paddy if there is a lot of water."
According to the Flood Forecasting and Warning Centre of Bangladesh Water Development Board, the flood situation may remain the same in Sunamganj, worsen in Netrakona and improve in Sylhet in next few days.
Over the last few days, around 500 hectares of Boro in Habiganj's Lakhai and another 100 hectares in Sunamganj's Madhyanagar went under water.
In yesterday's press release, the DAE said paddy on around 41 percent haor farmland was harvested in the seven districts.
Boro has been cultivated in 4.52 lakh hectares in haors of the districts.
According to the DAE, after the first flash flood on March 30, around 9,700 hectares of Boro were submerged, which is 1 percent of the total crops in haor areas.
Farmers and rights activists, however, did not agree with the figure and claimed that the loss could be more.
Salehin Chowdhury, joint secretary of Haor Bachao Andolon's central unit, said, "The government offices are lying about the loss of Boro. They are also lying about the dykes' condition, which is actually very poor."
On Wednesday, State Minister for Water Resources Zaheed Farooque visited several levees in Sunamganj's Tahirpur and Dharmapasha upazilas.
Talking to journalists regarding anomalies and corruption in dyke construction, he said there are 727 project implementation committees (PICs) in Sunamganj. Only three dykes constructed by three PICs broke at the same number of points. Some others were at risk and they could protect them from breaching, he said.
"The committee formed to probe anomalies will submit its report within a couple of days, and actions will be taken against those involved, like we did after 2017 flash floods," he said.
[Our correspondent in Moulvibazar contributed to this report.]