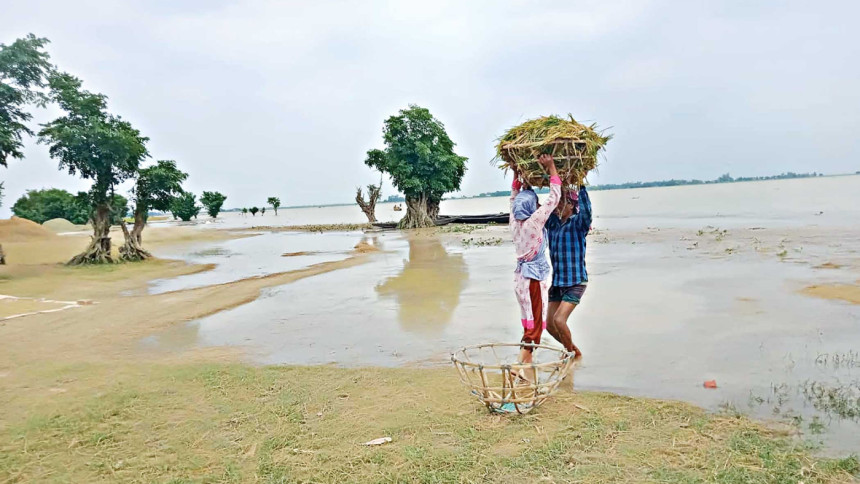 Another haor in Sunamganj's Derai upazila -- Huramandira -- has been inundated after an adjacent levee broke due to excessive pressure of water.
It happened early yesterday, a day after fresh flash floods hit the district.
So far, Boro paddy on 495 hectares has been submerged as three haors have been flooded in the district. With this, paddy on 5,510 hectares has gone under water  since April 1, according to the Department of Agricultural Extension (DAE).
Farmers claim Boro paddy on almost double the land are at risk because of the flash floods.
Mobarak Ali, a farmer of Baroil village in Derai, said, "The dyke [near the Huramandira Haor] was at risk. Due to the huge water pressure, it broke early yesterday and all our ripe paddy was under water by morning."
Golgolia and Tana haors were submerged on Sunday night after water started overflowing a dyke.
All rivers in Sunamganj were flowing right below the danger level yesterday afternoon, according to the Bangladesh Water Development Board (BWDB).
Md Shamsuddoha, executive engineer of BWDB in Sunamganj, said, "The river water is showing no signs of receding. Moreover, the Flood Forecasting and Warning Centre has issued a notification alerting that it would rain heavily in the next 24 to 48 hours."
Meanwhile, Boro harvesting was progressing in full swing in the district.
Bimol Chandra Shome, deputy director of DAE in Sunamganj, said, "Of 2.22 lakh hectares, Boro on 51,000 hectares was already yielded as of Sunday evening. We are hopeful about harvesting most of the crop before it's too late."