100 families at risk due to Padma erosion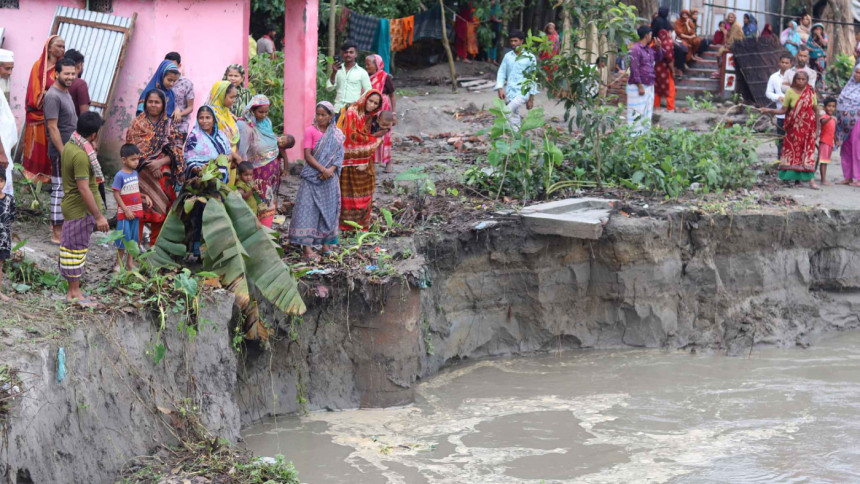 Houses and croplands of over 100 families are at the risk of being devoured by a Padma river tributary due to erosion in Munshiganj Sadar upazila.
Around one acre of land along with a temple in Haldarkandi area have already gone under water over the last few months, said locals.
Illegal sand lifting and excessive water flow are blamed as primary reasons for such severe river erosion. And yet, district administration turns a blind-eye to illegal sand lifting, alleged local lawmaker.
"The river's now just around 10 metres away from my home. We fear that our house and lands may be swallowed by the river at any time. We've left our house and took shelter at our relative's house," said Shambhu Narayan Barai, a Haldarkandi village resident.
"Even, there used to be a temple near my house that got washed away around a week ago," he said.
"I've been living in makeshift houses on the river bank for around 20 years. During these two decades, I shifted my home multiple times from one place to another due to river erosion," said Rupak Begum, another resident.
"Now, river has again come nearer to my house and I'm preparing to shift once again."
Another resident Mamun Bepari said, "The tributary was almost dry the last few years. But this year, there's a huge flow of water. If such erosion continues, 50 houses will disappear within the next two weeks."  
Contacted, Ranendra Shankar Chakraborty, executive engineer of Water Development Board (WDB) in Munshiganj, also blamed excessive flow of water from upstream for such severe river erosion.
"We are continuously dumping geo-bags on the river bank to prevent erosion. We hope that the erosion's intensity will reduce after one week," he added.
However, Mrinal Kanti Das, local lawmaker, alleged that such severe erosion is going on due to illegal sand lifting. Normally, the district administration leases out a certain area of the riverbed for lifting sands to ensure the river's navigability.
Taking the lease, a group of traders are lifting sand illegally in a large scale going beyond their designated area. That is why river erosion has taken a serious turn this year, said the lawmaker.
"I asked the district administration several times to take action against such illegal sand lifting, but to no avail."
Contacted, Munshiganj Deputy Commissioner, Kazi Nahid Rasul denied the allegations and said, "We sent a magistrate to inspect the area. We found that the traders are lifting sands from their designation area, obeying rules."