Bangladesh among Asian countries with less forest area
Laos, the most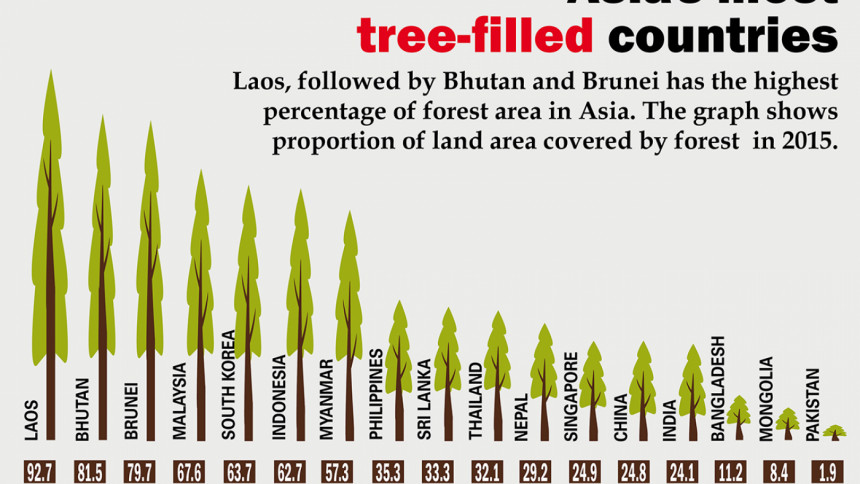 Bangladesh is among the countries with least forest whereas Laos with 92.1 percentage of forest area is on the top of all in Asia.   
Bangladesh having 11.2 percent of forest areas of the total area of the country is among India, Mongolia and Pakistan with the least forest, according to the data of Asian Development Bank, 2016.
Bhutan (81.5), Brunei (79.7) and South Korea (63.7) are also among those Asian countries which have a leading forest area. Malaysia and Indonesia have also a good share of forest land.
India's forest cover is only 24.1 percent of the total land area, even though in terms of total forest area that's significantly higher than many other Asian countries.
Pakistan, on the other hand, fares poorly in terms of total forest area. The country has merely 1.9 percent of its land area under forest cover.
According to the Food and Agricultural Organisation, the country lost 840,000 hectare of forest cover between 1990 and 2010 and the rate of loss of forests is 42,000 ha per year.
In terms of numbers, China, Indonesia, and Malaysia make up more than half of the forested lands in Asia, as per the Asian Development Bank 2016 data. China's forest cover remains 24.8 percent of the country's land area, Indonesia's is 62.7 percent and Malaysia has 67.6 percent.
While China is a major exporter of wood products, ranking first globally in wood-based panel production, Indonesia and Malaysia are top producers of tropical timbers.
Globally, forests cover 30 percent of the total land area, according to the latest report from Global Forest Resources Assessment 2005, led by the Food and Agriculture Organisation of the United Nations.
However, the world is still losing an area of forest equivalent to the total area of Bhutan, Fiji and Brunei Darussalam combined each year -- or 200 km sq per day, as per the report.
Overall, Asia and the Pacific have lost around 10 million hectares of forest between 1990 and 2005 or 1.1 percent over 15 years, as per the latest data available.
Copyright: Dataleads/ Asia News Network