CoP26 Diplomatic Dialogue on Adaptation: Bangladesh's disaster preparedness and early warning capacity lauded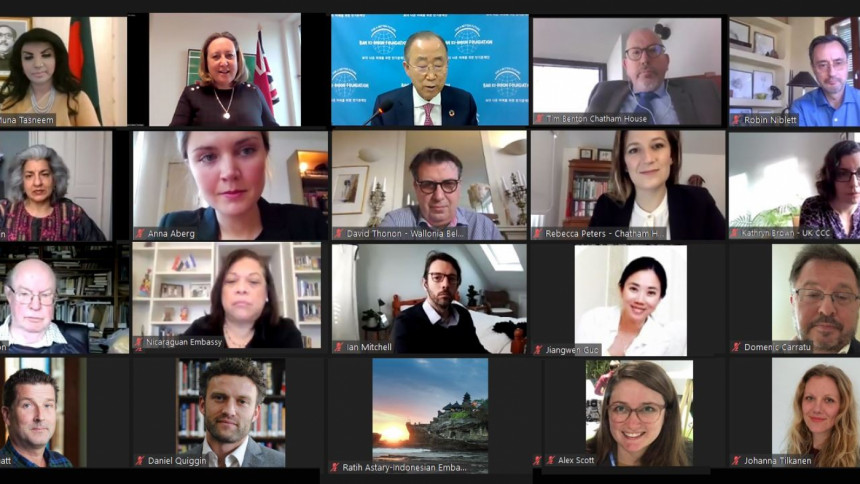 Leading diplomats and advocates for action on climate change have praised the Bangladesh government for its extraordinary capacity of early warning and disaster preparedness.
"Bangladesh is a frontline climate leader," said Ban-Ki Moon, former UN secretary-general, referring to the successful evacuation of 2.4 million people during the super Cyclone Amphan in May last year.
During the CoP26 Diplomatic Dialogue on Adaptation organised by the London-based Chatham House on Wednesday, Moon, also chair of the Board of the Global Center on Adaptation, lauded Prime Minister Sheikh Hasina's "Mujib Climate Prosperity Plan", a transformational nature-based investment and socio-economic growth concept.
Anne-Marie Trevelyan, UK International Champion on Adaptation and Resilience for the COP26 Presidency and Minister for Business, Energy and Clean Growth, London-based diplomats and Chatham House Director Robin Niblett CMG, also spoke at the CoP26 Diplomatic Dialogue on Adaptation.
Anne-Marie Trevelyan mentioned four key goals of the UK as the CoP26 President, including mitigation, strengthening of adaptation, financing and international collaboration.
She reaffirmed the UK's continued climate partnership with Bangladesh under the 2019 Resilience and Adaptation Coalition and the 2021 Ambition Action Coalition towards tackling the impacts of climate change.
Speaking as a panellist at the event, Bangladesh High Commissioner to the UK Saida Muna Tasneem said Prime Minister Sheikh Hasina, as the Climate Vulnerable Forum president, launched the Mujib Climate Prosperity Plan.
"Bangladesh will continue to push forward the climate prosperity agenda in the run-up to the CoP26 and beyond,'' she said. 
The High Commissioner also briefed the meeting of Bangladesh's national and CVF climate priorities including loss and damage demands of climate vulnerable countries and implementation of carbon trading.
A large number of diplomats based in London and other European countries, representatives from leading British climate think-tanks, participated in the dialogue.