Totini living in the moment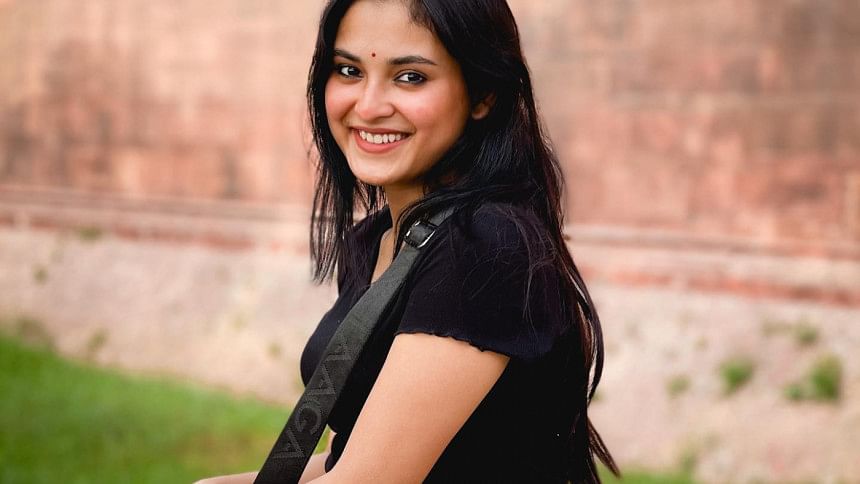 A young lady steals the show portraying the character of Kolpona in "Ei Muhurte", in the chapter directed by Piplu R Khan. The Chorki project is the first of many for Tanjim Saiyara Totini, a final-year student of North South University.
The fresh face had the chance to share the screen with heavyweights like Sara Zaker and Zahid Hasan, in the project.
"I had to give 3 screen tests before I was finally selected for this role," shares the dedicated actress. Totini began her journey in the industry three years ago with a Runout Films' TVC, directed by Subrina Irene. "I can't thank Piplu sir enough for how effortlessly he had handled the project, and assisted me in adjusting to this new environment."
As Totini shares her experience working with the "Hasina: A Daughter's Tale" famed director, she mentions that she has learned a lot of things from this project, which she will carry throughout her career. "As I read the script, I was excited to get the role I was dreaming as of yet, at the same time, I was tensed if I can pull it off!"
The actress explained that while the role was challenging, the entire team supported her a lot to pour the character within herself. "Kolpona is a victim, and she is suffering from a trauma," she says. "The director created a musical playlist for Kolpona, and during my downtime, this kept me from becoming sidetracked by anything in the outside world."
According to Totini, those little tips helped her believe in the character. It gave her the confidence to portray it as naturally as possible on the screens.
She played a cameo role in Syed Ahmed Shawki's "Taqdeer", and made a guest appearance in television series "House No 96". "I got frequent offers for tele-fictions, but the roles never attracted me," asserts the actress. "Even though it was a small role, working in a project led by Chanchal Chowdhury was an honour to me." The actress further says that she is a big fan of the "Aynabaji" famed actor, alongside Afsana Mimi, Subarna Mustafa and Jaya Ahsan.
The name Totini translates to 'small river', and the young diva wants to graph her career at a slow and steady pace, reminiscent of it. "I would love to learn more and be steady in creating benchmark for me," she shares. "I want to enjoy my work and believe in the characters that I am portraying on the screen."
She will be featured in two Eid projects -- Mizanur Rahman Aryan's "Shuhashini" her first romantic tele-fiction co-starring with Farhan Ahmed Jovan, and Vicky Zahed's "Bachibar Holo Tar Shadh", opposite Afran Nisho, to be aired on RTV. She will also be seen in a role in Piplu R Khan's upcoming project, which remains to be titled.