'The so-called stars don't even have the courtesy to visit his grave'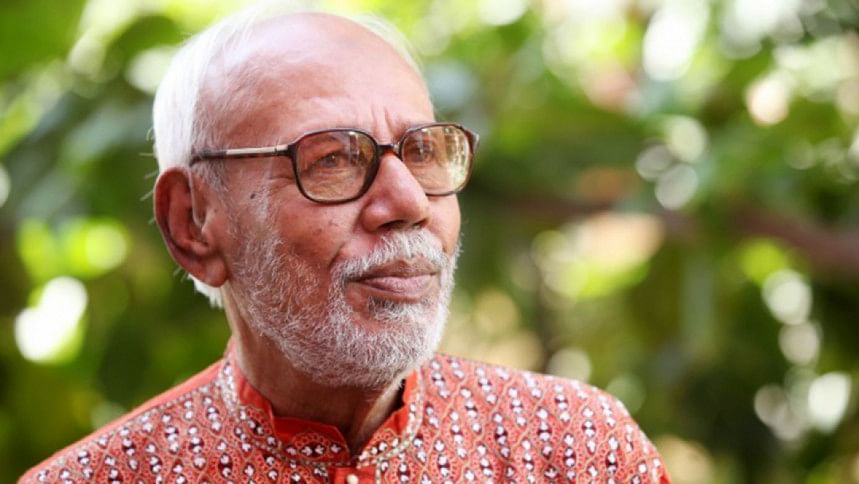 Legendary actor ATM Shamsuzzaman was a verisimilitude of immense talent on both television and the silver screen. He won the hearts of millions for his candid presence in diverse roles and became an emblem of spontaneous acting. Yesterday marked the 82nd birth anniversary of this iconic actor.
The veteran artiste was born on September 10, 1941, at his maternal grandparent's house in Daulatpur, Noakhali. The actor's career started in 1961 as an Assistant Director in "Bishkonna" and he first gained popularity as an actor through Amzad Hossain's "Noyonmoni" (1976). He wrote his first story and screenplay for the film "Jolchobi", and directed his first movie "Ebadat" in 2009.
Some of his memorable characters – Bejar Ali, a war criminal in the film 'Ora Egaro Jon', Mokbul in 'Hajar Bachhor Dhore' and Gazi Ebadat Molla in 'Molla Barir Bou', made him immortal throughout the generations.
The Daily Star talked with ATM Shamsuzzaman's wife, Runi Zaman yesterday. She was really appalled and shocked by the way the industry has completely forgotten about the legendary actor.
"No one in the media asks about our updates. When he was alive nobody even cared to ask about his updates, now that he is dead, they don't even care. It is simply foolish of us to expect anything from them," said Runi Zaman.
"No one from the BFDC calls us and asks about how we are doing. He gave his entire life to TV series and movies, yet no one cares about him after his death. These so-called celebrities don't even have the time to visit his grave, let alone keep tabs on our well beings. However, my biggest reward is the unconditional love of his fans who still love and honours his work," added his wife.
Throughout his illustrious career, ATM Shamsuzzaman has delivered impeccable performances in "Surja Dighal Bari" (1979), "Dayee Ke?" (1987), "Madam Fuli" (1999), "Churiwala" (2001), "Mon Bosena Porar Table E" (2009) and "Chorabali" (2012), among many others.
In 1987, he won his first National Film Award in the Best Actor category for his performance in Kazi Hayat's film "Dayee Ke". In 2012, he won the National award in the supporting role for Redoan Rony's film "Chorabali" in 2012. The actor was felicitated with the Lifetime Achievement Award at the 42nd National Film Awards. ATM Shamsuzzaman was honoured with Ekushey Padak in 2015 for his outstanding contribution to arts and entertainment. He also won the Bangladesh National Film Award five times.
He passed away at the age of 79 at his residence in Puran Dhaka, due to breathing complications on February 20, 2021.