Tasnia Farin's 'Nishwas' to release today on Chorki
The Raihan Rafi directorial web-film "Nishwas", starring Tasnia Farin as its lead, is going to start streaming from 8:00 PM today.
This Chorki thriller will also feature Safa Kabir, Sayed Zaman Shawon, Rashed Mamun Apu, Neel Hurerzahan, and veteran actor Dilara Zaman.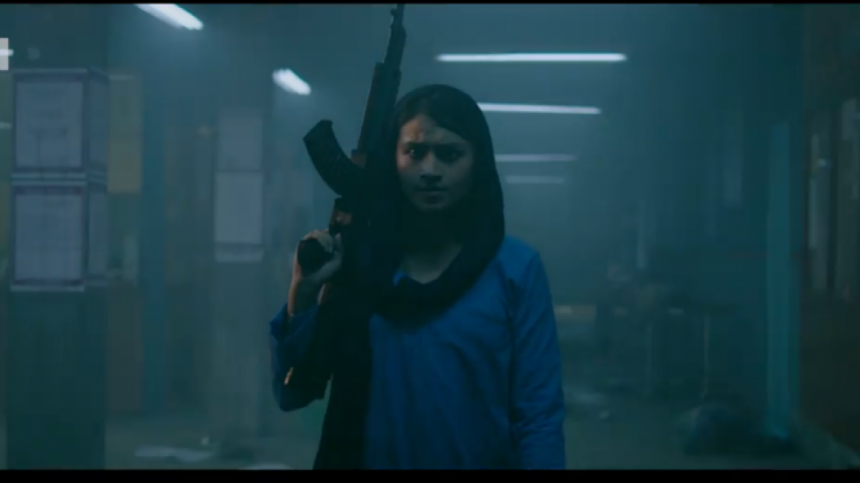 "This year will be marked as a golden year for the silver screen, and OTT platforms for producing back-to-back extraordinary contents, and the Chorki original film 'Nishwas' will be no different," said a Chorki spokesperson to The Daily Star.
The plot of the film is based on a mother, portrayed by the brilliant Tasnia Farin, who attempts to search for her child in a terrorist-infiltrated hospital. In the intense trailer of the film, which was released on September 7, Tasnia Farin is seen looking for her child with a firearm. In one of the cuts between the scenes, we can also see Imtiaz Barshon holding a gun. The plot of the web-film revolves around terrorism and how it tears families apart.
In a conversation with The Daily Star, Tasnia Farin, said: "When Rafi Bhai was narrating the plot of 'Nishwas', I was wondering whether I would be able to portray it properly."
"This was the first time I got a character with whom I had zero similarities whatsoever. Usually, I take inspiration from the people who are close to me. I try to observe people around me as well so that the characters that I play seem relatable to the viewers," Farin said.
"However, for 'Nishwas' I had to research a lot. It was really difficult for me to understand what made her choose this path," she continued.
"I had to take special training for this role, for instance -- weapon training, hospital visits, and staying in character for a long time. This character added another unique dimension to my acting career." Farin concluded.
Earlier, the teaser of the web-film had wooed audiences with its suspenseful background score, along with Farin in a new avatar, holding a rifle in her hand.
In recent times, Tasnia Farin has been enjoying the fruits of her hard work, after winning the Best Actor (Female) Award—for her performance in the web-series, "Ladies & Gentlemen"—at the Blender's Choice- The Daily Star OTT and Digital Content Awards 2021.