Shakib Khan's 'Leader' going strong after 10 days of release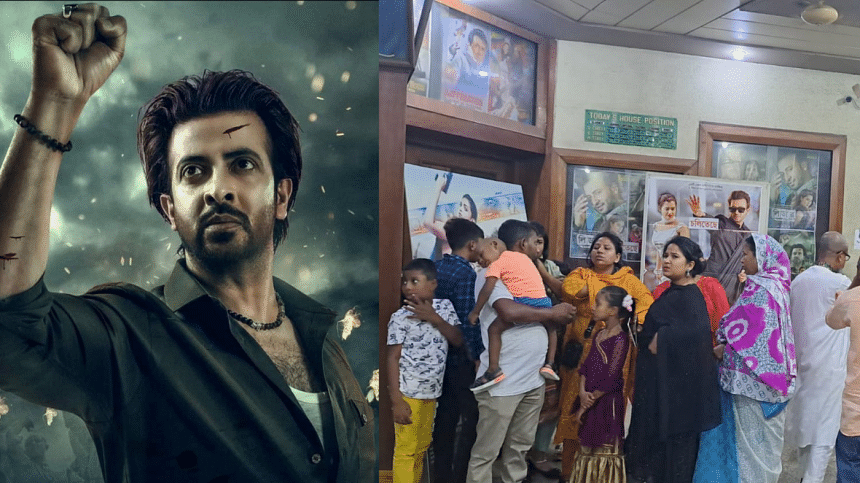 The Shakib Khan and Bubly starrer, "Leader Amie Bangladesh" has been performing well in Madhumita Cinema Hall, even 10 days after its release. The 6 pm screenings of the film even went houseful on Monday. 
Apart from this cinema hall, the film has also gone houseful in multiple theatres including Bashundhara City Star Cineplex and Sony Star Cineplex, among others.
Audiences were thrilled to watch their superstar after a long time, which is why Madhumita Cinema Hall's evening show has been packed. People who couldn't get hold of the tickets were trying to buy them on the blackmarket. It was surreal to see such scenes after a long time.
After releasing in 100 theatres across the country on Eid, "Leader Amie Bangladesh" is reigning in its second week, as it keeps on adding more halls to its list. The film is on top of all the Eid releases.
Speaking on the film's immense success, the director Topu Khan told The Daily Star, "We have received a massive response from the audience in the first week of release. Even in the following week, the film has been on everyone's favourite list."
"More people are getting excited about 'Leader Amie Bangladesh' and it's going houseful in several places. People are expressing their excitement and that makes me happy," added Topu.
On the other hand, Madhumita Hall's owner Iftekhar Noushad mentioned, "Usually, Bangla films fizzle out by the second or third day of release, no one comes to watch it then. 'Leader Amie Bangladesh', however, has been doing well since the first day and in the second week too. If this is how Bangla cinema continues to perform, we won't need to close the halls".
Sudipta Kumar Das, advisor of the Exhibitors' Association also chimed in to The Daily Star. He said, "Shakib Khan's 'Leader Amie Bangladesh' has been on the forefront of the eight films that were released this Eid. Shakib Khan has a large fan base, who have watched the film multiple times. It is indeed a film to watch with everyone."
Babu, a viewer who watched the movie in a theatre in puran Dhaka, talked about the audience's response to the film.
"Shakib Khan's 'Leader Amie Bangladesh' is going houseful. This is Shakib Khan's power, as people just love his film. People who watched the film are watching it again and again. I myself watched the film three times. I don't think any other movie from this Eid can compare to this one," said the viewer.
"Leader Amie Bangladesh" has been at the top of the audience's demand, among all the films released during Eid. The movie has been doing well on both single screens and multiplexes.
The film stars Shakib Khan, Shobnom Bubly, Misha Sawdagor, and others.