Prime Minister confers National Film Awards 2021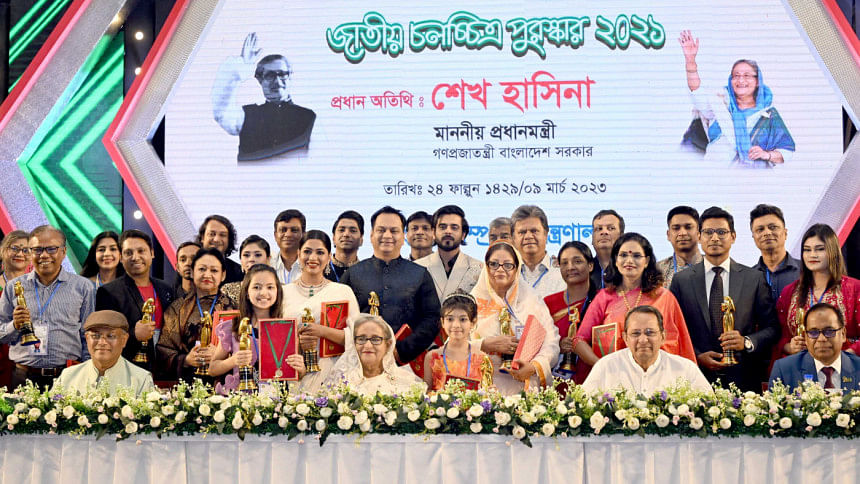 The National Film Awards 2021 were handed over today by Prime Minister Sheikh Hasina. The event was a star-studded affair, featuring some of the biggest celebrities and artistes from across Bangladesh, as they all gathered at Bangabandhu International Conference Center.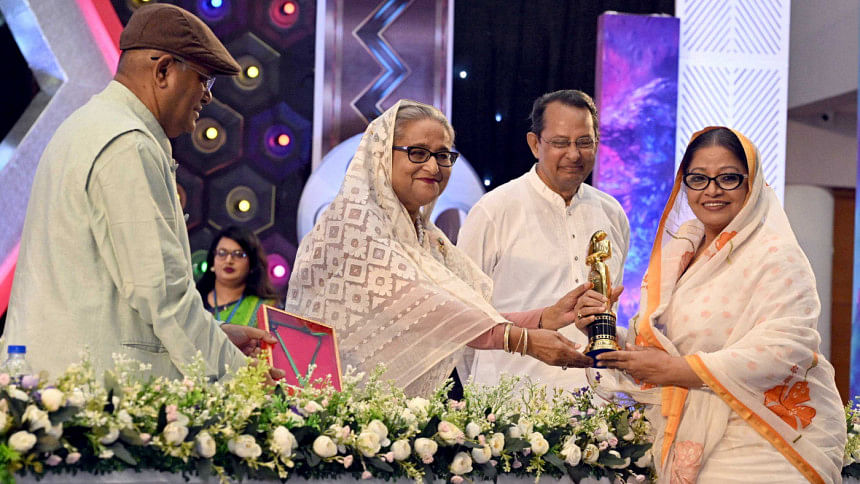 The National Film Award is considered to be one the most prestigious prizes given for films in Bangladesh. Every year, the government honours artistes in various categories, for their contributions towards the film industry. This year, the awards were handed out in the presence of Prime Minister Sheikh Hasina.
Usually, the National Film Award is given in a total of 28 categories. However, this year, 34 awards were given in a total of 27 categories. The 'Best Dance Director' category has been dropped due to a lack of eligible candidates.
This year, the jury-board selected the winners from the eventual submissions of 21 full-fledged films, 17 short films and 7 documentary films—totalling 45 films. While the winners were announced by the Ministry of Information and Broadcasting on January 29, today the awards were formally handed out to the winners.
The event was hosted by eminent actor Ferdous and Dhallywood actress Nusraat Faria. Their on-stage chemistry made for a wonderful event, as everyone in attendance looked to be enjoying themselves.
In attendance as the special guest was Hasanul Haq Inu, MP, Former Minister of Information and Broadcasting. Dr Hasan Mahmud, MP, Minister of Information and Broadcasting presided over the event.
Md. Humayun Kabir Khandaker, Secretary, Ministry of Information and Broadcasting welcomed everyone in attendance with his speech.
Special guest Hasanul Haq Inu shared his own speech, saying, "Cinema is the main source of entertainment for millions of people in our country. We are looking for a 'hero' who represents our country's virtues, respects women, and bravely fights against corruption and terrorism. Our film industry holds the greater responsibility of representing our culture and teaching the young generation about the principles of the Liberation War."
Speaking as the current Minister of Information and Broadcasting, Hasan Mahmud said, "During the COVID-19 pandemic, we never stopped this award ceremony. At that time, only 25-26 movies, which were mostly released during the beginning of the year, were submitted for the National Film Awards. While many people told us to delay the ceremonies, our honourable Prime Minister advised us to continue with the award. She told us that the people who released films amidst the pandemic, and encouraged others to do so, deserved to be rewarded for their hard work."
The opening ceremony featured a dance sequence paying tribute to Bangabandhu Sheikh Mujibur Rahman, which was performed by Warda Rihab.
A special highlight from the event was when Ilias Kanchan and Dolly Zahur received the Lifetime Achievement Award for their priceless contributions to the industry. Everyone in attendance seemed to be filled with joy that the two stalwarts of the industry were given the recognition they have worked so hard to earn..
The ceremony also featured performances from Apu Biswas, Nipun Akter, Puja Chery, Prarthana Fardin Dighi, Tama Mirza, Jannatul Ferdous Oishee, Symon Sadik, Emon, Nirab Hossain and Zayed Khan. The stars performed to popular songs from the 80s and 90s, like "Beder Meye Josna", "Jiboner Golpo Baki Ache Olpo" and "Pich Dhala Ei Pothtare", choreographed by Evan Shahriar Sohag. Musical performances from Momotaz, Partha Barua, Nandita and Nishita Barua also kept the audience excited throughout.
Matia Banu Shuku's production, "Lal Moroger Jhuti" and Rezwan Shahriar Sumit's "Nonajoler Kabbo" jointly received the prize in the 'Best Film' category.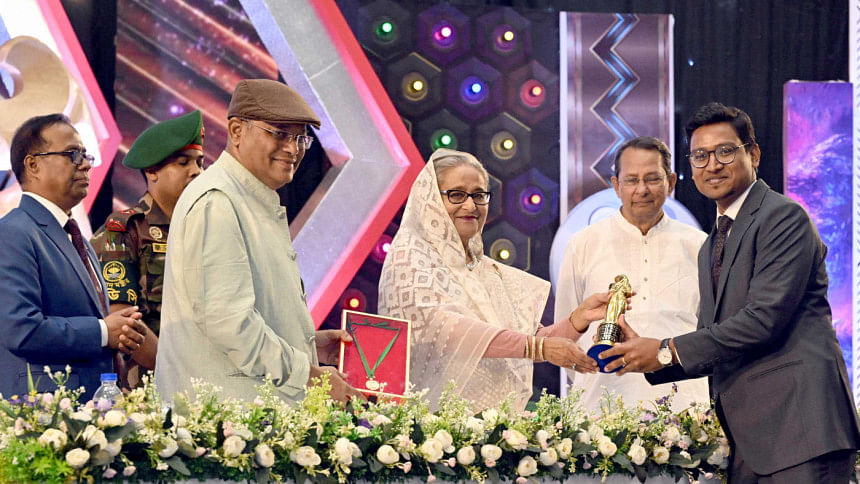 The 'Best Director' prize was taken home by Rezwan Shahriar Sumit, for his debut film "Nonajoler Kabbo".
Adding to the list of awards that were shared, Siam Ahmed ("Mridha Bonam Mridha") and Mir Sabbir ("Raat Jaga Phool") jointly claimed the 'Best Actor' award.
Similarly, the 'Best Actress' award was jointly received by an ecstatic Azmeri Haque Badhan ("Rehana Maryam Noor"), and an overjoyed Tasnova Tamanna ("Nonajoler Kabbo").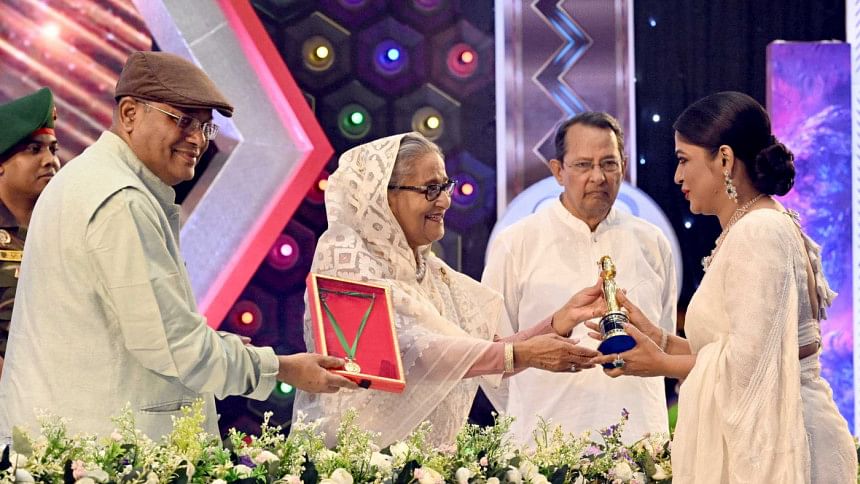 Fazlur Rahman Babu laid his claim to the 'Best Supporting Actor' award, for his performance in "Nonajoler Kabbo". In the 'Best Supporting Actress' award went to Shampa Reza, for "Poddapuran".
Quite a popular category amongst fans, the 'Best Actor in a Negative Role' award was given to Joyraj for "Lal Moroger Jhuti".
Milon Bhattacharya further added to the accomplishments of "Mridha Bonam Mridha" on the evening by receiving the 'Best Actor (Comedy)' award.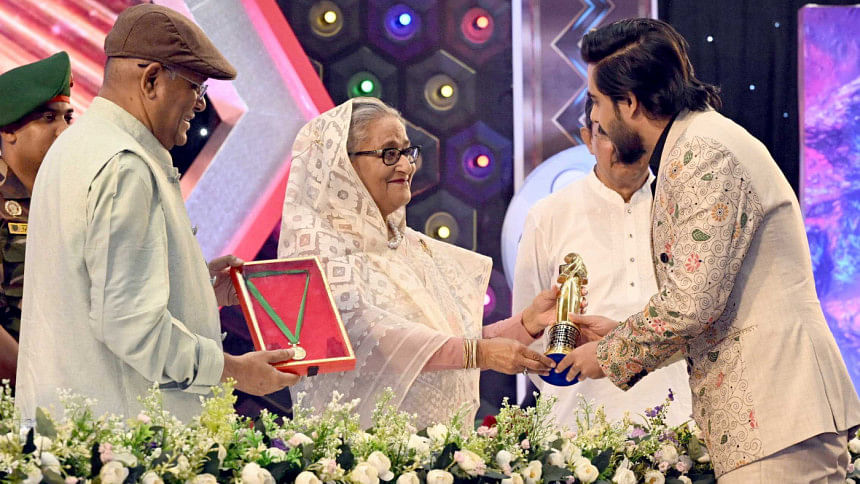 Rehana Maryam Noor took home yet another award, as Afia Tabassum took the 'Best Child Artiste' award for herself. In the same category, Jannatul Mawa was given a special award for "Ja Hariye Jay".
Shujeo Shyam earned the 'Best Music Director' award for "Joiboti Konnyar Mon". Muhin ("Shonate Eshechhi Aj") and Chandana Mazumdar ("Dekhle Chhobi Pagol Hobi")—both from "Poddapuran"— received the 'Best Singer' award in the male and female category.
The 'Best Lyricist' award went to Gazi Mazharul Anwar for "Ontore Ontor Jala" from "Joiboti Konnar Mon", while Shujeo Shyam was given the 'Best Composer' award for the same song.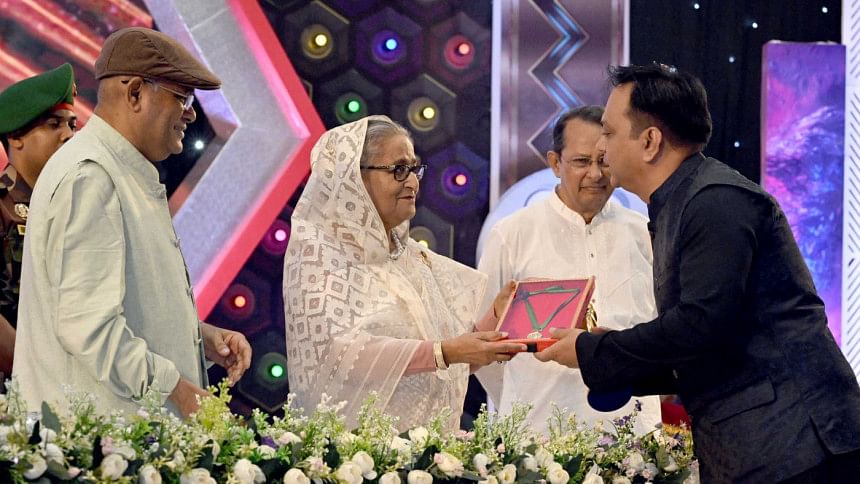 Rezwan Shahriar Sumit was also recognised with the 'Best Script Writer' award for "Nonajoler Kabbo", while the award in the 'Best Screenplay Writer' category was taken home by Nurul Alam Atique for "Lal Moroger Jhuti".  Tauquir Ahmed's writing for "Sphulingo" helped him capture the 'Best Dialogue' award.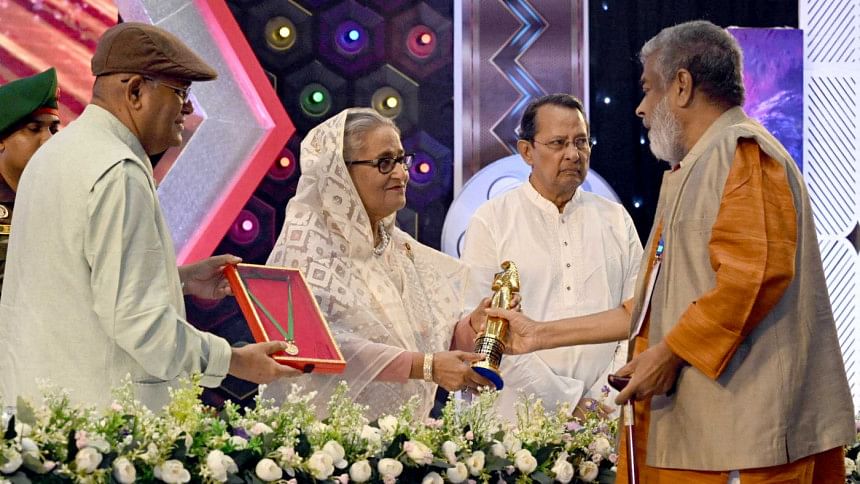 The 'Best Editing' award was handed to Samir Ahmed ("Lal Moroger Jhuti"); 'Best Art Direction' to Shihab Nur Nabi ("Nonajoler Kabbo"); 'Best Cinematography' to the team of "Lal Moroger Jhuti"—Syed Kashef Shahbazi, Sumon Sarker, and Mazharul Razu.
Sayba Talukder, from the team of "Rehana Maryam Noor" picked up the 'Best Sound Designer' award, while 'Best Costume Designer and Makeup' went to Edila Farid Turin ("Nonajoler Kabbo") and Md Farukh, Md Farhad, and Reza Milon ("Lal Moroger Jhuti").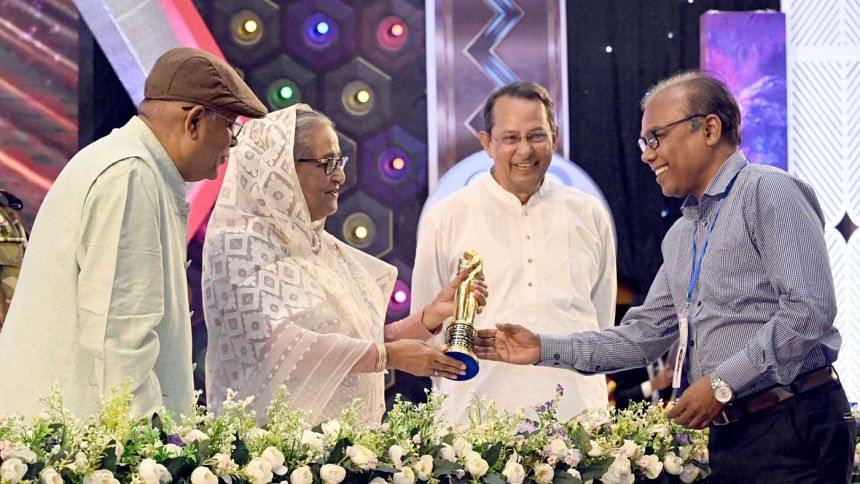 "Dhar", produced by AKA Reza Ghalib, was recognised as the 'Best Short Film', while the 'Best Documentary Film' award was captured by "Boddhyo Bhumi", produced by Kauser Chowdhury.
Prime Minister Sheikh Hasina gave the closing speech, saying, "My heartiest congratulation and best wishes to the recipients of the National Film Awards 2021. We arranged for this ceremony to take place in March. Which holds a lot of importance for us Bangalees. Our Bangladeshi film industry was able to flourish under the guidance of Bangabandhu Sheikh Mujibur Rahman. He worked effectively to establish the Bangladesh Film Development Corporation (BFDC), which led to creations of movies like "Akash Ar Mati", "Ei Desh Tomar Amar", and many others."
"After the Liberation War, Bangabandhu Sheikh Mujibur Rahman donated a total of 105 acres of land in Gazipur, so that film fraternities would have a proper location where they could shoot their films. Continuing with his vision, now we are working to finish the Bangabandhu Sheikh Mujibur Rahman Film City," she continued.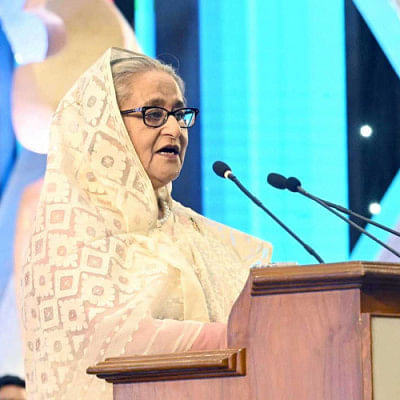 "I am grateful to everyone who has created movies amidst the pandemic. Our cinema halls were very old and poorly facilitated. We have arranged a BDT 1,000 crore fund for cinema hall owners, so that they can reconstruct their theatres. We have also advised many cinema hall owners to demolish their halls and turn them into cineplexes where families can watch and enjoy movies together. While the grants for our films might not have a big budget right now, we plan to make this sum even larger in our next budget," concluded Prime Minister Sheikh Hasina.