I have spent an eternity entertaining the audience: Dilara Zaman
An account on her upcoming ventures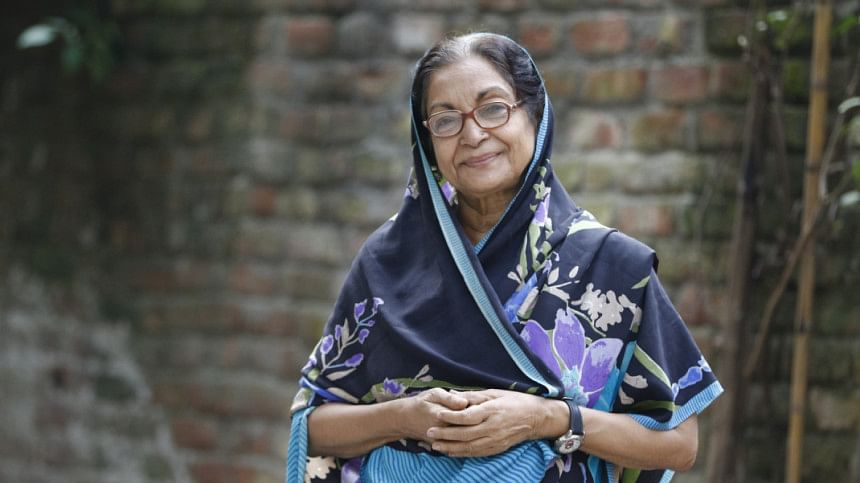 Ekushey Padak and National Award-winning actress Dilara Zaman is spending busy days on the sets. She has signed three new films alongside multiple tele-fictions.
The actress is currently working with the "Monpura" famed director Giasuddin Selim for "Gunin". She will also be seen in Afzal Hossain's "Maniker Lal Kakra" and Ashutosh Sujon's "Desantor".
The government-funded project "Deshantor" is based on Nirmalendu Goon's novel of the same name. The shooting location for this production has been finalised and the actress will start shooting next month in Netrokona.
"It's the story of the film that matters to me the most," shares Dilara Zaman. "All these scripts seemed very powerful and appealing to me. I believe, only good productions can bring back our audience to the theatres."
Dilara Zaman will also start shooting for "Gunin" next month. The feature film is based on a story written by noted writer Hasan Azizul Haque. She is also planning to start shooting for "Maniker Lal Kakra" soon.
"It seems like I have spent an eternity entertaining the audience and I wish to keep doing so," says Dilara Zaman. "I want to do characters that suit my current appearance and age," shares Dilara Zaman.
The actress has recently finished shooting for the Bodiul Alam directorial film "Dayemukti". The production is a government-funded project. "The film conveys some important social messages and that's what makes it special to me," she mentions.
Alongside films, Dilara Zaman is also working in television productions. She has finished for the single episode dramas "Koborer Taan '', "Bindu Bindu Goyendagiri '' and "Tepantorer Maath Periye".
The actor also completed shooting for the Indian part in Shyam Benegal's "Bangabandhu". She is set to complete the shooting for the Bangladeshi part too in the upcoming months.
"I will be seen playing the role of Sayera Khatun in this film," shares the artiste. "I feel privileged to be a part of this historic production and this will keep me in the audience's heart for centuries."
Dilara Zaman is also looking forward to her upcoming releases "Omar Faruker Ma" and "Onteshtikria".
Translated by Ashley Shoptorshi Samaddar